After Surface Book 3 and Surface Go 2, Microsoft's Surface Laptop 4 is one of the most anticipated devices this year. Surface Laptop 3, which was unveiled last year, was a beautiful traditional clamshell form factor device with both AMD Ryzen and Intel Ice Lake options.
Surface Laptop 4 may have a similar trajectory as the Surface Laptop 3. According to leaked benchmarks, Surface Laptop 4 might come with AMD Ryzen APUs.
A benchmark suggests that we may soon see Surface Laptop 4 or a new Surface with AMD Ryzen 4000 CPU options. According to one listing in the 3DMark 11 database, Microsoft is testing Surface Laptop 4 with AMD Ryzen 5 4500U APU. The device could also use AMD Radeon RX 5300M mobile graphics card, according to previous reports.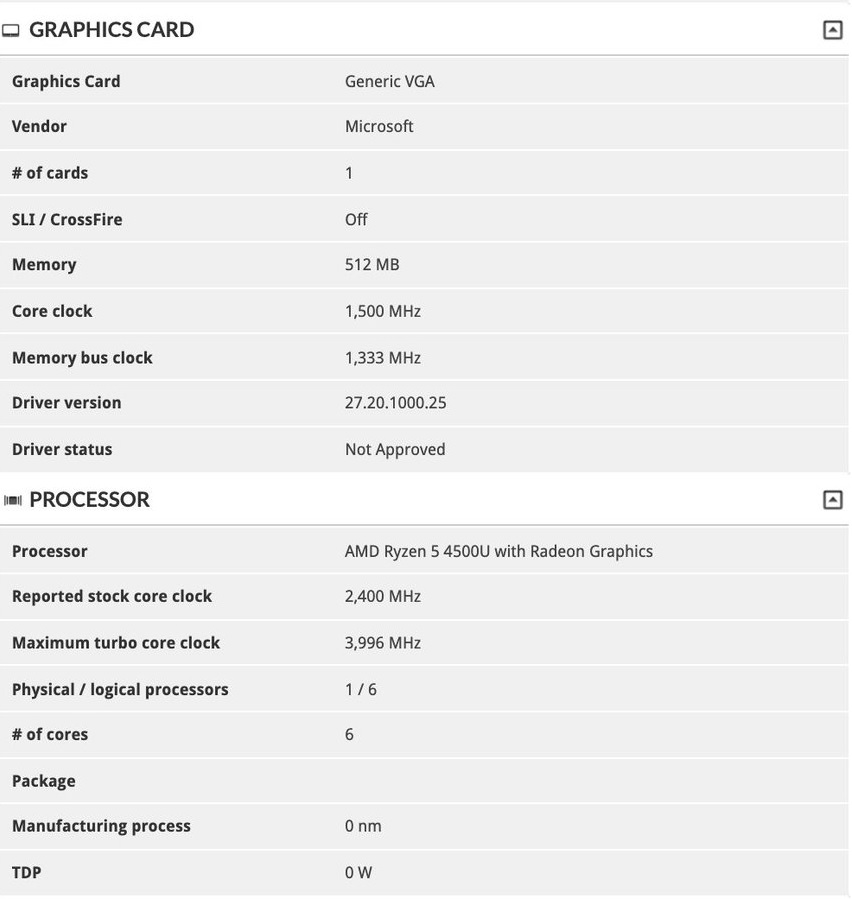 The alleged Surface Laptop 4 in the benchmark is running Windows 10 May 2020 Update (version 2004) with Windows Display Driver Model 2.7 (WDDM 2.7). Ryzen 5 4500U is also known as AMD Renoir and the processor is based on AMD's Zen 2 microarchitecture. It is a hexa-core processor with 2.3 GHz base clock, which can go up to 4 GHz.
Ryzen 5 4500U is designed to run within the slim devices, thanks to the 15W envelope, which makes it a good fit for Surface Laptop 4 or similar hardware.
More Surface products with AMD chips?
A forum poster, who has previously predicted specs of products like Surface Go 2, claims that AMD APU codenamed "Pollock" could be used in Surface Go 3 "conceivably".
The new Ryzen mobile chip "Pollack" is reportedly based on very low power 4.8 watt. For reference, Intel Core m3-8100Y is capped at 4.5W TDP (8W TDP-up).
It's also worth noting a reference to the unannounced AMD processor was previously spotted in a patch for AMDGPU DRM driver.
This unreleased Ryzen mobile "could also conceivably be used in a Go 2 successor" and as well as custom their own custom devices, according to the leaker.
AMD Pollock isn't yet ready for something like Surface Go 3 as the heat remains an issue and we don't know whether Microsoft will ship a new Surface Go with AMD Pollock.