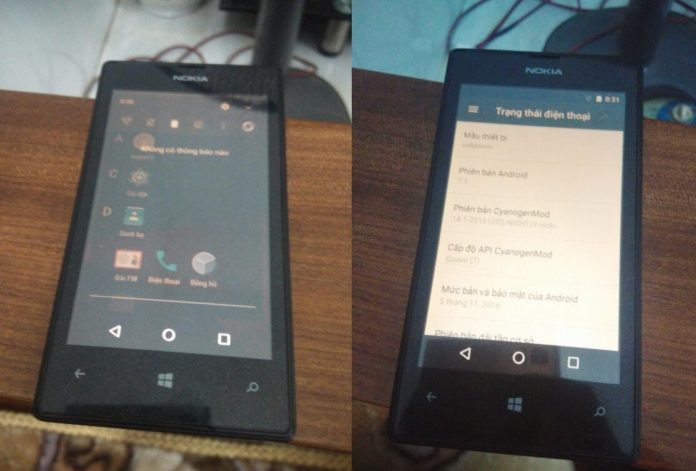 Android 7.1 on Lumia 520 is now possible! The developers are finally able to flash Android 7.1 on Lumia 520 and we will tell you how to install Android 7.1 (Nougat) on Lumia. Android 7.1 on Lumia 520 will be faster than Windows 10 Mobile as.
It is worth nothing that Windows Latest is not responsible for any damage that may occur while flashing your Lumia 520 in order to install Android on Lumia.
Steps to install Android 7.1 on Lumia 520
Full backup Win32diskimage to 7.8GB of memory if you want to return 520 Windows Phone:
https://sourceforge.net/projects/win32diskimager/
Windows device thor2 recovery tool for the bootloader to load:
https://support.microsoft.com/vi-vn/help/12379/windows-10-mobile-device-recovery-tool-faq
Link booloader, file gpt, twrp, rom cm13 :
https://drive.google.com/drive/folders/0B_4r4JB1Is2QRHZSbU5hVks3WWs
Update link CM14.1 (HOT):
https://drive.google.com/drive/folders/0B_4r4JB1Is2QM2NjcmotTnN3Z3M

Unlock bootloader: 

unlock bootloader via WP internals (search on google.com)

Backup WinPhone if you want to return to Windows Phone: 

Mass Storage mode via WP Internal mode. Use Win32DiskImage then full 8gb memory backup. (Store carefully, do not delete)
Proceed to install Android on Lumia 52X 
On Windows: 4.1: In mode flash bootloader Nokia Boot Manager to the directory of the device recovery tool windows Shift + Right: Open command here Type the command: -mode rnd thor2 -reboot
When the phone to vibrate 1 knocker: mode rnd thor2 -bootlumiabootmgr
If it does all of the machine partition is oke, ph Nokia loud big logo will hang Rest assured, continue to flash the bootloader of the android: UEFI -partitionimagefile thor2 -partitionname uefiflash -mode "aboot-xxx.mbn file path
On the phone screen will display green NOKIA (already successful flash)
Remove the battery, insert the battery, the phone will not turn on the machine display Nokia logo. No problem, the machine has to be the android fastboot mode.
Boot ubuntu and switch terminals. repartition memory through Mass Storage Mode Mode, Type: fastboot devices (displays the first line device is xxxxx)
fastboot reboot-dload oem
GDisk sudo -l / dev / sdX to check the partition windows phone
sudo sgdisk –load-backup = "path file.gpt" / dev / sdX (to repartition)
deleted Win old data to install Android:
Remove the battery inserted, the holding power + silencer. USB cable connected to your computer and type: fastboot devices
fastboot format system
fastboot format userdata
cache fastboot format
fastboot flash recovery "twrp.img file path"
Then, remove the battery, keep the power + volume, wait times are boots twrp 1
Copy rom into memory, this time I was like 1 child Lumia phones running android true.
Wipe system, data, cache, cache dalvik
Flash rom
Reboot
To Fix Audio issues: Return fastboot mode by turning it off, hold the power button and the muffler to access the fastboot mode, turn on the terminal and type: fastboot devices
fastboot flash TZ "TZ file path"
fastboot flash modem "modem.img file path"
A video has been also published which shows a Lumia 520 running Android 7.1. Are you able to install Android Nougat on Lumia 520?