With the beginning of another year, Microsoft seems to be in no mood to uplift the hopes of Windows Phone fans. If you are looking to buy a new Windows Phone, you are now limited to only two options.
As spotted first by Neowin, the Microsoft Store now only lists two available Windows Phones. Previously four, the options are now restricted to the ridiculously expensive HP Elite x3 and the affordable Alcatel IDOL 4S. Both of them are the last released flagships for Windows 10 Mobile, sporting similar hardware.
The devices removed are the Acer Liquid Jade Primo and Liquid M330. While the Jade Primo is a flagship, the M330 is a low-end device. However, due to poor support from Acer, neither of the phones will receive any more updates. The Jade Primo is still stuck to version 1511 and the M330 is stuck on 1607.
However, if you are looking for anything but Windows Phones, Microsoft has a lot to offer. Ranging from Xbox to Surface and other PCs, there's a lot to choose from the Windows 10 ecosystem. If you are dead set to get a phone, there are quite a number of Android powered devices available too, more than that of the available Windows Phones. Just visit the Microsoft Store and choose your pick.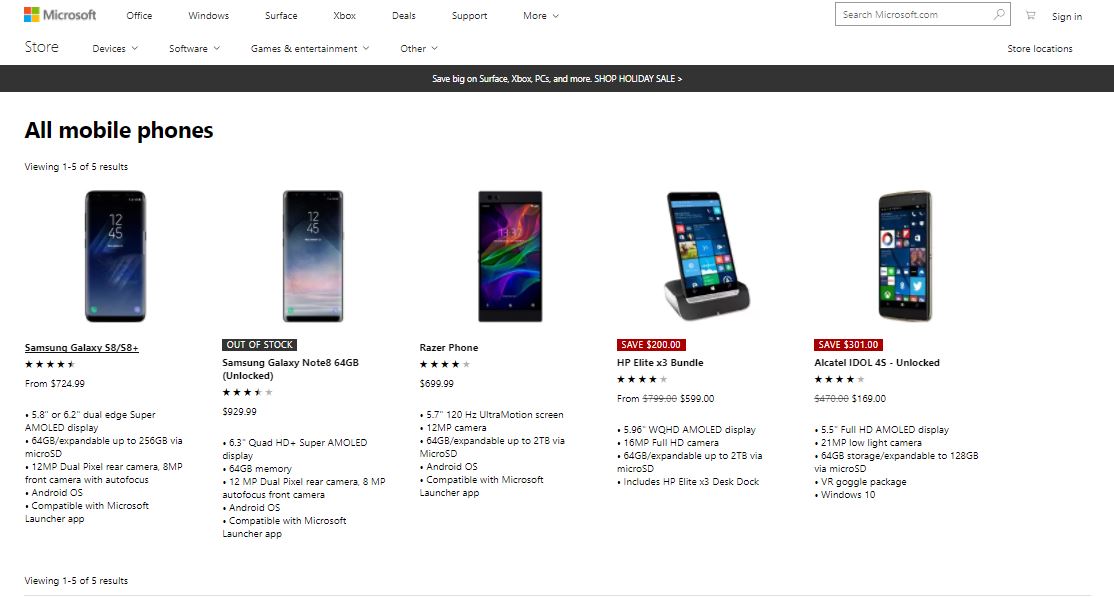 You can get the Samsung Galaxy S8/S8+ and the Note 8. Also available is the Razer Phone. All of the Android devices are branded as "Compatible with Microsoft Launcher App", so you can stick to the Microsoft experience without troubling yourself by getting a Windows Mobile 10 device.
Microsoft has recently confirmed that Windows 10 Mobile is dead. If you want to stay in the Microsoft ecosystem, Android and iOS are the only ways, until the arrival of the mythical Surface Phone.