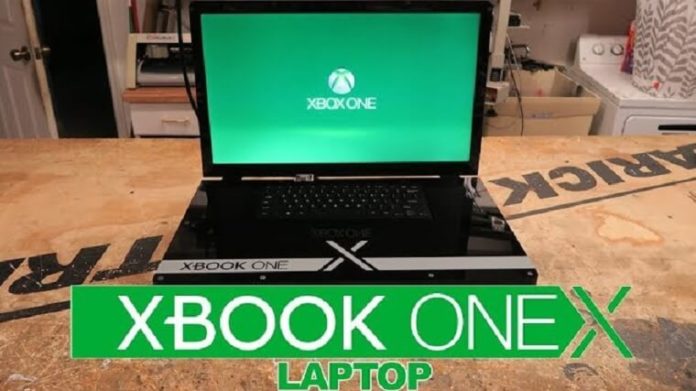 In November, Microsoft unveiled the "world's most powerful" console the Xbox One X with 4K gaming and a mix of High Dynamic Range and Wide Color Gamut. The console also comes with a built-in 4K Ultra HD Blu-ray player, and the pre-order of Xbox One X has been successful.
If you're an Xbox One fan, maybe you are familiar with Eddie Zarick, an engineer putting his effort to turn a regular console into a hybid-laptop version. After the successful release of Xbook One S, Eddie Zarick recently posted a video of his brand new creation 'Xbook One X', a modified version of Xbox One X.
"This is an actual XBOX ONE X that has been modified and put into a custom housing that gives it much more portability than a standard Xbox," the engineer said in a blog post.
The Xbook One X is a powerful laptop version of Xbox One X, the console features a 21.5″ 1080p Full HD display, and it also comes with a built-in keyboard. On the front panel, the engineer has added "5 buttons for controlling all of the functions of the LCD".
Xbook One X Full Specifications and Features
Sonic 21.5″ 1080p Full HD Screen.
Built-in audio and keyboard support (with keyboard, you easily navigate through the system).
5 buttons to control the functions of the LCD panel, on the front.
You can adjust the audio and LCD screen settings with onboard keys.
HDMI slot to connect the console to a 4K monitor.
2 USB ports, Ethernet and optical audio output.
Xbox cooling technology keeps the system running, air is "sucked through the bottom of the system and exhausted out the back".
Available in White or Black, and you can also ask Eddie to put the Gamertag on the system hardware.
Xbook One X Price and Availability
Just like the original Xbox One X, the Xbook One X won't come cheap. The console with 1TB storage will be available for $2,495.00 plus shipping (the shipping to the US could cost around $150). You'll need to pay $1,000 in advance (a nonrefundable deposit) and your console will be ready in 2-3 weeks, it's worth noting that it could take longer than 2-3 weeks.