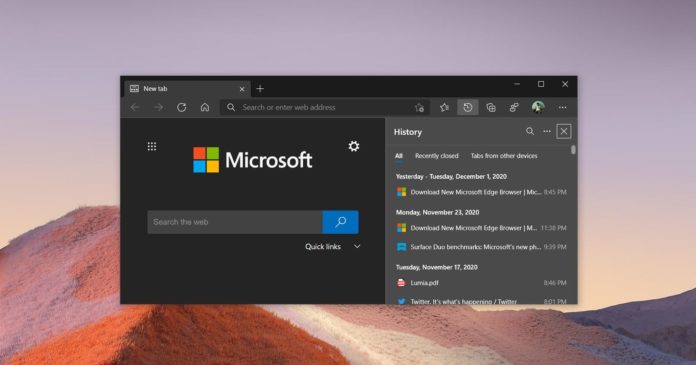 Microsoft Edge, which is the company's indisputable flagship browser, is set to get even better next year.
For those unaware, there are different channels of Microsoft Edge that you can install to get a different experience. One of the Edge channels is 'Developer Channel' and it is updated once or twice a week with a mixture of minor and major improvements, and it is one of the best ways to get a glimpse at all of the upcoming features.
This week, Microsoft Edge has been updated to version 88.0.705.9 and the changes included in the update will ship to beta users soon. Microsoft Edge update introduces a new history menu, ability to generate strong passwords, new picture-and-picture mode, and more.
History menu
As we mentioned above, Microsoft Edge update comes with a new history menu. Unlike the current history menu that we've in Chrome or Edge stable, the new history menu is designed to help you quickly get back to the previously visited sites.
The history menu now works more like a hub with options to open sites visited previously, tabs you've recently closed, and even tabs that you've open on other devices.
In addition, Microsoft Edge's brand-new history menu can now remember the last 25 closed tabs from any pass session. You can also expand the closed 'window' to see all the tabs which were open in that particular window.
Picture in Picture mode
Microsoft is now rolling out the new PiP mode for videos to those using macOS. This feature is currently available in Edge for Windows via experimental flag and it's also rolling out to Mac users now.
It's unclear when the feature will begin rolling out to everyone.
General improvements
Microsoft Edge now lets you generate secure passwords and edit passwords stored in the browser directly from the settings. In addition, Microsoft is also updating the coupons flyout with new price comparison capabilities, enabling support for text notes in PDFs, and more.