We have earlier reported that Google Chrome continues to rule the number one position in the desktop market. The Chrome browser enjoys over 61% of the market share which is way ahead of its competitors Mozilla's Firefox and Microsoft's Edge browser.
The Chrome browser suffered a minor decline in market share last month which hasn't affected its dominance in the desktop browser market. It still continues to enjoy the top spot. Google Chrome has been moving ahead steadily and is expected to gain more market share in the coming days with the browser expected to get some major new features in upcoming updates.
According to NetMarketShare, Google Chrome is still a popular browser with 61.69% market share, and Microsoft Edge is struggling with 4.45% in the fourth position. The discontinued Internet Explorer continues to be the second popular choice with 12.30%, and Firefox is third with 10.17% market share.
Google Chrome has already released the option to mute annoying videos and is expected to provide support for Precision Touchpad in its upcoming updates.
Microsoft hasn't been able to garner much market share in spite of already having the Precision Touchpad support for its default Windows 10 browser. Edge has seen a consistent drop in its market share despite the company making all its efforts to bring the Edge browser on par in terms of features with its competitors.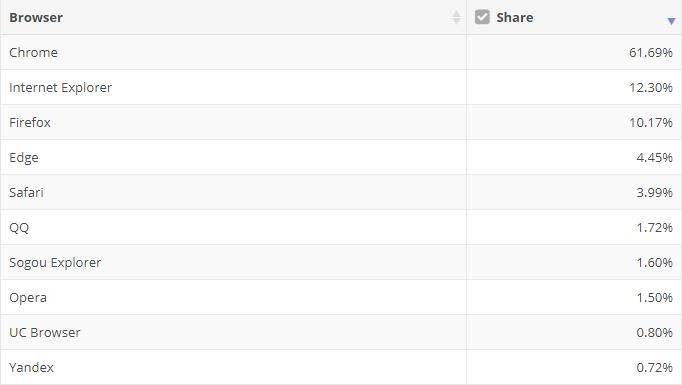 Microsoft which released its new Windows 10 April 2018 update earlier in the week brought many new features especially to its Edge browser but hasn't been able to give the boost it requires to increase its market share.
Microsoft had aggressively marketed its Edge browser by pushing out ads highlighting the features of its browser. Microsoft had also launched its Edge browser on rival mobile platforms iOS and Android to see if this step will help the company to invite more users to start using the Edge browser on their PCs.
Despite all the aggressive marketing and advertising, the company failed to increase the market share of its Edge browser and Google Chrome still remains the preferred choice of 6 out of 10 users in terms of browser usage.
However, Microsoft hasn't yet given up on its Edge browser and is working on introducing new features like better syncing across devices to help users on iOS and Android to view their watched history both on their mobile and PC.