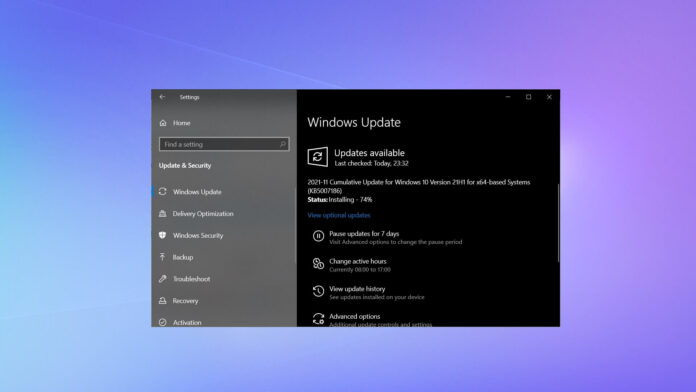 Microsoft is now rolling out this year's second last security update for Windows 10 version 2004 or later. The update is rolling out via Windows Update. Additionally, Microsoft has also published direct download links for Windows 10 KB5007186 offline installers.
KB5007186 is part of the company's usual Patch Tuesday cycle, which is a popular term for the day when new security updates are released for Windows. This update patches security vulnerabilities and includes previous fixes as well. That's because Microsoft gathers older fixes into the latest update, which is downloaded automatically.
If you're on May 2021 Update, you should get Build 19043.1348 when you download and install this update. If you've already upgraded to version 21H2 aka November 2021 Update, you'll receive the same set of bug fixes and improvements, but the build revision would be Build 19044.1348.
For those still running version 20H2, they'll get Windows 10 Build 19042.1348. In case you've version 2004, Microsoft says this would be the last security patch for consumer editions of the OS version.
If you check for updates today, you'll get the following update:
2021-11 Cumulative Update for Windows 10 Version 21H2 for x64-based Systems (KB5007186)
Download Links for Windows 10 KB5007186
Windows 10 KB5007186 Direct Download Links: 64-bit and 32-bit (x86).
Windows 10 KB5007186 (Build 19043.1348) Full Changelog
Key highlights:
Fixes a bug causing issues with video streaming.
Fixes an issue with LogonUI.exe, which affected the network status of the device.
Fixes a memory leak issue in lsass.exe.
Fixes another issue that causes memory leaks.
Fixes issues with Local Security Authority Subsystem Service (LSASS).
What's new and fixed in Windows 10 Build 19043.1348
With today's security update, Microsoft has fixed an issue that prevents subtitles from appearing in certain video apps, but Movies & TV was not affected. According to official release notes, Windows 10 bug also blocked subtitles on certain streaming sites.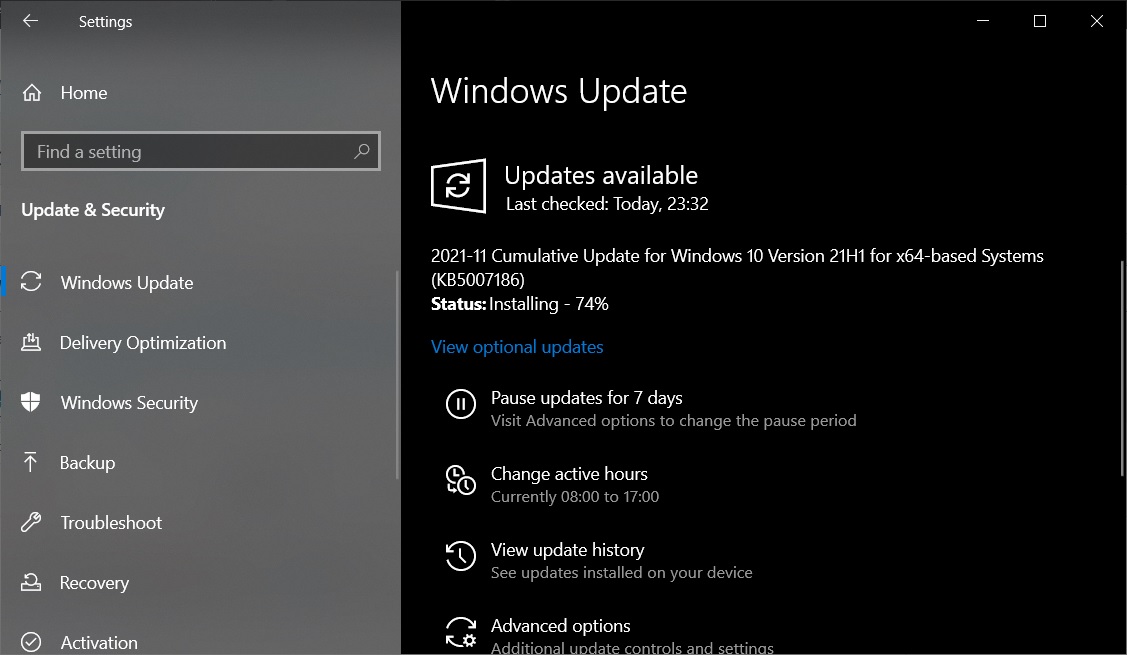 Another bug has been fixed where the lock screen background appears black when you've configured a slideshow of pictures as a lock screen background.
For enterprises and consumers, Microsoft has also addressed a bug that could prevent some users from viewing the out-of-box experience (OOBE) pages. This bug was experienced on devices using credentials of Azure Active Directory and if you press the Windows key five times.
Microsoft is also rolling out fixes for a bug affecting Assigned Access kiosks that use Microsoft Edge as a kiosk application. Microsoft has patched an issue where App-V causes black screens to appear when users sign-in on the credentials page.
Build 19043.1348 also includes these bug fixes:
It has fixed an issue where Bitlocker recovery stops working.
It has fixed an issue that causes Kerberos.dll to stop responding when LSASS enables access to the same client user.
It has fixed a bug that could prevent the installation of printers that uses IPP.
In addition to these bug fixes, Microsoft has also fixed Windows 10 virtual private network problems, especially when users try to establish a secure connection between Windows Server 2019 Routing and RRAS servers.
Microsoft is currently not aware of critical issues in the latest patch.
Windows 10 version 2004 reaching the end of support
It's worth noting that Windows 10 version 2004 will reach the end of service in December 2021 and those still using it will be automatically updated to version 21H1 or 21H2 whether they like it or not.
Early next year, we're expecting Microsoft to forcibly install Windows 10's latest updates on devices running certain outdated versions. By early 2021, most users of version 2004 will be required to download and install version 21H1 or newer. If you're using an unsupported PC, you will be notified of the end of service via a notice on the Windows Update.
November 2021 Update is around the corner
As mentioned at the outset, Windows 10 November 2021 Update (21H2) has cleared the final stage of testing and it is set to land in the production channel in a few weeks.
November 2021 Update isn't going to be a big update as Microsoft's focus is entirely on Windows 11. However, you're actually going to get some new features when you upgrade to version 21H2.
Microsoft says the next feature update for Windows 10 will enable support for the WPA3 H2E standard, which is a new and enhanced Wi-Fi security. Additionally, Microsoft is also bringing a new deployment method called cloud trust to enhance the experience of Windows Hello for Business. This change would result in passwordless deployments.
For consumers and developers, Microsoft is enabling GPU compute support in the Windows Subsystem for Linux (WSL).