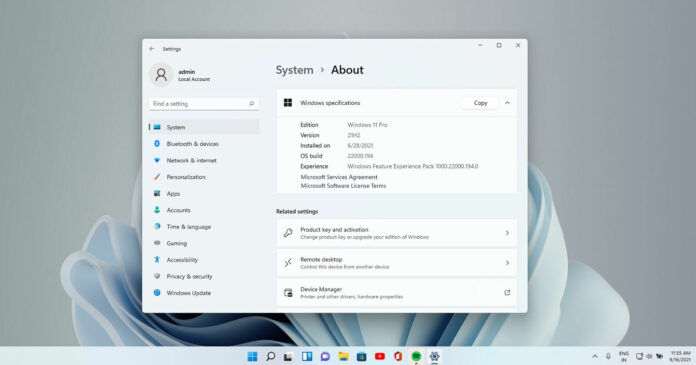 Windows 11 Build 22000.194 is available for testers in the Windows Insider program and it is yet another minor update. Like the previous cumulative updates, today's patch also focuses on bug fixes and quality improvements, and we're not getting any new features, but testers will now have access to three new app updates.
The patch is simply called "2021-09 Cumulative Update for Windows 11 for x64-based Systems (KB5005635)" and it's officially available for beta testers. However, this update is also available for unsupported devices in the Dev Channel and it can be downloaded straight from the Windows Update.
Windows 11 KB5005635 is supposed to address the remaining bugs in the operating system ahead of the scheduled October 5 rollout. This update comes with various bug fixes and one important change: KB5005635 or newer requires TPM 2.0 in virtual machines likes Hyper-V manager and VMWare as well.
New improvements in Windows 11 Build 22000.194 (KB5005635)
Windows 11 Build 22000.194 comes with the following bug fixes:
Microsoft has addressed a bug that could result in artifacts around the app windows and dialogs when you enable and disable a high-contrast theme. This bug affects the UI of the minimize/maximize/close buttons, but it can be fixed in some cases if you restart your device.
Microsoft has fixed Blue Screen of Death errors on modern standby-enabled PCs.
Microsoft has fixed an issue that causes PowerShell to create an infinite number of child directories. This bug was spotted when testers entered the PowerShell Move-Item command.
Windows 11 now requires TPM for everyone
After today's cumulative update, you can no longer install Windows 11 in virtual machines without TPM 2.0. Previously, Microsoft allowed users to install the new operating system in virtual machines failing to meet the minimum hardware requirements. That's going to change after this preview update.
On Twitter, Microsoft confirmed updated that TPM 2.0 is now a requirement for virtual machines. TPM 2.0 is apparently going to be a mandatory requirement for everyone when Windows 11 ships on October 5 to consumers.
VMs currently not using TPM won't get the new cumulative updates. If you use Hyper-V, you can switch to Generation 2 VM and enable the TPM module. For those using VMWare, they need to enable encryption (requires free disk space) and then add the TPM 2.0 module from the VMWare settings.
How to install Windows 11 KB5005635
To install Windows 11 KB5005635 (Build 22000.194), follow these steps:
Open Windows Settings.
Head Windows Update page.

The download will begin automatically.
Once done, click on the "Restart now" button to apply the changes.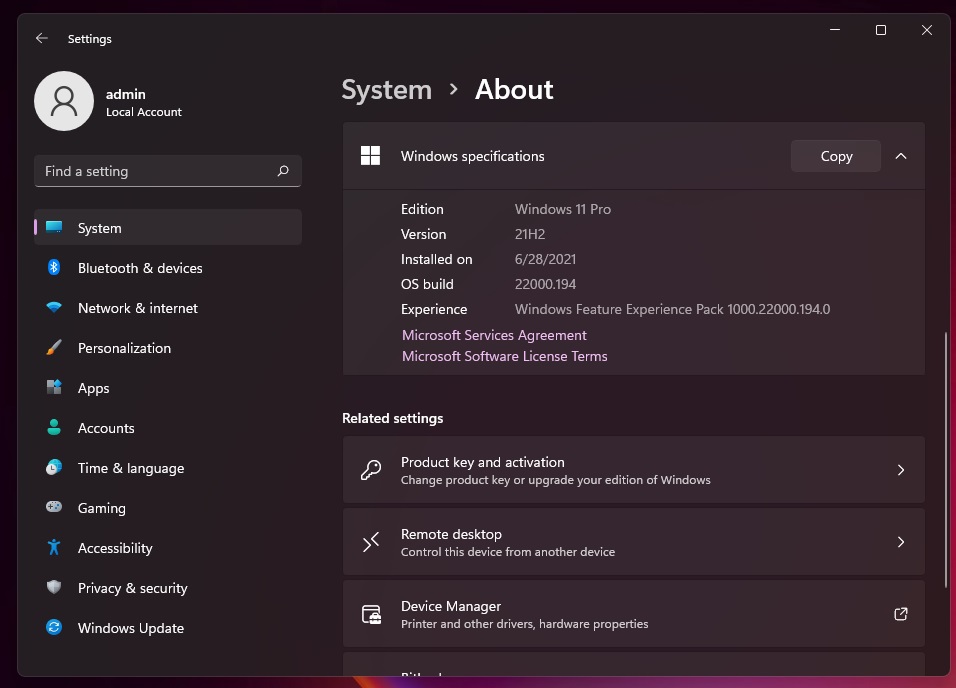 Windows 11 can be downloaded on any device if you modify the registry or the media images (.ISO). You can also install the new operating system via Media Creation Control, but this option will be available in October only.
Known issues in Build 22000.194
Windows 11 Build 22000.194 comes with these known issues:
Windows 11's widgets board is still not working for everyone. In some configrations, users may not see updates within the widgets panel and they need to can sign out and then sign back in to address the problem.
For those with multiple monitors, the Windows widgets could appear in the wrong size, but this can be fixed when you launch the widgets on your actual PC display.
If Windows Search stops working for you, restart the "Windows Explorer" process using the Task Manager and open the search panel again. That's because the search panel might appear black on some PCs.
The taskbar cannot detect texts when you enter in Search from Start or the Taskbar. To fix this bug, open Windows Run (WIN) and close the dialog
As always, if you notice a new critical bug in the update, you can always uninstall the update and reinstall Windows 10. If you want to remove this particular patch, head to Settings > Windows Update > Control Panel, and select the patch.
Public rollout and new app updates
As you're probably aware, Windows 11 21H2 is a big update with a new design and strict hardware requirements. On the other hand, Windows 10 is getting version 21H2, but it's another minor update that is simply based on the enablement package and it can be installed in less than five minutes.
Microsoft is currently planning to release the feature upgrade on October 5, but it won't be offered to most users on day one.
In addition to today's cumulative update, Microsoft has also started rolling out a new Snipping Tool, Calculator, and Clock app with Focus Sessions/Spotify integration.