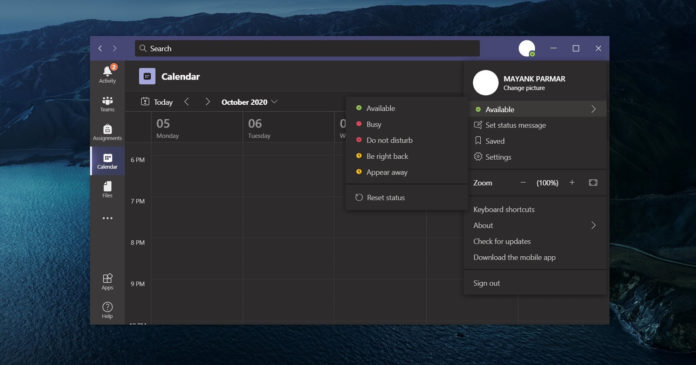 Like Zoom and Google Meet, Microsoft Teams also comes with online presence feature, which is important when others want to check your presence in a meeting. Microsoft Teams offers indicators on the web, Android, iOS, and Windows 10 to alert the attendees or organizers about your online presence.
Microsoft Teams comes with various online presence indicators and you can check the status by clicking the profile icon. Green is for Available, red circles are for Busy or Do not disturb, and there's a yellow indicator that suggests you're away from your Teams.
Online presence status is auto-set by Microsoft Teams based on your activity. For example, if you're browsing other apps, Teams will show 'away' status and the status will change again when a user comes online.
Later this year, Microsoft Teams online status feature is getting a bit smarter. Microsoft has confirmed that they're working on two new options for the presence feature in Teams.
Microsoft is introducing a new option called "Presence Status duration" that will allow you to select a specific period of time.
For example, you can set your status to 'Busy' for 30 minutes, one hour, two hours, or the entire day. In fact, you can also set your status for the whole week.
There's another option called "Custom" that leys you set your own timing for each status in Teams.
Later this year, users can also set their presence to "Offline" that will inform your colleagues and attendees that you're not available for communication.
During the "Offline" period, you can still use Microsoft Teams and read the conversations without getting noticed by other users.
The new presence feature improvements will begin rolling out to Microsoft Teams in December 2020.
In addition, Microsoft is also rolling out an improved attendance system and a new 7v7 grid layout that will allow you to communicate with 49 participants at the same time.