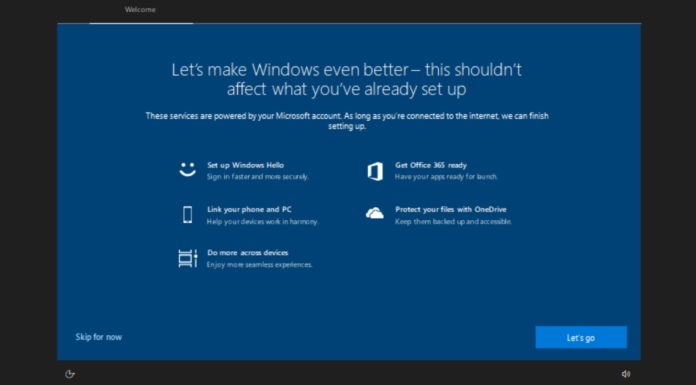 Microsoft is bombarding Windows 10 users with nag screens informing them about its services and features such as OneDrive.
After the latest Windows 10 updates, there appears to be a surge in "Get even more out of Windows" full-screen prompt. This prompt was previously displayed only on the first start of the device or after the clean installation of Windows 10, but Microsoft later started nagging more users with the notification.
You may receive "Get even more out of Windows" prompt with information about additional services such as Windows Hello that you can set up. Users have told us that the notification popped after a recent Windows Update, possibly the February and March patches.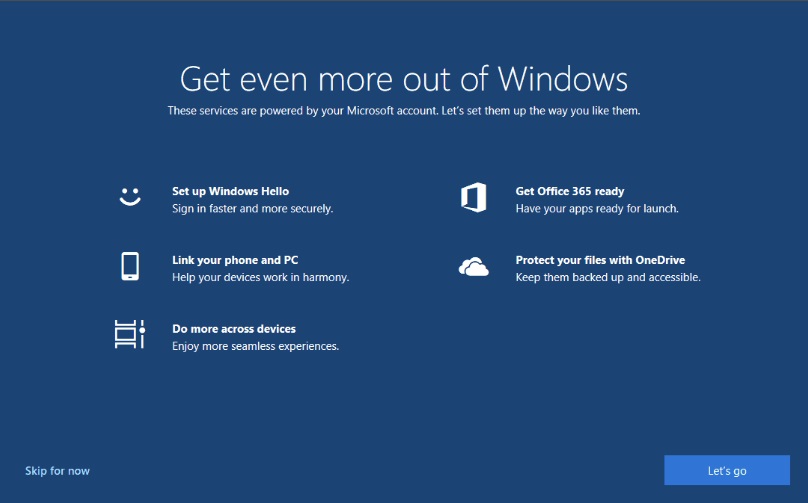 According to Microsoft, the post-upgrade setup experience was announced in May 2018 and it was shipped with Windows 10 version 1903.
Microsoft says Windows prompt highlights a number of services that you can use after setting up a Microsoft Account. For example, the notification recommends users to review the following services:
Your Phone – Link your Android phone to your Windows PC.
Windows Hello – Microsoft recommends you to set up Windows Hello for additional security.
Office 365 – The notification promotes Office 365.
Cross-platform and device experience with Microsoft account.
OneDrive.
With this prompt, Microsoft hopes to get more users to discover Windows 10 and Microsoft account services and use them. The full-screen prompt could be useful for many and scary for some people as it resembles the first boot/new device experience.
If you don't want to set up these services or you have already enabled some of them, you can skip the notification, but the prompt may pop up again after the installation of an update or occasionally after a reboot.
Fortunately, Microsoft allows you to speed up the Windows boot process by disabling the prompt permanently. To disable this notification, follow these steps:
Press Windows key + I to open Settings.
In Settings, navigate to System > Notifications & actions.
Scroll and look for 'Suggest ways I can finish setting up my device to get the most out of Windows'
Uncheck this option and the notification will not show up again.
You should disable the prompt if you are aware of these services as it may speed up the Windows Update process.