KEY POINTS
Microsoft has released a faster version of the Microsoft Store for Windows 11 and Windows 10, making it almost three times quicker.
The Microsoft Store now features an "AI Hub" section showcasing AI apps and a new "AI reviews" feature that summarizes user reviews using artificial intelligence.
Microsoft focuses more on AI in Windows 11, with features like the AI-powered Windows Copilot, but it's still being improved and doesn't yet support all plugins.
A new update is heading to the Microsoft Store on Windows 11 and Windows 10 with significant performance improvements. Microsoft told me the update is available for everyone, and you no longer need to join the Windows Insider Program to try the faster Microsoft Store.
The faster Microsoft Store is available with version 22309 and is available for all users. Our tests showed that the new Microsoft Store is almost three times faster. While the older version loads in about 10 to 15 seconds, the new Store launches on our devices in just two to three seconds.
That's not all, though. Microsoft promised to make the Store on Windows 11 even better and faster in future updates. While today's update is all about fixes, the last big update for the Store added AI improvements. However, AI features like "AI Hub" and "AI reviews" are limited to Windows 11.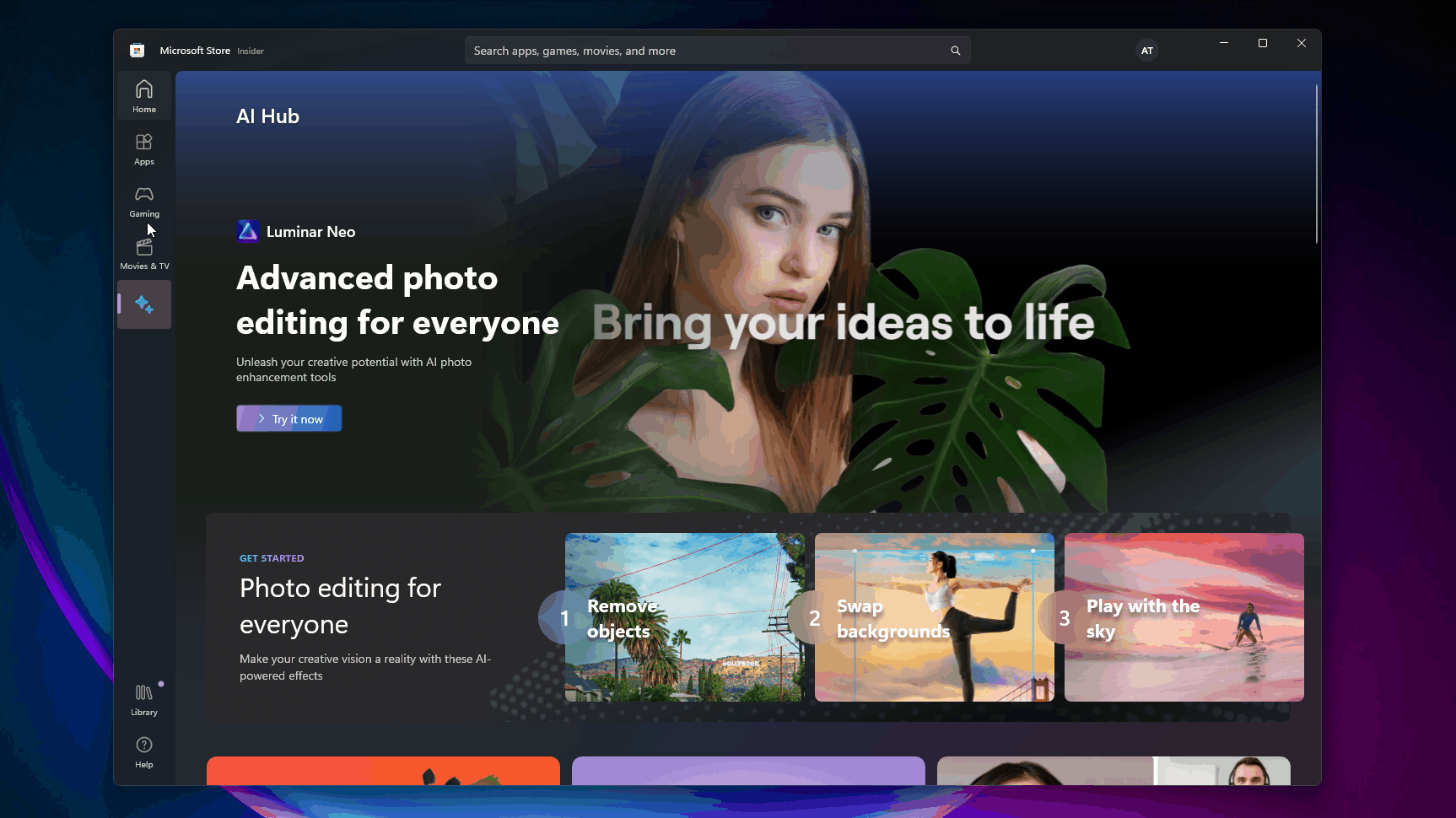 As you might guess, AI Hub is a new section in the Microsoft Store that surfaces apps or tools powered by AI in some way. It could be your favourite image editor is now using AI or a music player with AI integrated in one way or another.
Microsoft wants more users to find the "hidden gems" of AI.
The Store's AI Hub highlights apps offering the best AI experiences, such as Microsoft Edge with Bing, Luminar Neo, and more. Of course, these apps have been declared "best" by Microsoft based on many factors, such as user reviews and the use of AI.
The second significant change is support for "AI reviews". We don't know how many of you have noticed this nifty new addition, but Microsoft Store can use an artificial intelligence-fueled feature to generate and summarize reviews based on existing reviews.
User reviews are important in a marketplace like the Microsoft Store, where you buy apps or games. Reviews help you decide whether any given app is good, but it's practically impossible to read all reviews, especially when there are many user reviews.
That's where Microsoft's new optional AI feature combines the best and worst reviews to create a balanced assessment of the app using AI.
As you may be aware, Microsoft is betting on AI in Windows 11. The Moment 4 update added AI-powered Windows Copilot to the taskbar, integrating Bing Chat and AI into a few Settings. For example, you can use Windows Copilot to turn off or on dark mode, do not disturb and other settings.
But it's far from perfect, and we're still waiting for plugin support in Copilot.