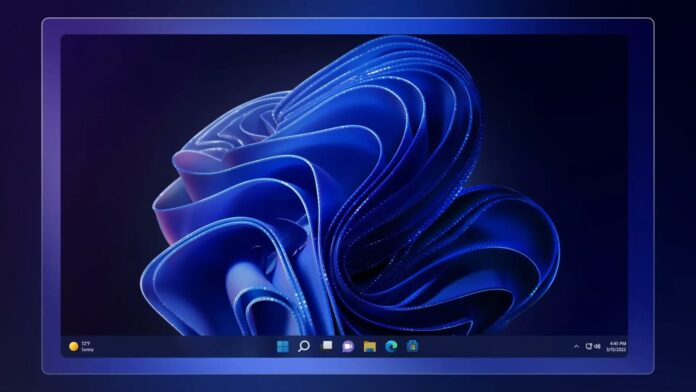 Windows 11 KB5031354 Patch Tuesday update is now available, and it comes with a lot of features if you skipped last month's optional update or Moment 4. Microsoft has also published direct download links for Windows 11 KB5031354 offline installers in .msi format.
KB5031354 for Windows 11 is a mandatory security update, but the Moment 4 features remain optional. If you haven't downloaded or installed the September 26 update and turn on the "Get the latest updates as soon as they're available" toggle in Settings, you can now access all Windows 11 Moment 4 features like Copilot and more.
Windows 11 Moment 4 update, one of the biggest updates of the year, is still optional and available only when you enable the "Get the latest updates as soon as they're available" toggle in Settings. Previously, the toggle worked with Windows 11's September 26 optional update only, but now it also works with today's KB5031354 (Build 22621.2428) or newer.
The October 2023 Patch Tuesday update (Windows 11 Build KB5031354) has several general improvements, even if you skip Moment 4. For example, Microsoft has fixed an that broke Microsoft Excel, particularly when you tried to share a file as a PDF via an email client, such as Microsoft's own Outlook.
On updated systems, if you check for an update today, you'll see the following patch:
2023-10 Cumulative Update for Windows 11 Version 22H2 for x64-based Systems (KB5031354)
To install the October 10 Patch Tuesday update on Windows 11, use these steps:
Open Windows Settings.
Go to the Windows Update page and click 'Check for updates'.

Microsoft will start checking for updates on the PC.
Once done, click Restart Now to finish the installation.
After installing today's update, your system will advance Windows 11 22H2 to Build 22621.2428.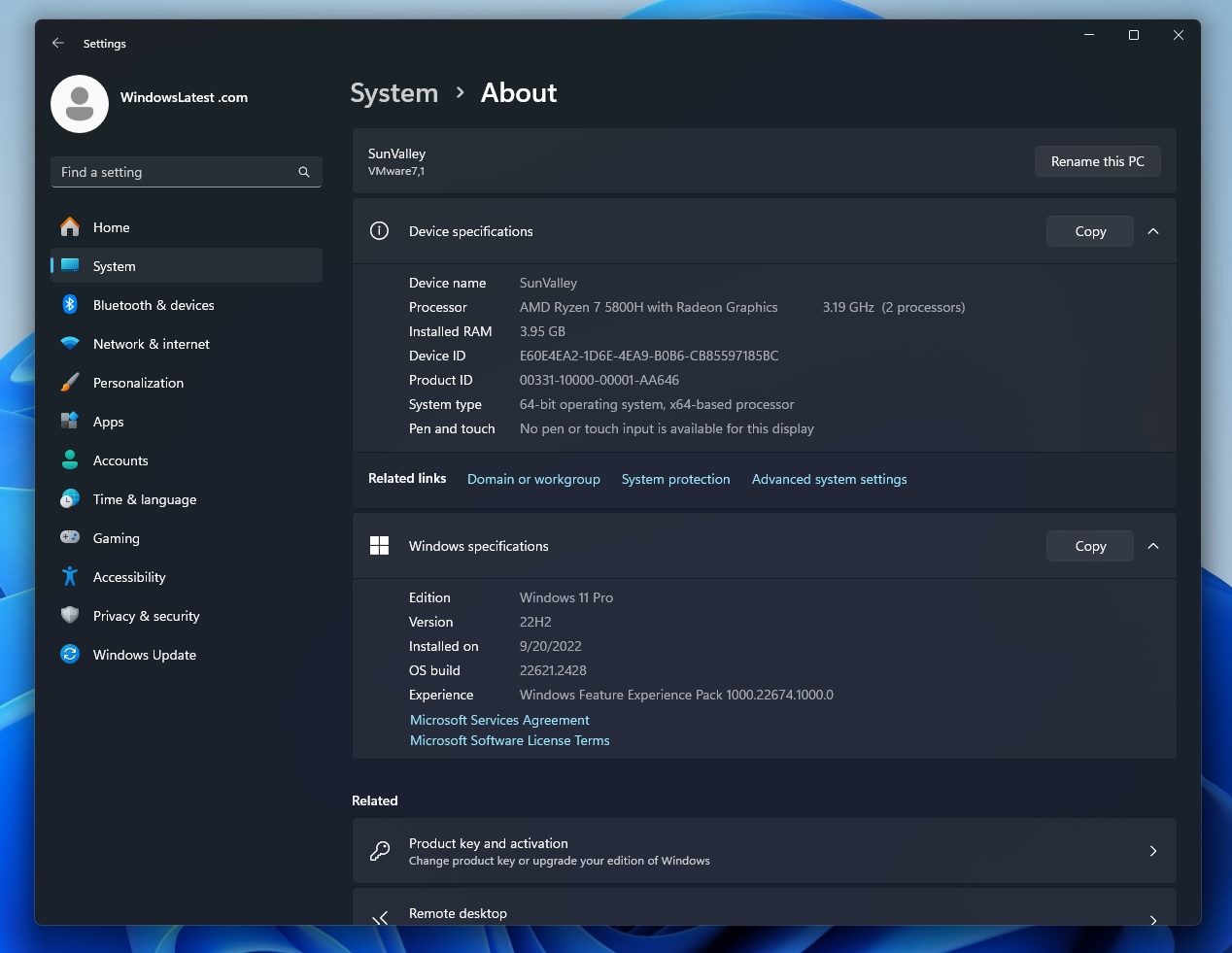 If you want to try the Windows 11 Moment 4 update features hidden in the update, ensure the "Get the latest updates as soon as they're available" toggle is enabled and check for updates again.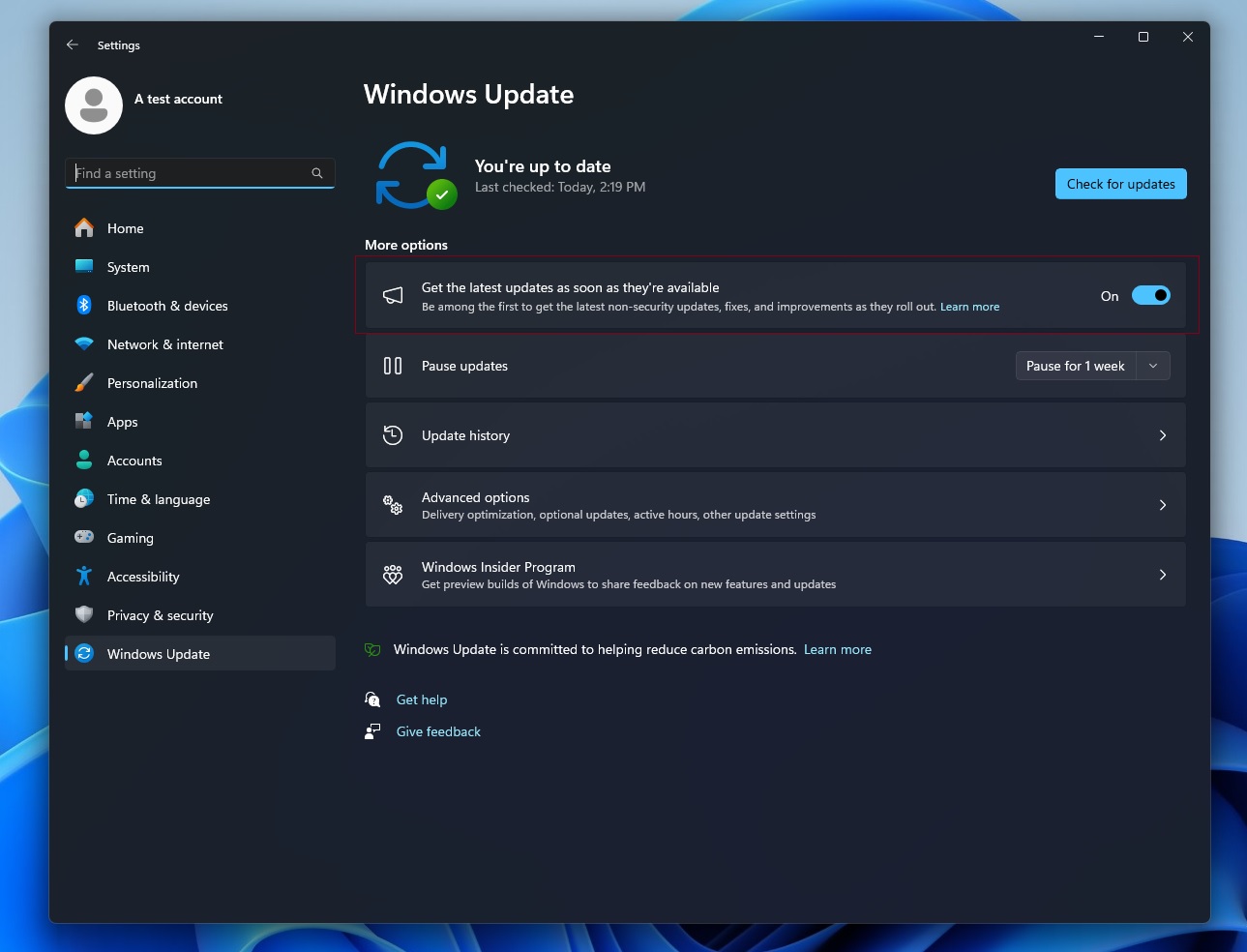 As you can see in the above screenshot, the toggle needs to be set to "On" to get new features, such as labels support on the taskbar, Windows Copilot, a new Settings homepage, and more.
Download Links for Windows 11 KB5031354
Windows 11 KB5031354 Direct Download Links: 64-bit.
Windows 11 KB5031354 changelog
Today's Patch Tuesday is a significant release if you select the toggle and enable the Moment 4 features. However, if you skip the Moment 4 update for now, installing the Patch Tuesday security update will still resolve many problems.
According to the support document of the previous update, which is included in this patch, Microsoft has made several changes. For example, Microsoft has enabled website support in the Recommended section of the Start menu. You'll notice several frequently visited websites in the Start menu based on your browsing history.
In Windows 11 Build 22621.2428 or newer, you can toggle off the feature by heading to Settings > Personalization > Start.
Microsoft has also patched an issue affecting the toolbox tooltip where the tooltip (info that appears when you hover around or over the search) does not appear in the correct position. Another bug has been fixed where the search button disappears when you move the cursor close to the search flyout.
Here's a list of all the important fixes in the Windows 11 KB5031354 update:
When you resume sleep, Microsoft fixed an issue that caused a blank window with the "Windows Input Experience" title.
Outlook's sync issues have been resolved, and users can now smoothly sync their iCloud Calendar or Contacts using iCloud for the Windows app.
1. Copilot
As mentioned at the outset, Windows 11's October 2023 security update also bundles the Moment 4 update. If you enabled the toggle, you could try Windows 11's Moment 4 or 23H2 fetaures, including Windows Copilot.
As you probably know, Windows Copilot is a full-fledged Bing Chat for Windows integrated directly into the desktop interface. You can click the Copilot icon on the taskbar and open the AI on the right side of the screen. You can also use Win + C (previously used for the depreciated Cortana app) to launch Copilot.
Copilot is restricted to the sidebar and won't obstruct desktop content or open apps. This means you can use Copilot alongside any app, but it won't work properly with full-screen games.
It is worth noting that installing KB5031354 is not enough to enable Windows Copilot in Windows 11. Microsoft told us Copilot is limited to select regions only, but the tech giant promises expansion to more countries and support for the modular interface.
With Bing Chat's assistance, Copilot offers context-aware responses. Microsoft emphasizes its commitment to user data privacy and its dedication to responsible AI development. A broader release is planned following this preview.
2. Start menu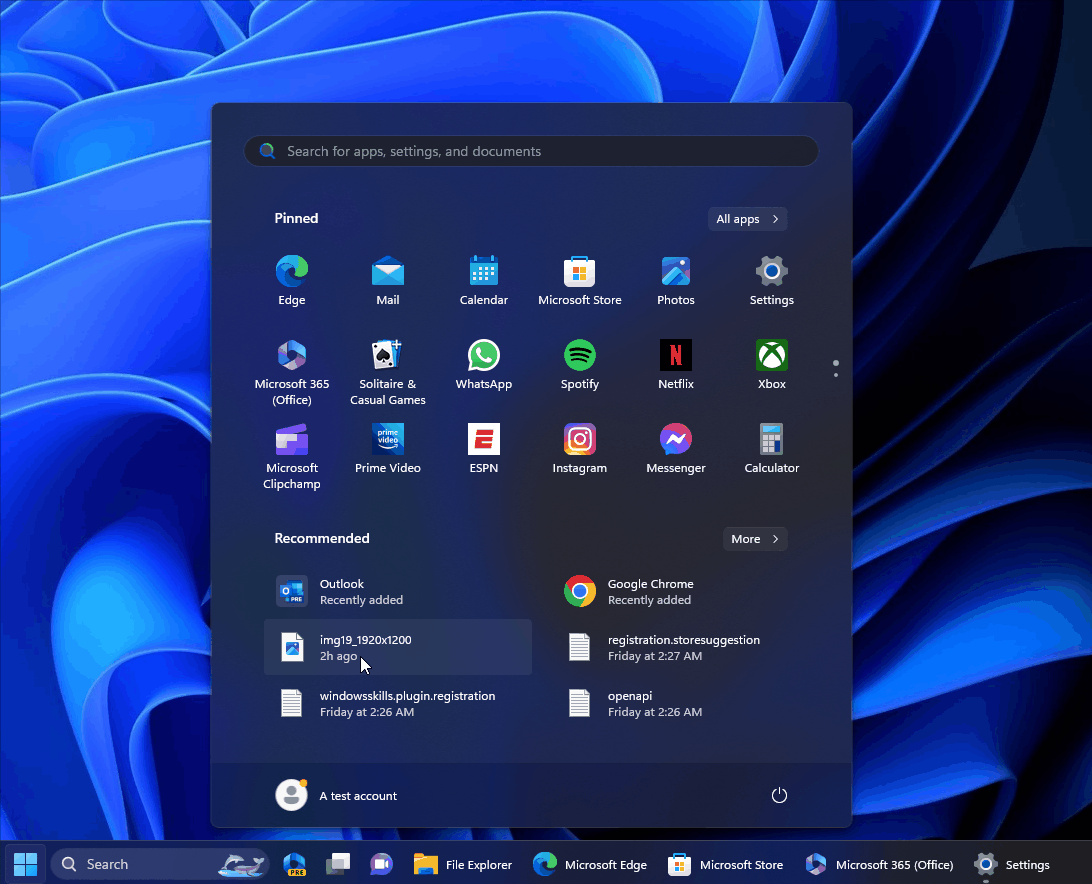 The start menu is also getting a few improvements. For example, Microsoft has added a richer preview when hovering over recommended riles. This is supposed to be for pictures, texts, URLs, and more.
3. Taskbar, system tray, and notifications
Microsoft is finally bringing back "never combined" for the taskbar. You can now view labels for the app and easily switch back and forth between multiple instances.
A new volume mixer replaces the legacy version and enables support for Windows Spatial Audio. You can now turn on the feature directly via the modern volume mixer.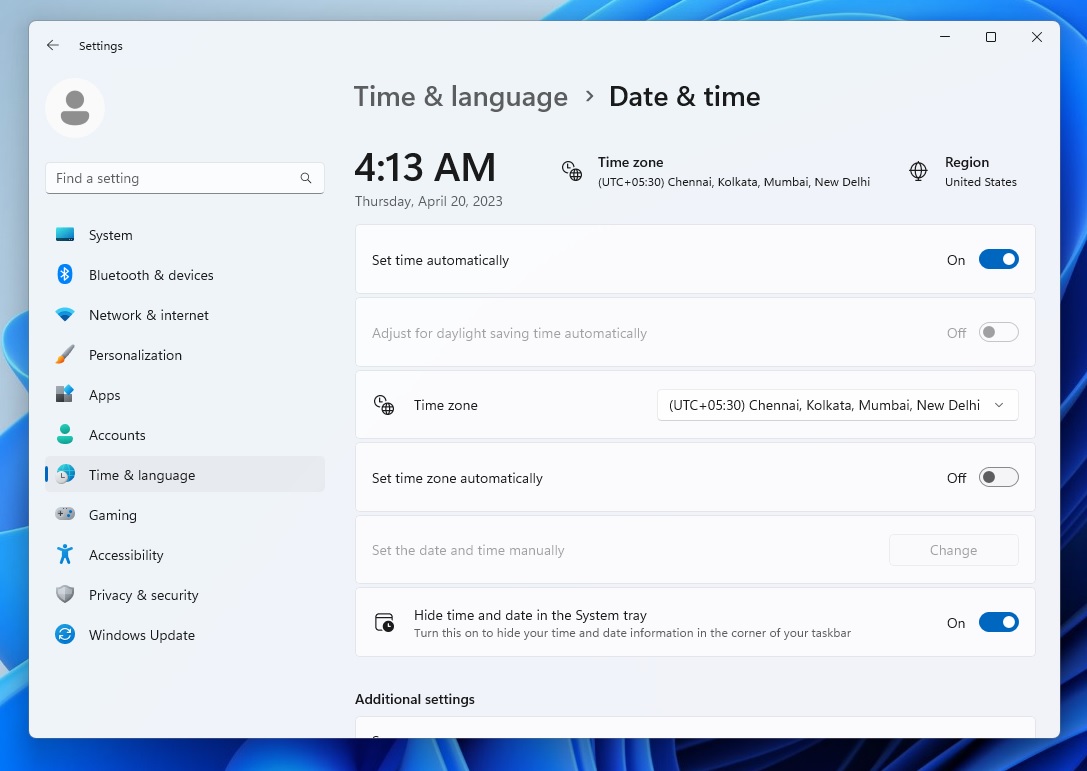 This update introduces minor tweaks, including sible desktop labels in Task View, and an option to hide the time and date in the system tray. The option to hide time and date is believed to be part of the tech giant's plan to reduce clutter and modernize the OS.
The system tray's Windows 11 Build 22621.2428 notification mechanism is now switching to a new icon for alerts, toast notifications, and more. Another noteworthy change enables enhanced task management and network diagnostics from the system tray.
4. File Explorer
File Explorer sees a massive overhaul in today's patch update. Some of the highlights are a modernized home screen powered by WinUI, an improved address bar, a new details pane, and the introduction of a Gallery.
The Gallery view in File Explorer is similar to the Photos app's Gallery, and you can customize the experience by selecting locations to fetch media.
You can also merge tabs within the existing window of File Explorer.
5. Windows Share
Microsoft is improving Windows Share, a feature that lets you copy links or share files via apps. The update adds email file sharing via Outlook. Additionally, Windows Share supports search capabilities for contacts, so you can easily share files via Outlook contacts.
Other features include a simplified method to turn on nearby sharing and quicker file transfers between PCs using Wi-Fi Direct.
6. Backup and restore
A new backup app has been added to Windows 11 with Patch Tuesday. Microsoft has warned that the Windows Backup app cannot be removed but plans to hide it in LTSC and business versions.
The newly introduced Windows Backup app simplifies backing up your PC and setting up a new device. It ensures a seamless transition with Microsoft Store apps, desktop apps, and settings from your previous PC being restored on the new one.
7. Emoji
Support for Unicode Emoji 15 is added, allowing users to view, search, and insert the latest emojis. The upgrade to the COLRv1 colour font format offers emojis with a 3D-like appearance in supported apps.
8. Windows Spotlight
The Windows Spotlight experience gets a revamp. Users can now preview images in full screen, access various information about each image, and explore more about each showcased image via Bing.
What's broken in Windows 11 22H2 October 2023 Patch update
Microsoft proudly says it is unaware of any issues with this update, but some of you may run into issues when installing the Windows 11 KB5031354 update, including unhelpful error messages.
We recommend using the Microsoft Update Catalog to install updates when they do not install via Windows Update.