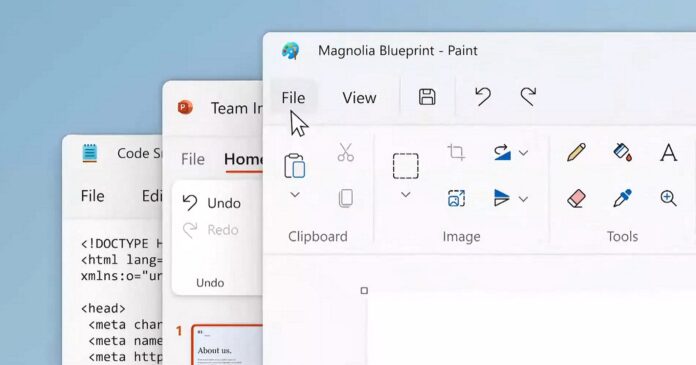 Microsoft finally announced Windows 11 today with centered Start Menu, taskbar icons, floating Action Center and Windows Search. Microsoft also announced a new app store, support for Android apps, and now a new teaser from the company has confirmed that classic apps are also getting Fluent Design.
As part of Windows 11 refresh, File Explorer, Settings, MS Paint and Notepad are getting Fluent Design improvements.
The toolbar, which is at the top of the Paint and Notepad window, is being replaced by a new modern header where you'll find all of the options previously used to interact with the canvas and text editor.
A screenshot from Microsoft's developer event shows off a simplified ribbon-like header with Fluent Design. Currently, there's no sign of web browser-like tabs functionality, which was part of Windows Sets.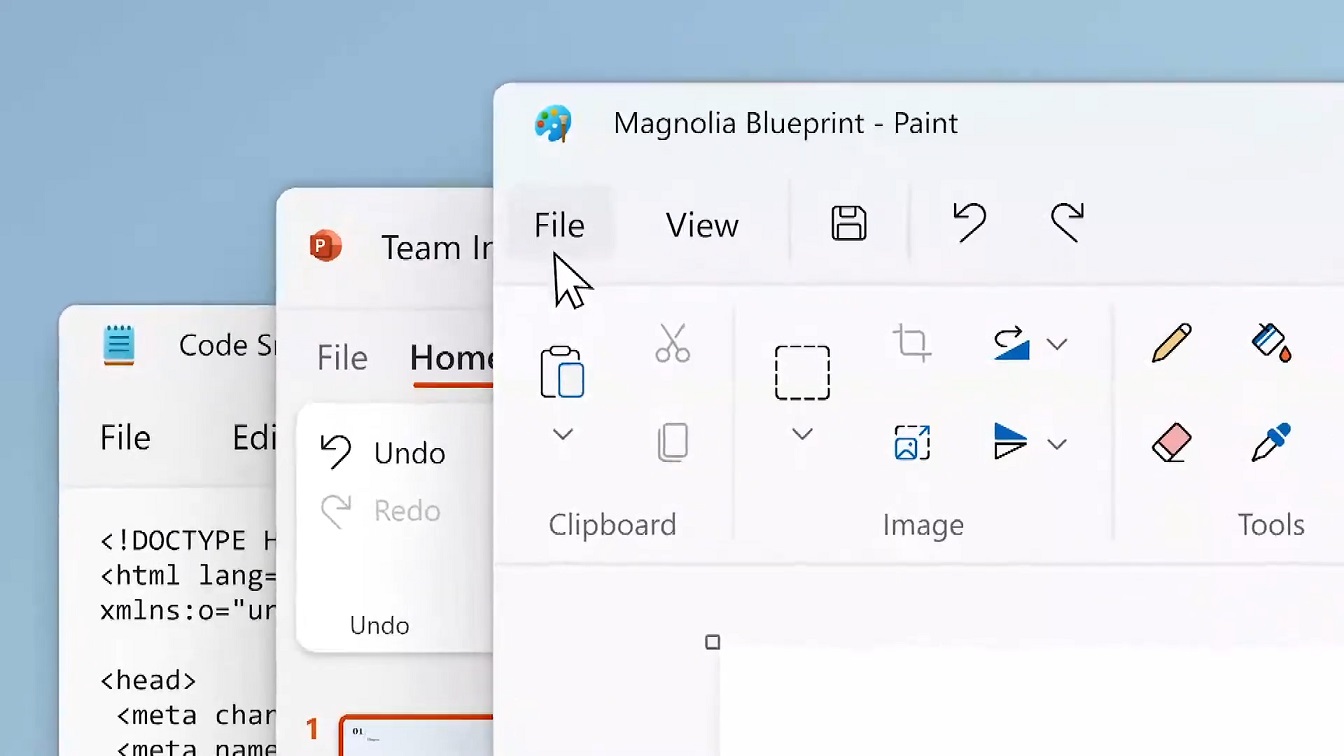 In MS Paint, the header contains the primary/secondary selection box, brush selection tool, shapes, thickness/thinning slider, outline/fill and all other options we've currently.
To be clear, Paint is not losing any features as part of the Fluent Design revamp. It's only getting a visual upgrade, which was long due.
In addition, there are a bunch of new icons for common buttons such as cut, copy, share, delete, rename, properties, and more. These buttons are visible in File Explorer, Notepad and other Windows apps.
Based on screenshots from Microsoft, it looks like we're finally getting a consistent header design across most common apps. Currently, not much is known about the new header design and how it is being implemented in Windows.
It is likely that Microsoft is still exploring the feature and it will eventually getting better in the Windows 11 Insider Preview that will be released next week (last week of June).
More on Windows 11
In addition to these new UI improvements, we're also expecting new Photos and other first-party apps from Microsoft. Windows Store is also getting a revamp and Android apps are coming via Amazon Appstore.
While the preview builds will be published later this month, the stable build of Windows 11 is expected in the fall of 2021 and a wider rollout will begin in early 2022.
Microsoft also confirmed Windows 11 is a free upgrade and there's a good chance you'll get the operating system at no cost even if you're still running Windows 7, though Microsoft hasn't confirmed the direct upgrade to Windows 11 for Windows 7 and official statement states "only eligible computers" will be upgraded for free.