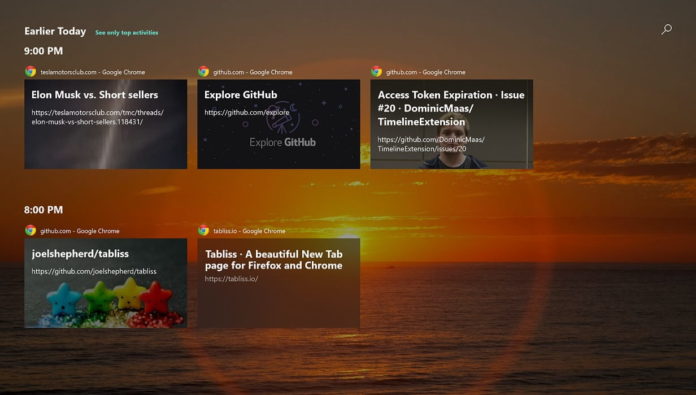 Microsoft's latest version of the Windows 10 operating system comes with Timeline. Called Windows Timeline, it happens to be one of the hallmark areas of the Windows 10 April 2018 Update. Microsoft's Edge browser integrates with Timeline by default. Unfortunately, app developers would need to add Timeline support to their apps.
Google Chrome doesn't have Timeline integration, so developer Dominic Maas coded an extension that brings the browser to Windows 10 Timeline. His extension is now available for download in Chrome web store and Firefox store.
It is nice to see that there's a way to unofficially get Chrome and Firefox working with the Windows 10 Timeline feature.
Features
The extension lets you sync your browsing history to Windows Timeline and you can access it on any other device with the same Microsoft account.
You can also configure the time that you need on a page before it's stored as an activity in Timeline.
Interestingly, you can also continue browsing on another device.
What's next?
Toggle switch for a built in ignore list (will include login urls, url shorteners etc.)
Ability to add a custom ignore list.
The developer explains that the extension provides deeper Windows 10 integration features into Google Chrome.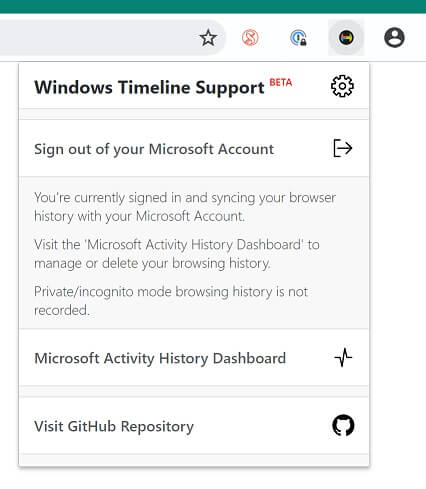 The developers Dominic Maas and Daniel Aleksandersen are actively working on this feature for Google Chrome, Firefox and Vivaldi. The extension would basically publish your browsing history as activities to the Microsoft Graph.
You can download extension for Chrome from the Web Store and Firefox users can download it from here.