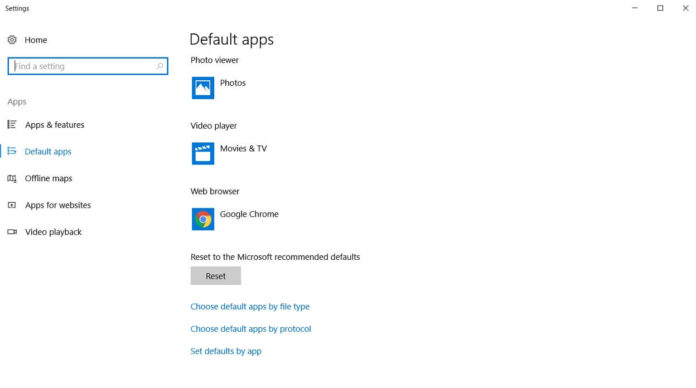 Microsoft is finalizing the next version of Windows 10 codenamed Redstone 4 but it appears that the rumoured RTM candidate of Windows 10 April 2018 Update has a weird bug. A number of users on Reddit claims that a bug in Windows 10 Build 17134 causes the Settings app to crash.
By the looks of things, the bug appears on a number of systems, which suggests that the issue is quite widespread. The Settings app crashes without any error when you will attempt to change the default apps, and there's no workaround at the moment. It is worth noting that the bug doesn't exist in Fall Creators Update and Redstone 5.
The issue is only affecting the systems running Windows 10 Build 17134, though it seems like not everyone is experiencing it. A lot of users were able to reproduce the issue on their PCs. If your PC is running the Build 17134, you can verify the bug by launching the Settings  and navigating to Apps > Default apps > Set defaults by app. The moment you will click on "Set defaults by app", the Settings app will crash without any errors. Needless to say, this is one of the worst UWP apps as there's no easy way to trace the error.
"To find out why it's crashing you have to turn on tracing. Which is what the feedback hub does when you tell it to record diagnostics when creating new feedback," a Reddit user Fourwhey explains.
It is worth noting that there's no official workaround available at the time of writing this story, but rebooting the system several times fixes the problem for some users. Windows 10 build 17133.1 was the original RTM build that shipped to all Insiders but Microsoft dropped it in favour of build 17134 due to a blocking bug.
The bug should not be a big deal for Microsoft as the company could easily address it with a cumulative update. However, the bug could delay the release of the Windows 10 April 2018 Update. The update projected to begin rolling out by the end of this month.
Redstone 4 is the codename of the next version of Windows 10 which could be called 'April 2018 Update', however, Microsoft is yet to announce the name of the update.