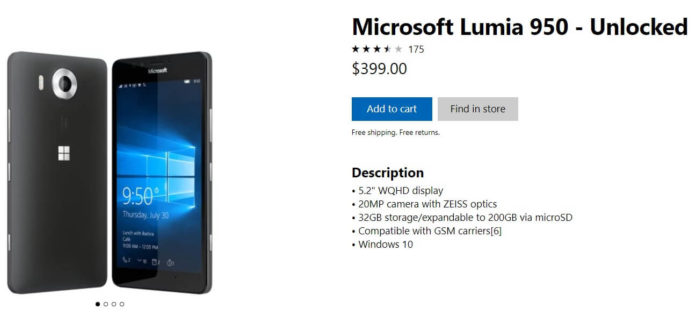 Microsoft might be planning to kill off the Lumia brand soon, although the company hasn't yet officially confirmed this, it keeps dropping hints that Lumia is discontinued. Microsoft last year removed all Lumia phones from their online store including the Lumia 650 and as well as the flagship Lumia 950 phone, the decision made perfect sense since Microsoft has already confirmed that Windows Phone has no future.
The first signs that the end was approaching for Lumia came back in 2015 when Microsoft launched the premium-looking Lumia 650 for an expensive price tag, and this handset was said to be the last Windows Phone from the company. Since then, Microsoft is no longer developing any Lumia phones, while the company is believed to be working on mythical Surface Phone.
Today, we have discovered that Microsoft US Store has once again started selling the Lumia Windows Phones, including the flagship Lumia 950 for $399, Lumia 950 XL for $499, Lumia 550 and Lumia 650 for $139 and $199 respectively.
A Microsoft Store sales agent confirmed to us that Lumia phones are back in the store on February 4 after a long gap. "They are recently back this early February. Specifically, on February 4th 2018," Microsoft sales team told us.
If the rumours were believed to be true, Microsoft had planned to sell as many Lumias as possible while stocks last, but it looks like the plans have changed or the company is selling the remaining stock which they recently discovered.
You can buy Lumia 950 from here and Lumia 950 XL from here. Microsoft is also offering a special discount on Lumia 650 for students, while for everyone else, it's available for $199 from here and Lumia 550 from here.
The future of Lumia brand is dark, as the software giant is working on a mobile type device under the Surface brand, the high-end flagship Windows 10 device is expected to debut in 2018, though official details are not yet available. Recent reports have indicated that the company is planning to debut the foldable Andromeda in the second half of 2018.