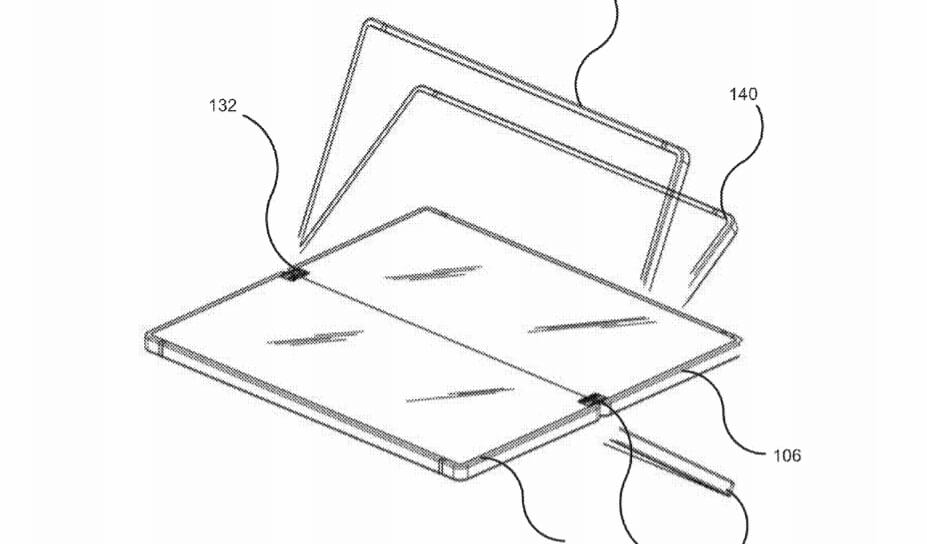 Microsoft is internally testing a new device codenamed Andromeda, popularly referred to as Surface Phone on the web. Microsoft's upcoming mobile device 'Andromeda' is the company's first 2-in-1 tablet powered by Windows Core OS. With the so-called Surface Phone, Microsoft is trying to invent new product categories, and rebooting the Windows on Phone project once again.
There are living proofs confirming that Microsoft has already managed to create a new category of devices and it could be unveiled by end of this year. Yesterday, a new patent filed by Microsoft has been published online showing off the Andromeda (Surface Phone) hinge design in detail.
The company says foldability is the solution to portability issue of large-screen size phones (tablet). "Along with these enhanced capabilities has come a demand for larger displays to provide a richer user experience. Mobile phone displays have increased in size to the point where they can now consume almost an entire front surface of a phone. In some cases, further increases in display size would detract from other capabilities of the device, such as its pocket-size form factor," Microsoft explained.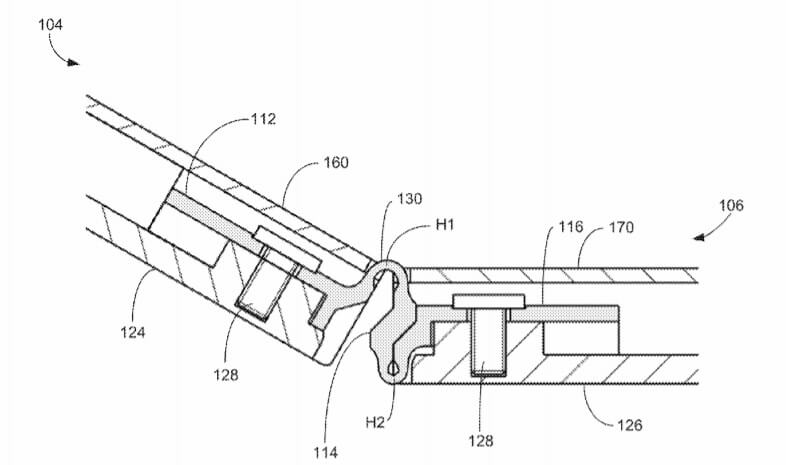 This patent also shows that Microsoft was working on a new mobile device having all kinds of features, most importantly the dual-screen with an interesting hinge. In the patent, Microsoft details a special hinge called 'live hinge' which would enable dual-screens support in a device, in other words, the foldable device will turn into a phone when the screen is folded, and it can be opened flat into a tablet mode. The innovative hinge that could enable more than one form factor (tablet in this case).
Could this be the long-rumoured Andromeda (Surface Phone)? It might be, but not all patents turn into real products. However, it's likely that the device will feature a similar or better hinge as shown in the above images. The device will also support a full 360-degrees of rotation, the device could be also turned into a tent mode. It can be closed like a book, open into a mode where two screens conjoined into one display, and a 360 degrees mode which would look like a tent. Microsoft calls it a multi-part device which could be implemented in the future foldable Surface models.
"Multi-part devices are becoming more popular. Multi-part devices have two or more parts that are coupled together, such as by a hinged or sliding arrangement. In many multi-part devices, there are multiple displays that can be positioned adjacent each other to expand the effective display size. In the case of a two-part device with each part having a single display, both displays are face-to-face in a closed position so as to protect the displays. In an open position, the displays are side by side to provide a maximum display area. In a fully-open position, the dual displays are positioned back-to-back so the user can simply rotate the device to view the opposing display," the company added.
Yesterday, a Microsoft enthusiast discovered Andromeda, Polaris and 'Continuum' codes in latest insider build of Windows 10. The patented device isn't a smartphone, it's a device with a focus on portability. Andromeda is very unlikely to be a simple smartphone, it might feature dual-screen connected to each other with a new hinge.
The project obviously makes sense as Microsoft has in past stated that the company was looking into building the ultimate mobile device powered by Windows 10 operating system. Andromeda is still something the software giant is experimenting with a lot of ideas these days.