Earlier this week, Windows Phone Internals 2.3 became available for download, allowing any non-technical user with a Lumia handset root the device. The tool basically allows you to bypass the SecureBoot on all Lumia phones after successfully unlocking the bootloader.
Windows Phone hacker Gustave M has now managed to run Windows PE with Windows 10 Build 17061 ARM32 image on a Lumia 830. With help of Windows Phone Internals, Lumia phones can boot Windows PE (WinPE) with Windows 10 ARM images.
Microsoft recently teamed up with Qualcomm to work on 'Windows 10 ARM project', while initially, everyone thought it would replace Windows 10 Mobile operating system with a new interface similar to of Windows 10 desktop. Microsoft's Joe Belfiore has however confirmed that the full version of Windows 10 ARM won't be coming to the Windows Phones.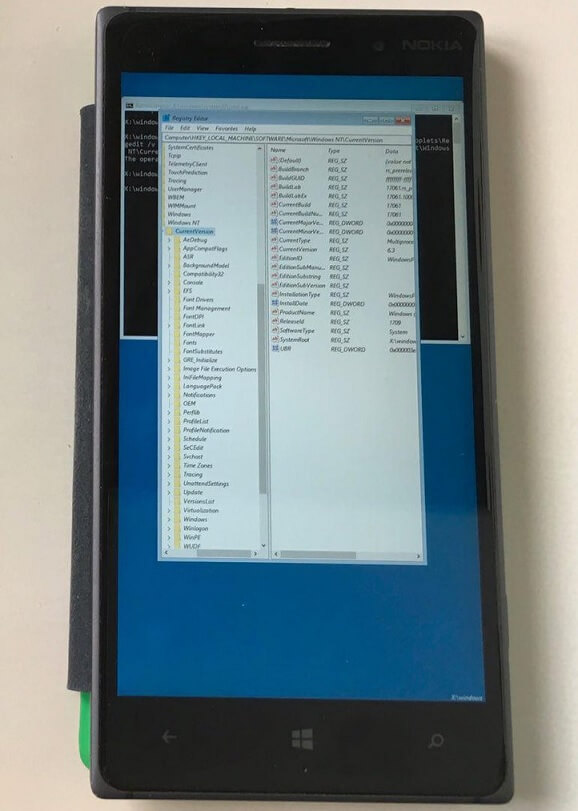 "The Windows 10 on ARM effort is about enabling the PC experience on devices that are built on ARM so that they're connected all the time and have great battery life. So the experience is a desktop PC experience, it's not a phone-like experience. For phone-like experiences on ARM, we have Windows 10 Mobile. What Windows 10 on ARM is, is a desktop-like experience so that you get the battery life that ARM processors tend to have," Belfiore explained why full Windows 10 won't arrive on smartphone.
Microsoft is working on a new mobile device with Windows Core OS, the project is supposed to introduce the same interface across phones, tablets and PCs. While Windows 10 Mobile is dead, the company is still committed to the idea of 'Windows 10 on Mobile'.
Windows Phone Internals allows you to enter Mass Storage mode and even install custom ROMs, as it can unlock the hardware of Windows Phones to 100%. Since Microsoft has confirmed that Windows 10 Mobile is dead and it won't be getting any new features, it makes sense to give your Lumia a new life.