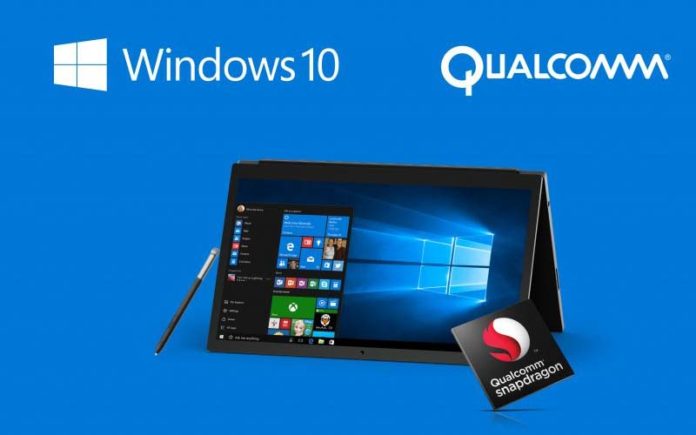 Microsoft's Windows 10 ARM is almost ready for launch as the company is in the final stages of development. In a partnership with Qualcomm, Microsoft announced its plan to bring Windows 10 on ARM devices. The better battery life is not the only reason why Microsoft has decided to give Windows on ARM another go, according to internal reports, Microsoft wants to snatch away the desktop chipsets dominance from Intel and believes that the firm needs a counter to its dominance.
With Windows RT, Microsoft failed to give Intel a counter to its dominance as Windows on ARM wasn't ready at that time. However in 2016, Microsoft tightened its ties with Qualcomm to work closely on 'Windows 10 on ARM' project, both tech giants have been testing the OS with different chipsets to find out the best performing configuration and apparently, Snapdragon-powered PCs are finally ready.
Windows 10 on ARM brings PC-like experience to mobile chipset
Microsoft's Windows group manager recently revealed that Windows 10 on ARM is an opportunity to make the PC experience even more mobile. Qualcomm agrees that besides 5G, Windows 10 ARM is the most exciting project for them.
Qualcomm's Cristiano Amon has now revealed some new and exciting details about the Windows 10 on ARM project. In this article, we'll learn almost everything about Windows 10 on ARM.
Unbelievable battery life
Qualcomm's executive Cristiano Amon details that Windows 10 ARM devices will offer an unbelievable battery life, unlike Intel processor, Qualcomm ARM chipset consumes less power. Windows 10 on a Snapdragon 835-powered PC will offer up to 29 hours of battery life while using Netflix in 4G connectivity. On a very heavy usage, the device will last for at least 18 hours in comparison to 10-15 hours of battery life offered on Intel-powered PCs without 4G connectivity.
Qualcomm explains that the longer battery life has been achieved by optimizing the power consumption of the processor when booting Windows 10. Furthermore, as the size of the motherboard is smaller, OEMs can also install a larger battery for best battery life.
Windows 10 on ARM to support even more chipsets
As of right now, Windows 10 on ARM only supports the Snapdragon 835 processor. However, Qualcomm is also testing new chips for Windows 10 with better performance, increased memory bandwidth and improved graphics.
More OEMs to join the club
How about a Windows 10 ARM device from HTC? It may be coming soon as Qualcomm plans to bring new manufactures on board. OEMs, like Dell, HP, Asus, Acer and Lenovo are selling the Windows 10 devices while the phone makers such as HTC is out of the computer market.
This will change with Windows 10 ARM as Qualcomm and Microsoft wants to partner with all OEMs to launch a lot of Snapdragon-powered PCs. This will not only help Windows 10 ARM but even the Windows Core OS devices as by that time Microsoft will have enough OEMs partner to launch new Windows 10-powered mobile devices.
Windows 10 ARM devices from Asus, HP and Lenovo on track
Qualcomm once again confirmed that as of now, Asus, HP and Lenovo are testing Snapdragon-powered PCs with Windows 10 and it is expected to be unveiled later this year or early next year.
On the other hand, Orange and Transatel in France are working with the chip maker to allow e-SIM facility on Windows 10 ARM devices. Microsoft explained that the embedded SIM in Always-connected PCs would enable simple activation of the device but it requires modification in operators' networks.
Windows 10 on ARM devices will be expensive
Despite being powered by Snapdragon processor, the Windows 10 on ARM wouldn't be cheap initially. Windows 10 ARM devices will be priced as high as 1000 Euros in Europe and 5000 Yuan in China.
PCs with Snapdragon will be launched within same price range as that of Intel PCs. While the Windows 10 ARM devices will be better than Intel PCs because of better battery life, 4G connectivity and more.