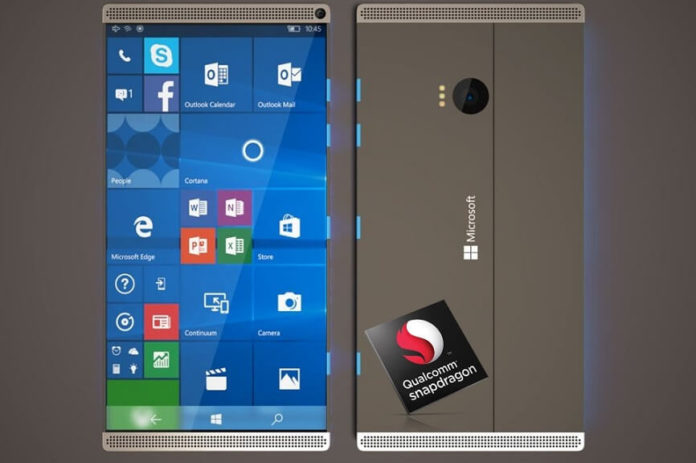 Since Microsoft has given up on its mobile business, the launch of a Surface-branded smartphone Surface Phone is now extremely unlikely. While earlier the Surface Phone was supposed to be the ultimate mobile device, Microsoft is now working on 'Andromeda', a foldable mobile-type device with Windows 10 ARM. Several Microsoft executives including CEO Satya Nadella hinted that the Redmond giant is working on the ultimate mobile device and he recently explained that "category creation is going to be a new part of what we (Microsoft) have to do."
"We absolutely do not have the share to have our smartphone hardware, that's a real consumer choice. The reality is that we cannot compete as a third ecosystem with no share position and attract developers. The thing we're doing is to make sure that the software is available so that we can service the enterprise customers who really don't care about a lot of the things a consumer will care about," Nadella told GeekWire Editor Todd Bishop at the 2017 GeekWire Summit.
Microsoft has filed several patents for foldable mobile-type devices recently, and the latest patents indicate that Microsoft's next device could be a new mobile-form factor with a foldable screen but it won't look like a smartphone (Surface Phone?), as earlier promised by CEO Satya Nadella.
This week, at Qualcomm's Snapdragon summit, Microsoft officially unveiled the Always Connected PCs from Asus and HP. Both Windows 10 ARM devices offer incredible battery life and impressive performance at the same. There are some very good reasons inside why Microsoft (Surface) Andromeda with Windows 10 ARM is a great idea.
Why is Microsoft Andromeda with Windows 10 ARM a great idea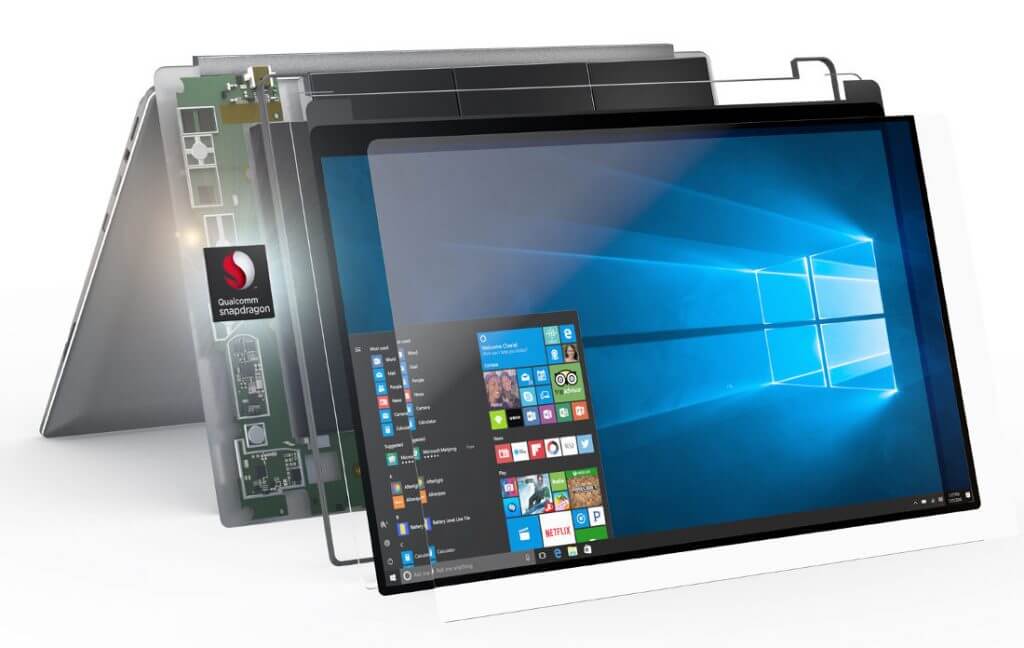 A report recently confirmed that Microsoft Andromeda will run on ARM, it's likely that the ultimate Windows 10 device will ship with the latest Snapdragon processor (845?) available at that time (late 2018). Read on to know the advantages of a foldable device with Windows 10 ARM.
Battery life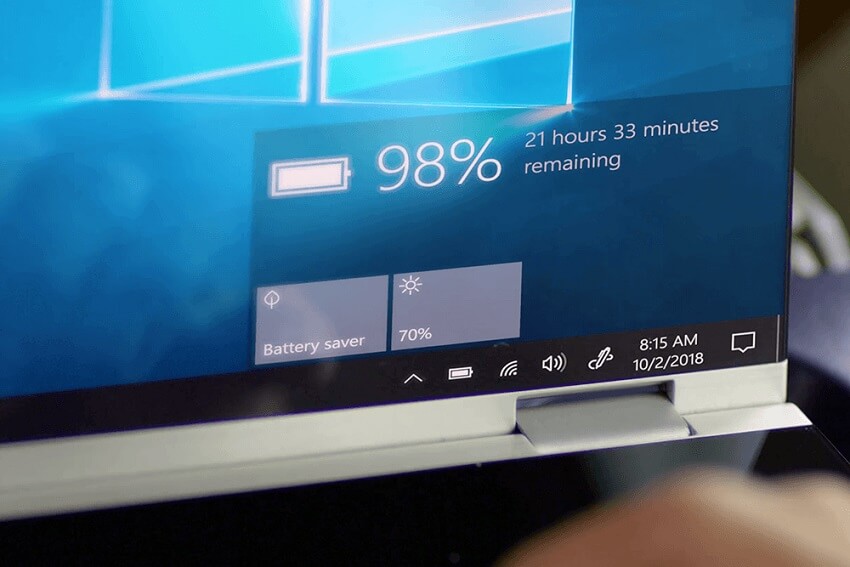 If Intel processor power the Andromeda, the device won't perform well in terms of battery performance. It could be one of the reasons why Microsoft has chosen Snapdragon chipset for its Andromeda mobile device. Just like your smartphone lasts all day, the Windows 10 ARM devices will too last more than your laptop manages to do. One of the big advantages of a chipset like the Snapdragon 835 is that it supports devices that have small batteries.
Snapdragon 835 mainboard is actually physically smaller than x86 chipsets from its rivals, meaning that it can fit into the small form-factor device like a foldable mobile device. The 13-inch ARM laptop from Asus offers 20+ hours of runtime, it's likely that the Microsoft Andromeda will deliver better battery performance since it would be smaller than any traditional laptop.
Always Connected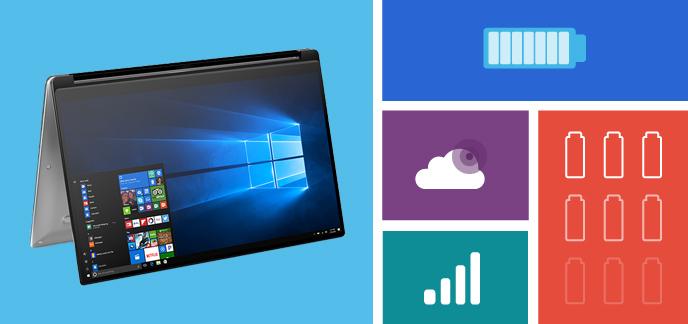 The devices with Windows 10 ARM offers an average battery life of around 20+ hours, and as it is powered by Snapdragon processor, it also features LTE connectivity via Snapdragon X16 LTE modem and keeps themselves always synced to the cloud.
The Microsoft Andromeda will be also always connected to the internet even when the screen will be off. Any Windows 10 ARM PCs stay connected to the internet in the background when the display is off or lid is closed (in case of a laptop).
Cellular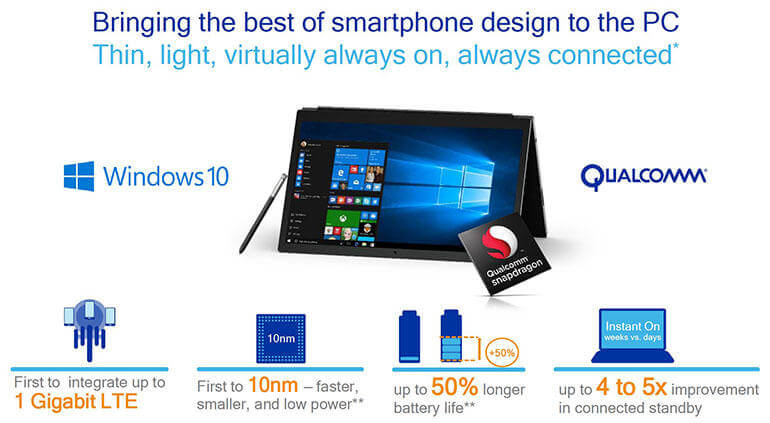 One of the big advantages of a device with Snapdragon chipset is the cellular connectivity feature. The Snapdragon 835 in such devices also comes with Qualcomm's X16 Gigabit LTE modem, this offers up to 1Gpbs download speed.
This will enable eSIM technology that "lets you connect to the Internet over a cellular data connection. With an eSIM, you don't need to get a SIM card from your mobile operator, and you can quickly switch between mobile operators and data plans."
A perfect replacement for mobile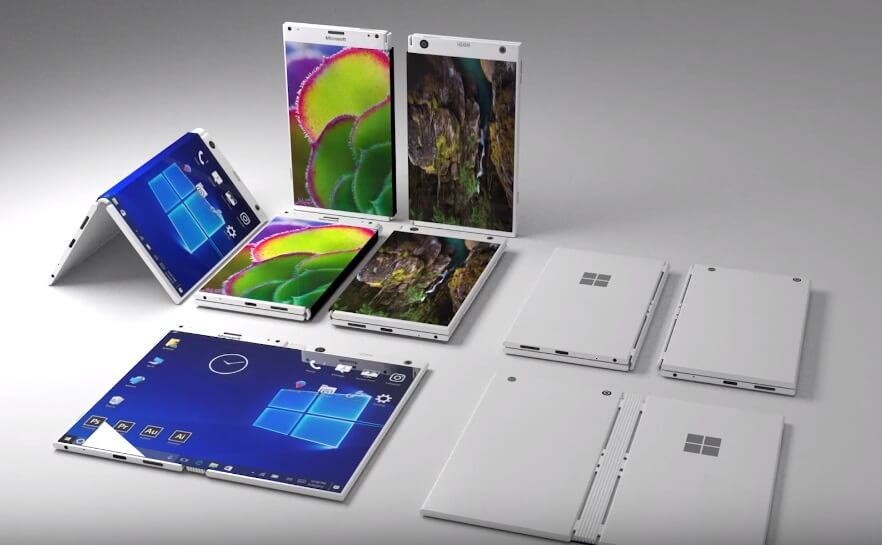 Microsoft Andromeda looks like a perfect replacement for traditional smartphones, at least for business users where Windows enjoys good market share and is growing. A foldable Windows 10 device which is Always On, Always Connected with awesome battery life, could turn out to be a solid replacement for the traditional mobile devices.