Kantar just published the smartphone market share report for the three months ending in August 2017 and things are still down for Windows Phone which is not surprising given the fact Microsoft has already given up on its mobile business.
As expected, Windows Phone OS market share dropped once again while Android is on the rise. The data is of the month June, July and August 2017 revealing a big drop in the market share of Windows Phone operating system.
Microsoft's mobile platform used to be quite popular in the France, however, things have changed now as Windows Phone has dropped from 5% to just 0.9%, a significant drop of 4.1%, it appears that most of the users have switched to Android and iOS.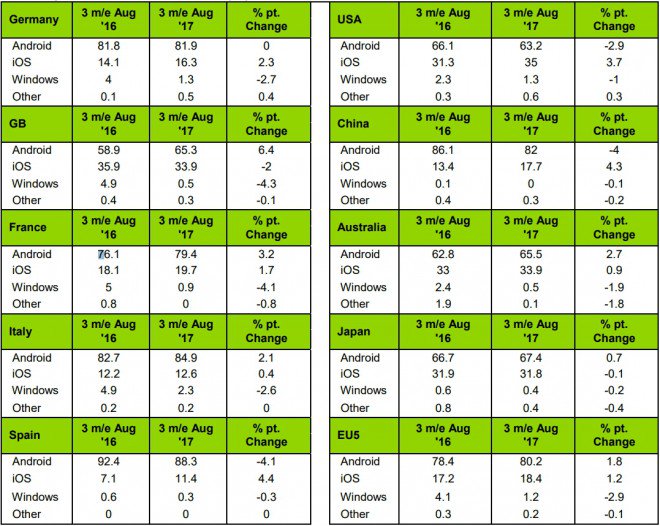 In Italy, Windows Phone now holds 2.3% from 4.9% market share. In the 5 European market (UK, Germany, Italy, France and Spain), Windows Phone is down to 1.2% while Android is first with 80.2% and Apple is in the second position with 18.4% market share. Kantar reports that another big drop occurred in the US where Windows Phone is now having 1.3%, down from 2.3% market share.
As Microsoft Lumia brand has been (almost) discontinued and the third-party OEMs are no longer interested in Windows Phone, the mobile platform will continue to decline. Recently Microsoft's Joe Belfiore also confirmed that Windows Phone and the hardware is no longer a focus and even advised the users to switch to other platforms if Windows Phone doesn't meet their needs.