Microsoft has today released a new Windows 10 PC Build 16232 for Fall Creators Update Insiders in the Fast Ring. Microsoft had released the Build 16226 last week and with this build, they have made some improvements to some of its application for Insiders to Test. In the complete changelog of this Build, Microsoft has focused on security changes. Today we had reported about Microsoft's new video introducing the Windows Defender ATP and how they are preparing themselves about the upcoming security features in the Fall Creators Update.
The biggest new feature in this build is of improvements in Windows Defender Application Guard (WDAG) that they had introduced in build 16188. They have added the support for Microsoft Edge data persistence while using Application Guard. What this means is that when you enable data persistence your favorites, cookies, and saved passwords will be persisted across different sessions on Application Guard.
Microsoft has said that by default the Data Persistence for Application Guard with Microsoft Edge sessions are not enabled. So if you want you can enable this from the group policy and read it here in this build's introduction blog. Once enabled you will have a new application guard window option in edge settings.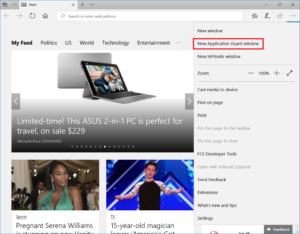 Also, Microsoft has introduced a controlled folder access in Windows Defender antivirus which helps you to protect valuable data from malicious apps and threats. You can see other changes and known issues from the blog post.
To download this update via Windows Update you must be enrolled in the fast ring of Windows Insider. To enable the fast ring go to settings>updates and security and join the Windows Insider program and select fast Ring in the options. Or you can simply download the ISO from the links given on our websites.