Windows 10 Mobile may have lost its consumer centric focus, but it is not dead yet. With the release of a new mobile build today, Microsoft has again reaffirmed that they're not done with the Mobile OS. Now a new leak has surfaced which shows that Samsung may be working on a Windows 10 Mobile variant of its Galaxy S8.
For the folks who do not know, Samsung released it's flagship, the Galaxy S8. Though it ran Android, the phone was a source of interest for the Windows Phone fans. Not only due to its great looks and features, Microsoft took a step further and announced a 'Microsoft' Edition of the Galaxy S8 and started selling it on their stores. Though it aggravated the fans, Microsoft remained calm and announced that Windows 10 Mobile was not dead yet.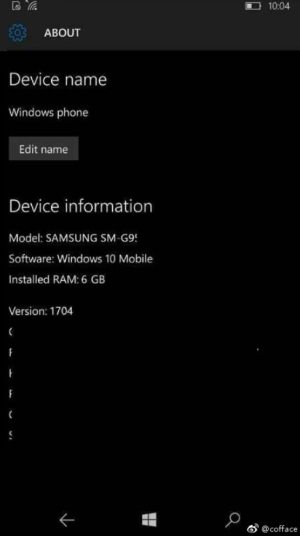 The new leak, which first surfaced on ITHome, shows a screenshot of a mobile device running Windows 10 Mobile. The model is shown as 'SAMSUNG SM-G9' which could be just a placeholder and the installed RAM is shown to be 6GB. While the normal variant of the Galaxy S8 sports only 4GB of RAM, there indeed exists a Korean variant that has 6GB of RAM. But the version number raises suspicion. The current build of Mobile, on both the fast and slow insider rings is 1703, which is the Creators Update build version. One can argue that the Xbox Insider rings have a build version of 1704, but we are still not sold out on that.
The picture appears blurry like all leaks and the only source of the leak is this screenshot. Images like this can be very easily edited by people and closely inspecting this, we find many discrepancies. First of all, the gaps between the texts appear too big in contrast to the current About page in the Mobile builds, and lastly is the version number. We have heard nothing about a build version of 1704 in the works for Windows 10 Mobile.
The leaks also suggest that Microsoft will announce the phone on its Spring hardware event next month. Though we are sceptic of the rumour, Samsung and Microsoft has been cosying up lately. With their cooperation behind the Galaxy S8 and Galaxy Book, we may be in for some surprises. To further spice up the hope, the Galaxy S8 has a Snapdragon 835 chipset in it, which is able to run Windows 10 on ARM.
Say whatever you may like, but we are still taking this rumour with a bit of salt. While nothing may happen and this proves to be another prank, there's no harm in hoping for something good, right?