Windows 11 Outlook's iCloud support is now live for everyone. You can add your iCloud account by clicking the cog icon in the menu, which opens the "Email accounts" setting where you can manage the connected accounts. From there, Click "Add account" and connect your iCloud account.
While the original Outlook client or UWP app has always supported Apple's email service, the feature has been missing in a new web app for Windows 11. For those unaware, Microsoft is replacing the old Outlook app with a new one. While opinions are mostly mixed, the new app is getting a ton of features added with every update.
One of the main complaints with the new Outlook app is that it is a web wrapper. While the old app was a proper UWP one, the new one didn't work offline at all until recently. With complaints still not going down, Microsoft is working hard to add new features to Outlook for Windows 11.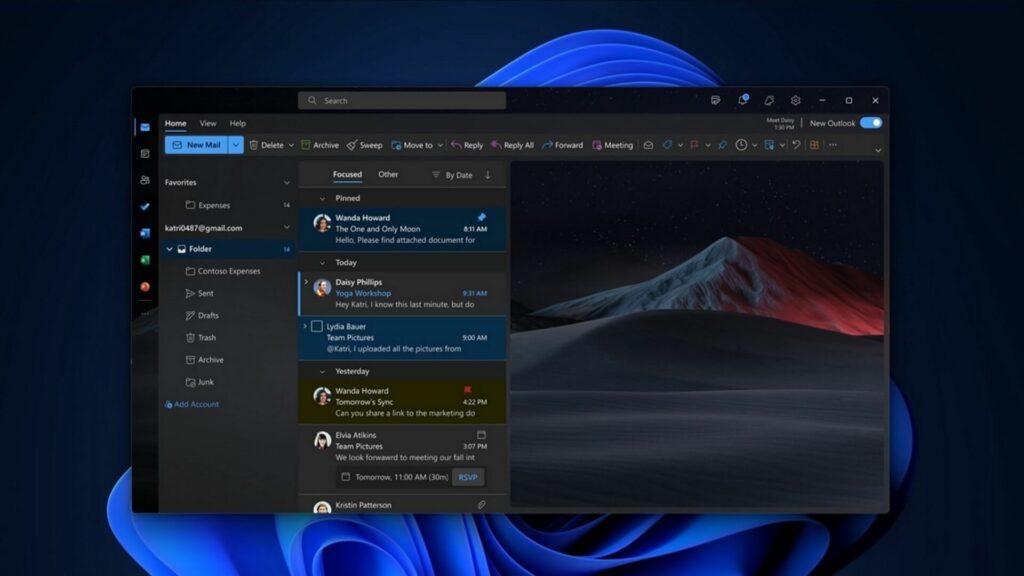 Outlook has recently got support for Gmail, Google Calendar and contacts in an update. In addition to iCloud support, which is now available for everyone, Microsoft plans to add offline support to more pages within Outlook, such as the Calendar or events.
RSVP support is coming to Outlook for  Windows 11
Outlook is also getting a couple of more feature additions.
The first exciting addition is the ability to RSVP for meetings. Spotted on Microsoft's roadmap page, the option will allow users to get all the information about a meeting without joining it. The option is perfect for users who don't like attending meetings (who does?) but have all the necessary information available.
The RSVP feature is not due till March 2024, so you'll have to wait a while before skipping those meetings.
The second feature in the works will also help you organize those meetings.
The feature, spotted by us on the Microsoft Tech Community blog, helps users keep track of declined meetings. When a user declines a meeting, the Outlook calendar will automatically reflect that so the user can keep track of the meeting.
This feature is particularly useful for professionals who get bogged down by daily meetings but can't attend all due to time constraints.
The feature is available on the new Outlook app but is turned off by default. To enable it, you have to follow the below steps:
Open the Outlook app
Navigate to Settings > Calendar > Events & Invitations > Save declined events.

Then check the "Show declined events in your calendar" option.
The declined meetings will start showing up in the Calendar now.
The declined meetings will only show up if you have declined the meeting from all Outlook clients and Teams except the classic Outlook for Windows client.
The new features are currently rolling out to everyone. If you have not received it, switch to the new Outlook experience and update your app.