Yesterday, while writing about Windows 11's new notification features, I realized that the integration of Spotify is broken. For those who may not recall, Spotify integration was added to Windows 11 in 2021 as a flagship feature. At that time, Panos Panay claimed the feature was a "game changer" for those who want to be more productive.
The game-changer feature has been broken since February, and Microsoft is not doing anything about it.
Spotify integration in Windows 11 is part of the Alarms & Clock app' "Focus Sessions," a feature designed to help users concentrate on tasks and work more efficiently. Focus Sessions integrates with Spotify, allowing you to create sessions with their favourite playlists.
So how does the integration work in Windows 11? To link Spotify and Clock app, you need to open the Clock app, head to the "Focus Sessions" tab", choose a Microsoft To-Do task, and click on Connect Spotify button. Once connected, pick a Spotify playlist, set the timers, and click the "Start focus session" button.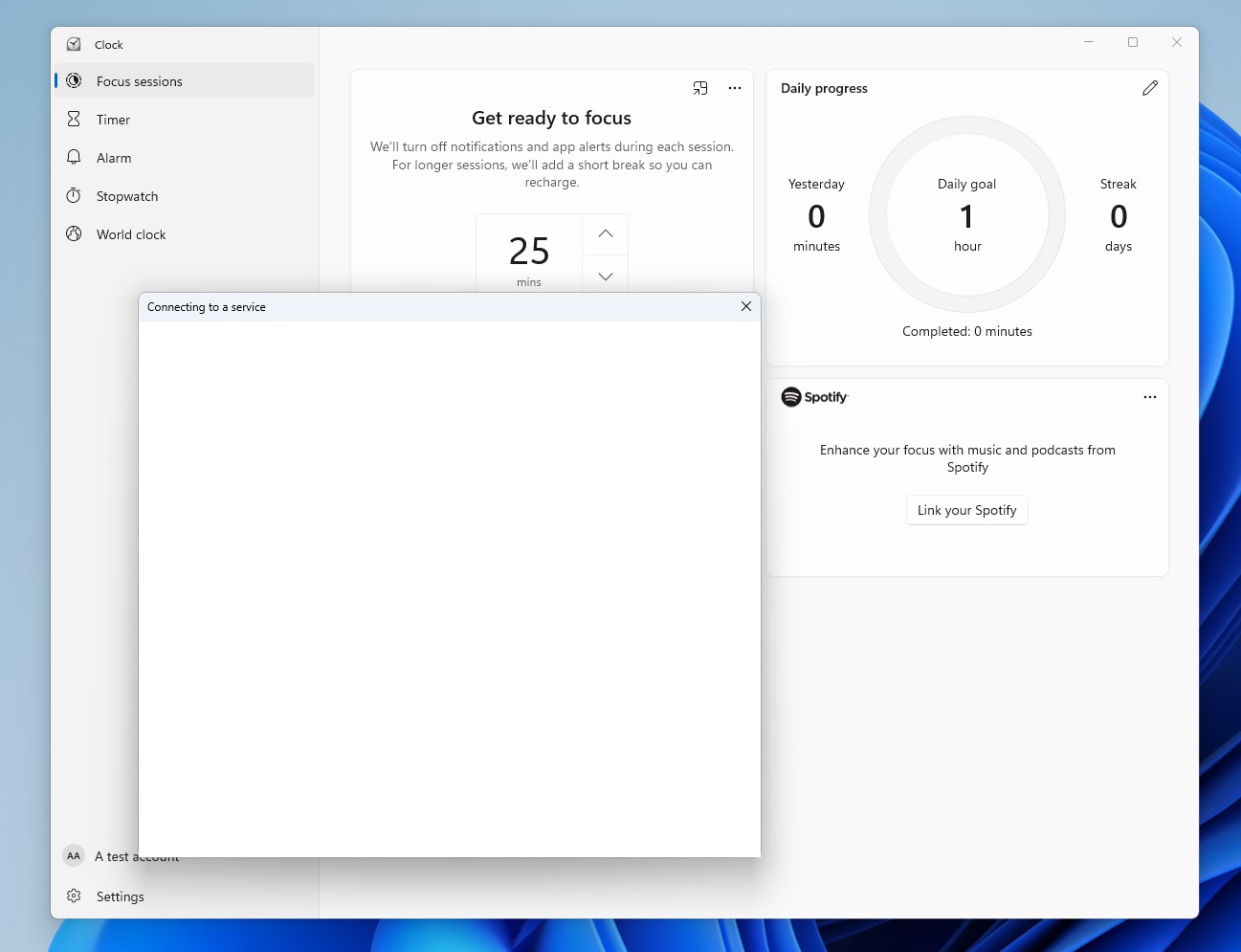 For those unaware, the sessions feature is inspired by Pomodoro Technique, which involves breaking work into smaller chunks with short breaks.
When the tech giant announced Spotify and Focus Sessions for Windows 11, Panos Panay, head of Windows & Surface at Microsoft, dubbed this integration a "game-changer" for his work life.
However, the Spotify integration in Windows 11 has been broken since late February 2023.
In my tests, the popup that links Spotify to Windows 11 no longer loads. The issue can be reproduced when you connect Spotify to the Clock app via the focus sessions page—resulting in a blank popup that fails to load.
Many users have flagged the problem in the Feedback Hub, but Microsoft has not responded.
For example, one user stated, "Same issue faced, same blank popup after clicking "Link your Spotify" button under Focus Session tab". Another user added "same here, blank popup with "Connecting to a service". My Windows Clock app was updated this morning from Windows Store, and sadly still not fixed (version 11.2302.4.0).
Spotify's buggy Windows 11 integration is a known issue internally
A Spotify support staff member informed us that the problem lies with Microsoft, stating, "We've checked around, and it looks like this is a known limitation on Windows' side at the moment due to an expired certificate such that the oATH header being sent to the Spotify API is no longer valid."
The good news is Microsoft is also aware of the issue and working on a resolution. A support executive confirmed the problem would be fixed via future server-side updates, but it seems to be taking longer than usual.