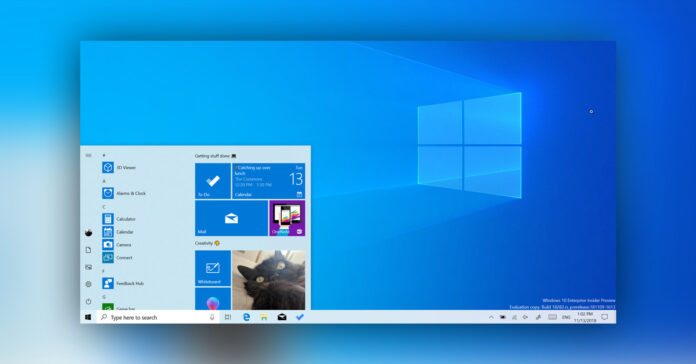 Windows 10 KB5009596 has been released and it actually comes with a new feature that will help you migrate to Windows 11. Additionally, Windows 10's optional update also comes with a bunch of general improvements and fixes, including a fix for an issue where all Bluetooth devices.
KB5009596 is an optional update and it is much safer than the preview builds offered as part of the Windows Insider Program. You should install the optional update if you've issues with your Windows 10 installation and you cannot wait until February's mandatory Patch Tuesday rollout.
The main highlight of the latest optional update is support for a new feature called "Sync your Settings". This backup feature lets you maintain a list of installed apps in your Microsoft account, so you can easily restore those apps after migrating to Windows 11 on the same or another device.
This feature is apparently part of the company's efforts to ease up migration to Windows 11 and it will be rolled out to everyone in the coming weeks. Additionally, a bug has been fixed where Get-TPM PowerShell (command to check TPM information for Windows 11) will fail with an error message "0x80090011".
Download Links for Windows 10 KB5009596
Windows 10 KB5009596 Direct Download Links: 64-bit and 32-bit (x86).
Like the rest of the updates, there are two ways to install today's optional release – Windows Update and Microsoft Update Catalog. If the traditional Windows Update path is not working, you can always search the KB package on Microsoft Update Catalog in your browser and click on the "Download" to get the offline installer.
Windows 10 updates are offered for different architectures, so make sure that you download the correct version. Once you've identified the offline installer, just click on the "Download" button.
You'll see a new popup window with a link to .msu. Your download won't start if you directly click on the link in the Chrome browser. In order to download the offline installer using Chrome or a similar browser, copy the .msu link and open it in another tab of the browser.
This step is required because Microsoft Update Catalog still uses an insecure HTTP connection for download links which are now blocked in Chrome. In case you're using Edge, a single tap should be enough to download the package.
Windows 10 KB5009596 (Build 19044.1503) Full Changelog
Microsoft is updating News and Interests taskbar widget with a new feature that will allow users to directly manage their Microsoft Edge profiles. As always, you can manage Edge profile from the browser's news & interests tab.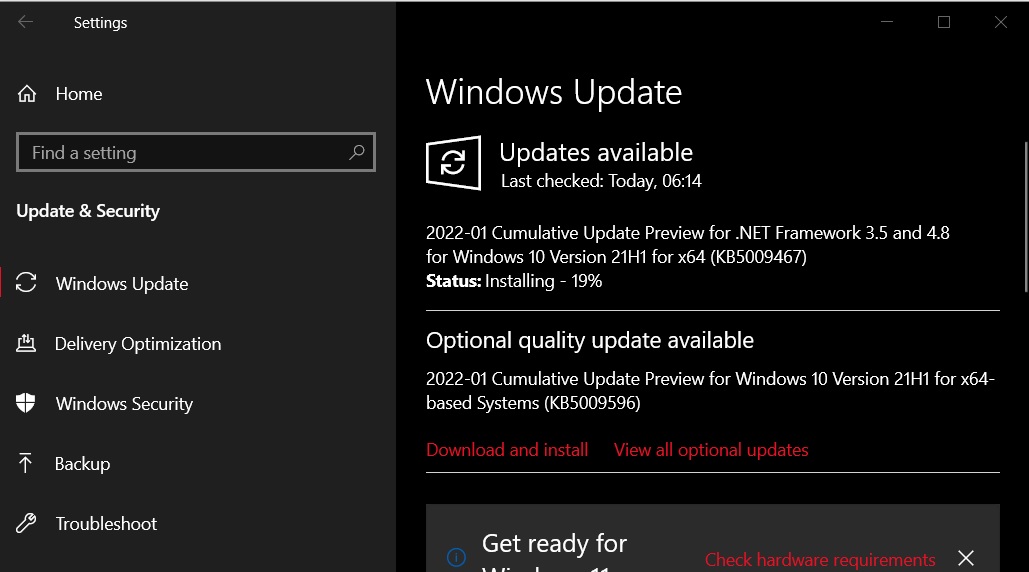 In terms of bug fixes, Windows 10 Build 19044.1503 has fixed an issue where the UI Automation feature might break the Outlook desktop client. Likewise, Microsoft has addressed an issue where Windows Subsystem for Linux 2 (WSL2) could stop working properly when you enable Fast Startup.
A bug has been fixed where some apps could crash with Pen Haptics API. Another bug has been fixed where a device reports itself as noncompliant with Conditional Access.
Likewise, Microsoft has fixed an issue that could break the printing and printers will print wrong output if you use USB on Windows 10 version 2004 or later. Another glitch has been fixed with certain surround sound audio playing in Microsoft Edge, particularly when browsing platforms like Netflix.
Windows 10 update also addresses an issue affecting Remote Desktop screen, particularly when your software uses Advanced Video Coding (AVC).
Other bug fixes and improvements included in the update:
Internet Explorer has been updated with a new banner that will remind users of its pre-announced retirement schedule.
Microsoft has fixed a performance issue that causes deadlock in vpnike.dll and rasmans.dll.
Microsoft has fixed a critical bug that crashes the operating system with a vague error message: IRQL_NOT_LESS_OR_EQUAL.
In addition to Windows 10 cumulative update, Microsoft has also released Windows 11 update with similar improvements and features.