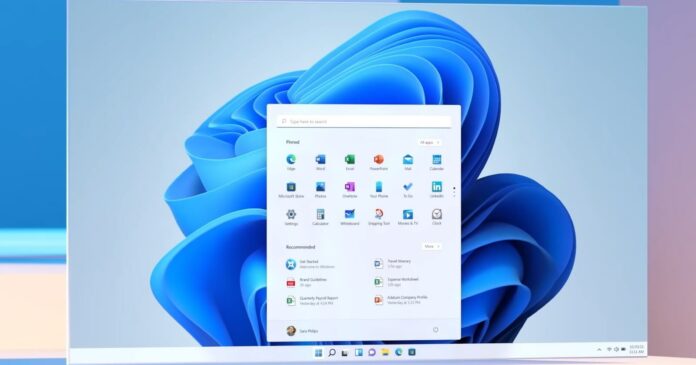 Windows 11 KB5008353 is now available for download as an optional update on devices outside the Insider program. Unlike the previous cumulative update, today's optional release actually comes with one new feature, and it also includes various improvements for the OS.
Windows 11 KB5008353 is part of the company's optional updates cycle. As you're probably aware, an optional update is one of the most common optional quality preview release for Windows and it is typically released in the third or fourth week of the month with non-security fixes.
January 2022 optional update includes a large number of fixes for problems reported over the past several weeks and there are no security fixes. If you choose to install an optional update, you're helping Microsoft test next month's Patch Tuesday. Microsoft calls people who manually choose to install updates "seekers" i.e users looking for updates.
With this month's release, Microsoft says it fixed Bluetooth and audio issues, and also added a new page to the Settings app to help folks manage their Microsoft account and Office 365 subscriptions if they have one. Additionally, Microsoft is now using Bing AI to suggest help topics within the Settings page.
Download Links for Windows 11 KB5008353
Windows 11 KB5008353 Direct Download Links: 64-bit.
The optional update is offered via Windows Update and Microsoft Update Catalog. If you choose to perform the update manually, you can download offline installers in .msu format from the Update Catalog. It's generally a good idea to do the installation manually only if you're having trouble running Windows Update.
You can open the above link and click on the "Download" button for x64 if you have Intel or AMD processor. Clicking the "Download" button will open a new popup window, and then you need to copy the .msu link and paste it into another tab to begin the download.
Windows 11 KB5008353 (Build 22000.469) Full Changelog
Improves Microsoft accounts page in the Settings app
Enables support for HelpWith feature, which uses Bing to suggest help topics for each Settings page.
Fixes Bluetooth issues.
Fixes Tasbkar issues and a bug where inactive apps may appear as active.
Fixes HDR issues.
With Windows 11 Build 22000.469, Microsoft is making improvements to Windows Settings app. This update will allow users to manage their Office and Xbox subscriptions within the Settings app, which would make things easier for users with personal or business subscriptions for Office.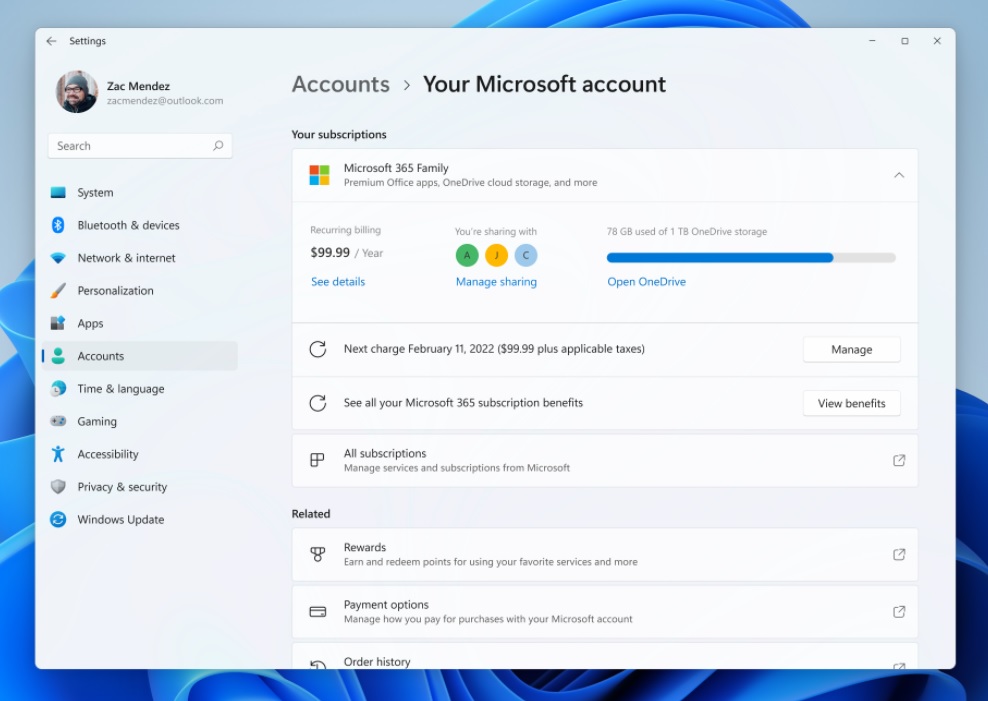 To try the new feature, head to Settings > Accounts > Your Microsoft Account' in Windows 11. As you can see in the above screenshot, you can now manage information related to your Microsoft accounts, such as subscriptions, order history, payment details, and even Microsoft Rewards (available in select regions).
In addition to the updated Settings app, Microsoft has also fixed an issue where the wireless audio devices may not work as expected. Another bug has been fixed where taskbar app icons may appear active as if the apps are running in the background.
There's a related fix for a bug that prevents icons from appearing on the secondary display
Taskbar bug where it incorrectly shows the volume icon as muted has also been resolved in this release. Another glitch where the taskbar might not appear when you use the auto-hide feature and you hover over the primary or secondary display.
Likewise, Microsoft is making a change that will allow the Settings app to correctly record and report battery percentages for connected Bluetooth devices.
Last but not the least, a known issue has been addressed where Windows 11 could prevent some image editing programs from rendering colours correctly on certain high dynamic range (HDR) displays.
Should you install optional updates?
As we mentioned at the outset, Windows 11 Build 22000.469 is an optional release and fixes will be bundled with February 2022 Patch Tuesday release. If you're experiencing a problem highlighted above, you can install the optional update and address the problem before the next Patch Tuesday release.
Remember that optional updates are much more stable than Insider preview builds of the operating system.
However, if you're not experiencing issues with Windows 11, you can skip the update as you'll be getting the same set of fixes in the next mandatory update. You can always wait a few weeks to get the same fixes after they've been tested by other users.