Microsoft Edge browser is slowly getting better and its market share has also increased in recent months thanks to the growing list of features. Users seem to favour Microsoft Edge over offerings from companies like Google Chrome or Mozilla Firefox because of the browser's performance and features.
With the latest update, we're getting yet another new feature that would give Microsoft Edge the 'edge' over the competition. The feature is called efficiency mode (formerly known as Performance Mode) and it will allow users to optimize their web browsing responsiveness.
As the name suggests, efficiency mode has been designed to minimize power usage, reduce CPU and memory usage. The optimization will extend battery life and Microsoft says it will also result in better performance of the operating system.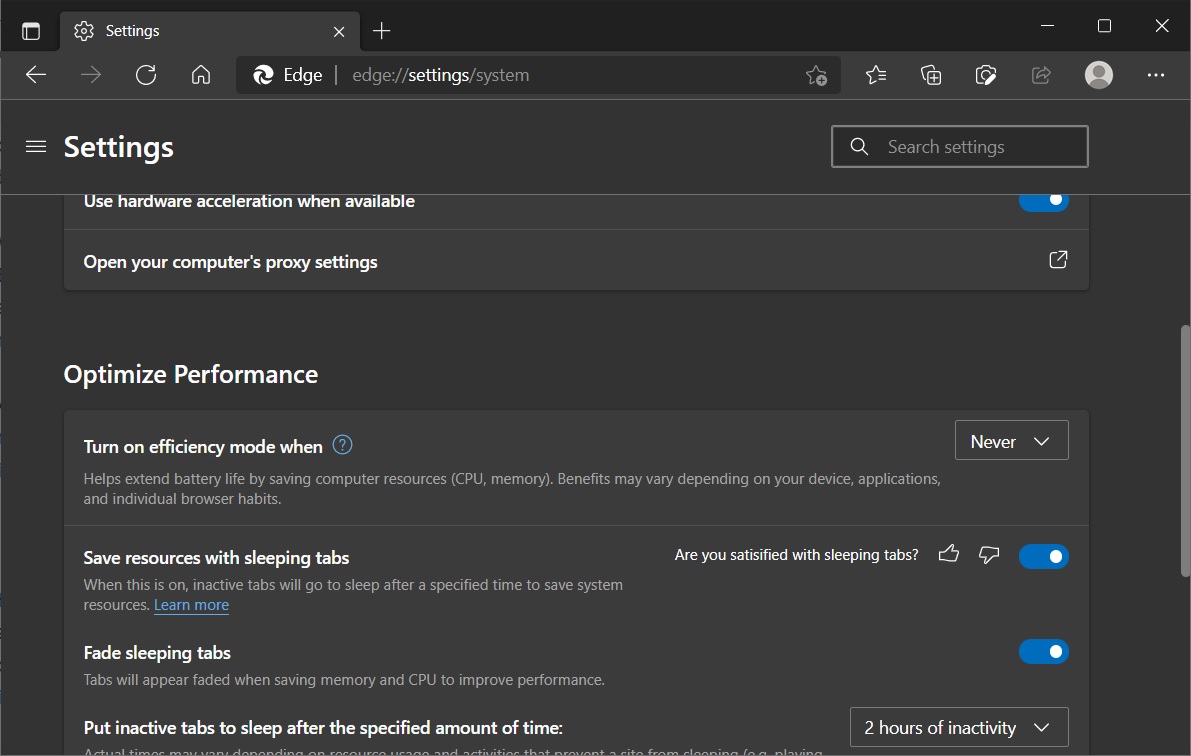 However, Edge's performance mode benefits might vary depending on your device, applications, and individual browser habits. So how does it work? According to Microsoft officials, Chromium Edge will automatically background tabs to sleep after 5 minutes of inactivity.
This currently works when sleeping tabs is on.
There may be some issues when you use the feature, according to Microsoft. For example, Microsoft Edge animation could slow down when you're not using the browser actively. This is noticeable when you minimize the browser and open another app and then return back to the browser.
It can also cause videos to be less smooth, so you should disable the feature when you're streaming YouTube or Netflix.
Edge's efficiency mode benefits anyone who runs Microsoft Edge alongside other apps on Windows. This feature is currently available in Microsoft Edge 95 and it has been rolled out to everyone.
Microsoft Edge's "Find on page" is getting better
If you're searching for a keyword in a long-form piece of content, you can use Microsoft Edge's "Find on page" feature. Currently, a little search box pops up when you enter the words you need, but there's one major drawback: lack of support for related matches.
In Edge Canary, Microsoft is testing support for a new "Find on page" tool with a new toggle to enable the option to include related matches, similar to Microsoft Word or Notepad.

As you can see in the above screenshot, Edge's new related matches feature will be part of the existing "Find on page" toggle.
Additionally, Microsoft is also experimenting with Office integration in Edge, which is expected to land in the stable channel in early 2022.