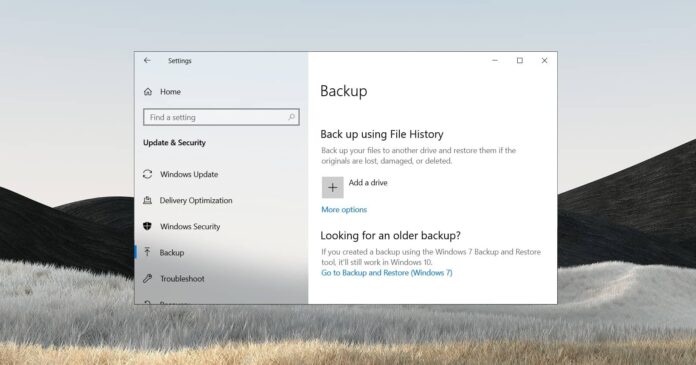 With the February update, Microsoft broke two features – Intel webcams for some users and File History (backup tool). While Microsoft acknowledged problems with webcams in a post on Feedback Hub, the company never admitted issues with Windows 10's built-in backup feature.
For those uninitiated, File History is Windows 10's backup solution that can save specific file or folders to a backup device.
File History is an automatic backup tool, otherwise known as "set-it-and-forget-it backup solution", and it requires you to have an external drive connected to your PC. By default, File History is designed to automatically save file and folders to the connected device, and users can always restore the previous version of the file.
After users applied the February, they noticed that File History has quietly stopped working and the size of the backup is displayed as "zero bytes", with some people seeing the vague error message "Your data is not yet backed up".
In addition, users also observed that the "Backup now" button no longer works and system files are never backed up even when manually initiated. In some cases, the feature crashed with the following error message:
"We can't copy files to your File History Drive; Failed to initiate user data back-up (Error 80070005)",
File History now works again
In a follow-up, users told us that Microsoft may have fixed the problem — without admitting it ever existed.
File History appears to have been fixed with Windows 10's April 2021 Update, which means the backup tool now works again in Build 19041.928, 19042.928 or newer.
"I saw a note on Microsoft Community yesterday that KB5001330 finally fixes this issue. I installed it last night and confirmed that this is so. No idea if it'll help with the other errors people are having. Nor have I any idea if Micro$oft ever publicly acknowledged that the problem existed. But the good news is that it finally works," a user told us.
While the issue with the backup tool has been fixed for most users, it's not yet clear when the tech giant will deploy a fix for Windows 10's compatibility problem with certain cameras.
As per a Feedback Hub post, Microsoft is currently aware of problems with Intel RealSense Depth and Razer Stargazer cameras), and a fix is underway. If you've issues with the webcam, you can try the latest optional cumulative update or follow our guide on how to uninstall a Windows 10 update.
It's possible that Microsoft is still looking into camera issues, and we'll hear something official soon.
In addition to these issues, Microsoft is also believed to be working on a proper fix for performance issues observed in April 2021 Patch.