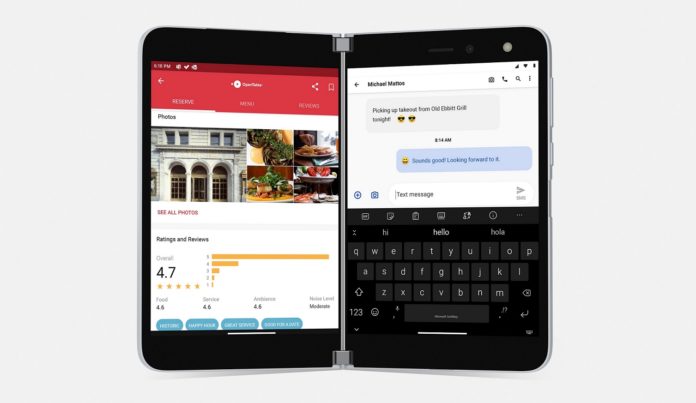 In the renders of the Surface Duo, we can see a Google search bar on the left hand-screen, and other Google apps, including Chrome. Another render provides a peek at some of the Microsoft apps such as Edge, OneNote, and Outlook that come pre-installed on the Surface Duo.
Google requires all OEMs to install a certain subset of its apps. The intention behind this is to inform consumers that Google offers more apps than the Play Store, Gmail and other apps that are typically pre-installed.
It is mandatory for OEMs to install a certain subset of Google apps and this suite of apps is called 'GMS Core'. The list includes apps like the Google search bar, Play Store, Gmail, Google app, Chrome, Google Maps, and YouTube.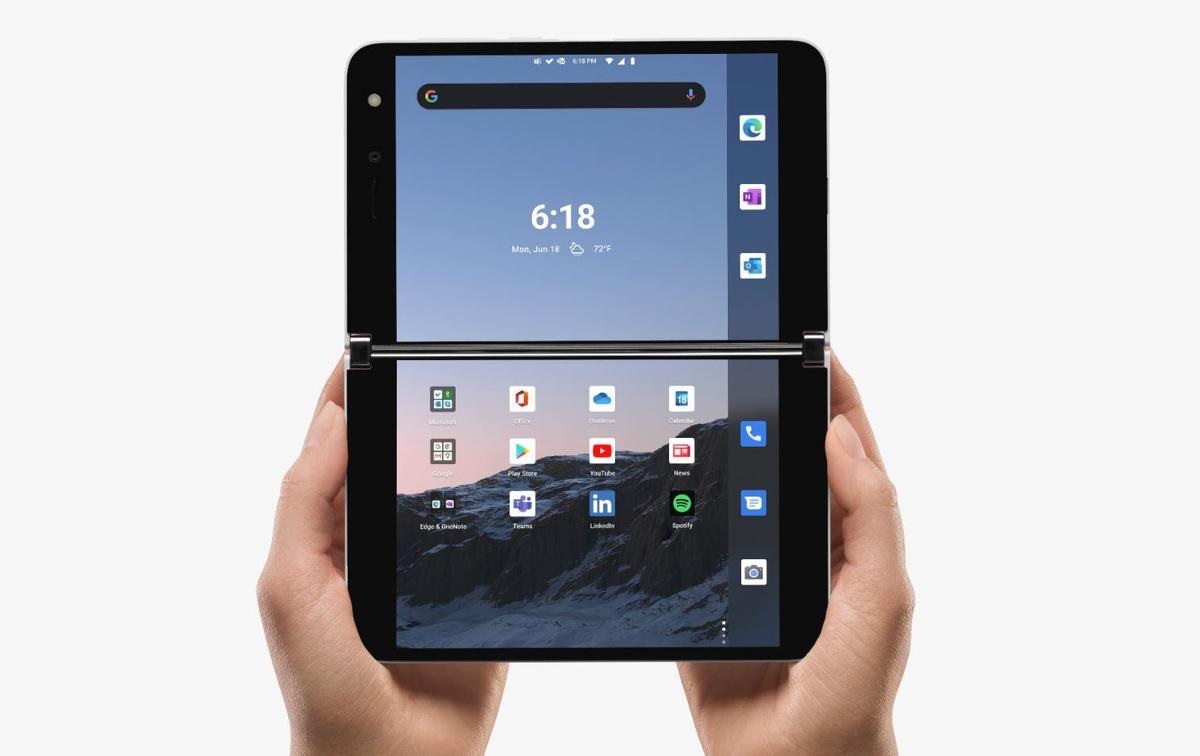 Apparently, OEMs are also allowed to install other apps developed by Google, including the dialer and messages, but they are not required to do so.
Microsoft has confirmed that the Surface Duo comes with 20 Google apps, including Google Duo, Photos, Contacts, Messages, Files, Calculator, and Clock. Here's the complete list of Google apps on the Surface Duo:
Google Search
Google Assistant
Google Calendar
Google Drive
Google Duo
Google Photos
Google Play Movies & TV
Google Play Store
Google Maps
Chrome
Gmail
YouTube
YouTube Music
Contacts
Messages
Phone
Files
Clock
Calculator
While Chrome and Gmail are pre-installed on Surface Duo, Microsoft says Edge and Outlook will be set as the default browser and email client respectively. This isn't a surprise, as Microsoft has always talked about how it has optimized these apps for the Duo.
Surface Duo comes with these 15 apps from Microsoft:
Microsoft Office: Word, Excel, PowerPoint, Office Lens, PDF reader, and More
Microsoft Outlook
Microsoft Teams
Microsoft OneDrive
Microsoft Edge
Microsoft OneNote
Microsoft To Do
Microsoft News
Microsoft Authenticator
Microsoft Bing Search
Intune Company Portal
LinkedIn
Microsoft Solitaire Collection
Surface Audio
Microsoft SwiftKey
Of course, you can always change the default apps from Surface Duo settings. For example, you can replace the Google search bar with the Bing search bar by heading to the Microsoft Launcher settings.