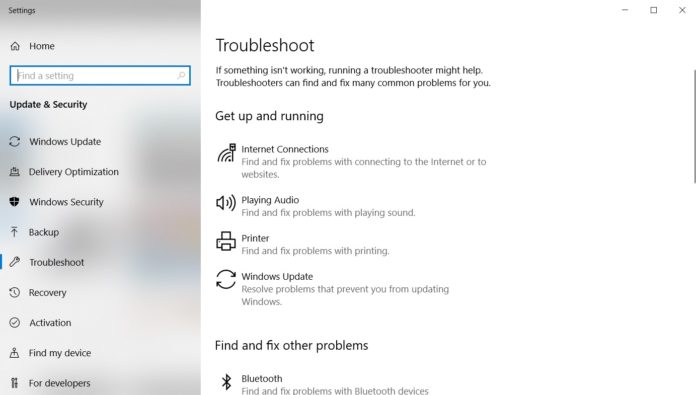 Windows comes with a built-in Troubleshooter tool that allows users to manually fix the problems in the OS. For example, if the WiFi is not working or Audio is broken, you can run Troubleshooter tool and it would try to fix it for you.
Microsoft yesterday released Windows 10 Build 18262 for Insiders with Task Manager, Narrator improvements and as well as Troubleshooter changes. Microsoft has added a new column to the Task Manager to show DPI awareness per process and it can be enabled by right-clicking any column header and then adding DPI Awareness.
Windows 10 19H1 also comes with an improved Troubleshooter tool. According to the changelog, Windows 10 now has one Troubleshooter that can automatically detect all problems on the system.
Windows 10 October 2018 Update and prior ships with several Troubleshooter tools that help you fix certain problems on PC. With 19H1 update, Windows 10 is getting a new Troubleshooting experience that you can run to detect all problems and it would automatically find out what's wrong with the computer and implement the fix.
In Windows 10 19H1, the new troubleshooting option is available under Settings > Update & Security > Troubleshoot but it doesn't work just yet.
"Don't feel like troubleshooting? We've got you covered. In previous releases, if you noticed your PC was having a problem, you would have to find the right troubleshooter and then manually walk through all the different steps to resolve it. We hear your feedback that the time that takes to do can be frustrating – why not just automatically fix issues that you know how to fix and can detect? We agree!" Microsoft's Dona Sarkar and Brandon LeBlanc explained in a blog.
Windows 10 19H1 is supposed to come with the highly-anticipated Sets interface and you will be also allowed to remove more pre-installed apps in the OS. According to Microsoft's typical release schedule, Windows 10's Spring 2019 update is expected to arrive in April 2019.