Microsoft is committed to Windows 10 update cycle with two different releases every year, in April and October. So the Redstone 5 update is likely to be finalized in September and it'll be rolled out to the general public in early October. Obviously, the insiders already have access to new features.
Today, Microsoft has released a new update for the Windows Insiders and it advances the system enrolled in the Fast Ring to Build 17741. Windows 10 Build 17741 has confirmed that the Redstone 5 update could be labelled as version 1809.
Windows 10 version 1809 naming suggests that Microsoft might wrap up its development in September with an October release likely to follow. For those unfamiliar, the first two digits represent the year and the last two are an indicator for the month – for Redstone 5 it's September.
Windows 10 Redstone 5 (version 1809) is in the final development phase and it will hit the RTM status in September.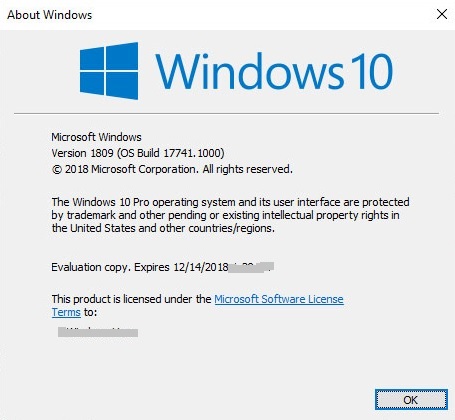 Microsoft has already started thinking of names that could be used when Windows 10 version 1809 is ready.
By the looks of things, Redstone 5 (version 1809) could launch as "Windows 10 October 2018 Update." It's not a fancy name like Creators Update, but it makes more sense considering the update cycle. For example, the current release is called Windows 10 April 2018 Update so it certainly makes sense for the Redmond-based tech giant to consider "October 2018 Update" as the final name.
Windows 10 October 2018 Update and version 1809 naming scheme help both Microsoft and users easily determine the OS version they are running.
While it's almost confirmed that the next version of Windows 10 is 1809, but the company hasn't confirmed the official name of the Redstone 5 update yet. October 2018 Update is a placeholder and further changes can be made overnight at any point.
Given that we are getting closer to the public release of next Windows 10 update, the first references to the OS name in the official documentation could be discovered soon.