Microsoft is working on a new feature for Windows 10 that will automatically adjust the brightness of videos on your computer. Microsoft has already implemented the feature in Windows 10 Redstone 5 preview build and it can automatically adjust video brightness depending on the ambient light.
Microsoft explains that the feature would work just like the auto-brightness control on mobile phones. Windows 10 will be configured to use the light sensor on your device to detect your ambient light, determine the amount of surrounding light to and finally adjust video brightness.
The feature would improve image quality of videos and you will be able to view objects on the screen even under direct sunlight.
"There's a new viewing mode for you to try out, designed to improve the visibility of your video when you are in a very bright environment. This feature uses the light sensor on your device to detect your ambient light, and automatically adjusts your video accordingly," the company explains.
Available for select devices only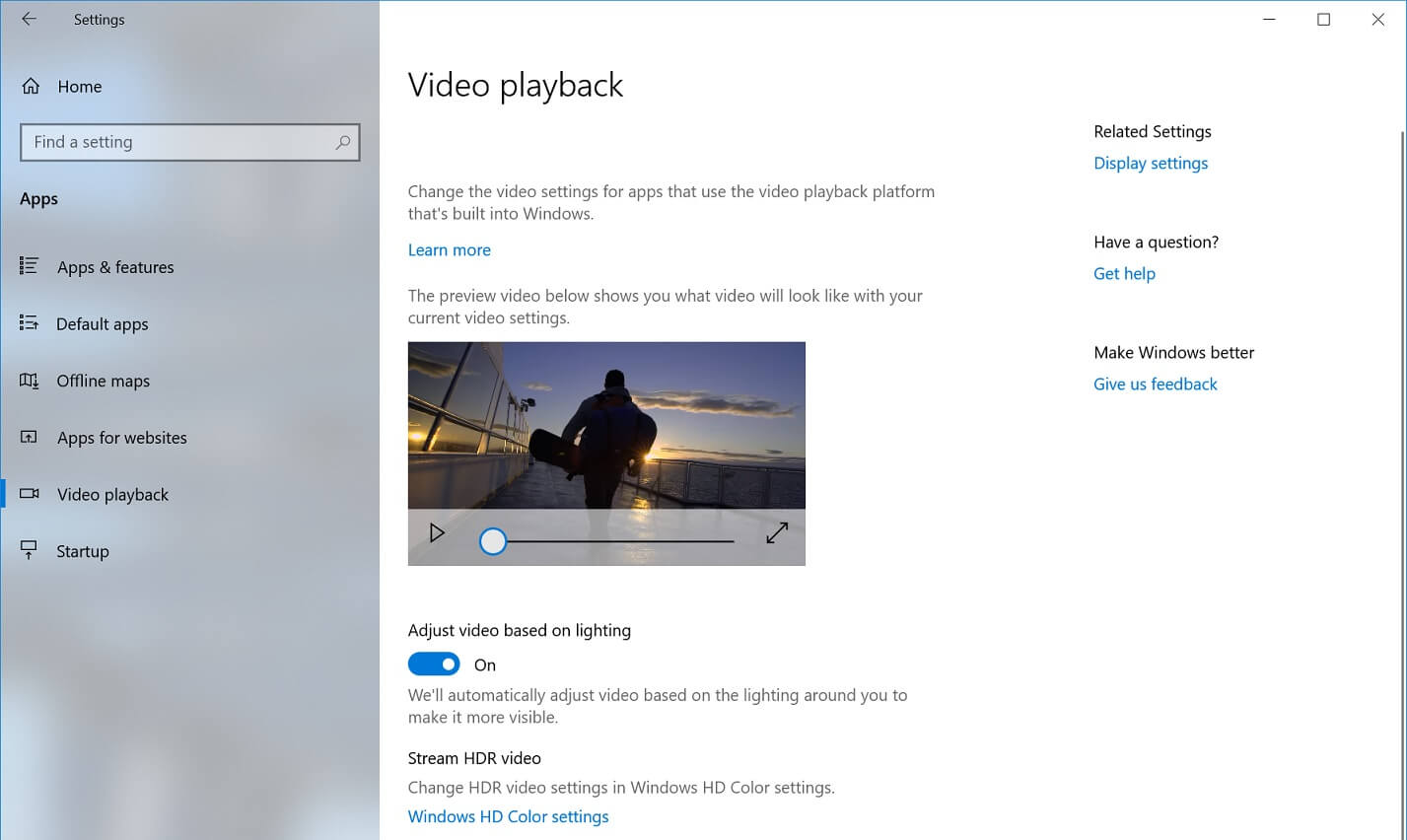 Microsoft says that this feature will work only if your device has a light sensor. You can open "Display Settings" in the Settings app to check if you have the option to turn on Auto-brightness. You can also open Device Manager and find something similar "Light Sensor" under Sensors.
Otherwise there's a chance that your device does not have such hardware and you won't be able to experience this new behavior.
It's worth noting that the feature may not work if your computer's light sensor is not well-calibrated.
"If you are on a device where video looks really, really bad with this setting on, please let us know via the Feedback Hub," Microsoft explains.
Get started
Make sure your PC is running the latest preview build of Windows 10 Redstone 5 update.
Open Settings.
Navigate to apps > Video playback > Adjust video based on lightning.
Microsoft explains in the release notes of Windows 10 build 17704 that the feature is still a work in progress and it will be improved ahead of the launch of Redstone 5 in the fall to make sure everything works as expected for everyone.
The feature will arrive with Windows 10 Redstone 5 update by late October. The update should be finalized in September and the public rollout would begin in October.