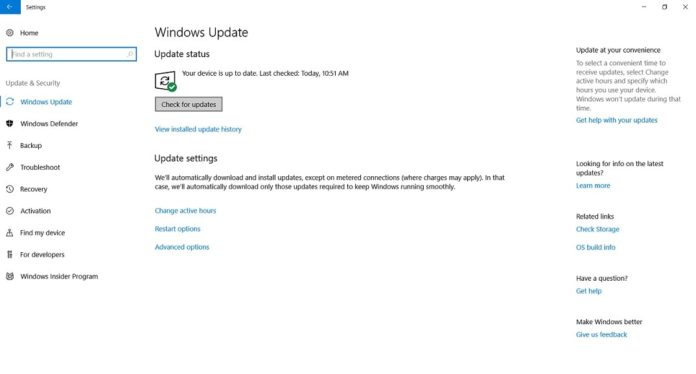 Microsoft is improving Windows Update mechanism with the next version of Windows 10 operating system, the company aims for a faster experience, especially when a new OS update is available. Microsoft is working on a new Windows Update mechanism which wouldn't take several hours to download new Windows 10 releases on older configurations.
Microsoft's Dona Sarkar, who works for Windows Insider program has recently confirmed in a tweet that Windows Update is getting faster and better, but there's no ETA or other details. Microsoft has only confirmed that improvements for Windows Update are on their agenda.
"This is something we are pushing the dev team for, it'll benefit every user," Dona Sarkar, Windows Insider Program Cheif, Microsoft said in a tweet which was a reply to a user who asked about future changes for the update mechanism.
Windows Update is also getting a much-needed change in Windows 10 Redstone 4 release, the company is tweaking the system to block the PC from going into sleep when you're not using it, this makes sure that the system updates successfully without any interruption. In a blog post, the company explains how new Windows Update would work and as well as the limitation of this new mechanism.
"In RS4, now when Windows Update scans, downloads, and installs on a PC with AC power – it will prevent the PC from going to sleep when it is not in active use, for up to 2 hours when receiving an update in order to give Windows Update more opportunity to succeed," Microsoft says.
Obviously, there's still plenty of work to do in this regard, the company will also add the ability to resume failed updates. The only thing the company can do is reduce the download time and add resume/pause feature to improve the overall performance. Microsoft will be rolling out Windows 10 Redstone 4 update as soon as April, and since the company is no longer developing new features for this version of operating system, we can expect these changes to go live later this year when Redstone 5 is ready for release.