Windows Phones are now officially out of the equation. We all knew that this would eventually happen but we still keep on getting some sort of news which proves that this is true. This time the news is from Gartner.
Gartner has collected the sales statistics of smartphones and has unsurprisingly found that Android phones and iPhones rule the market with Android taking a huge chunk of the sales share. In this new statistics, Gartner removed the name Windows Phones and added it to the Others section. The sales share of Windows Phones is now so low that they have been moved into the others section with Blackberry OS and Symbian OS.
The Others section has only 0.1% sales share. In the year 2017, the entire category of others sold only 1.49 million devices. This is a huge step down from 11.3 million units in 2016.
Android is the obvious market leader with a whopping 85.9% sales share which is up from 84.8% from the previous year. Sales figure wise 1.32 billion Android devices were sold in 2017. It was 1.26 billion in 2016.
Apple is in the second spot with a share of 14% which is a step-down from 14.4% in the previous year. In terms of actual numbers, Apple still sold a respectable 214 million iPhones which is lesser than 216 million in the previous year. Android has a huge lead when compared to iPhones and we shouldn't even think about comparing it with the share of Windows Phones. But keep in mind that only Apple sells only iPhones but there are hundreds of manufacturers selling Android devices. This simply means that iOS will not suffer the fate of Windows phones anywhere in the near or far future.
Anshul Gupta who is the research director at Gartner said:
"The competition in the smartphone market is unabated at this time of the year. Ahead of MWC, several phone manufacturers such as Samsung, HMD (Nokia), Asus and LG have announced that they will launch new Android smartphones"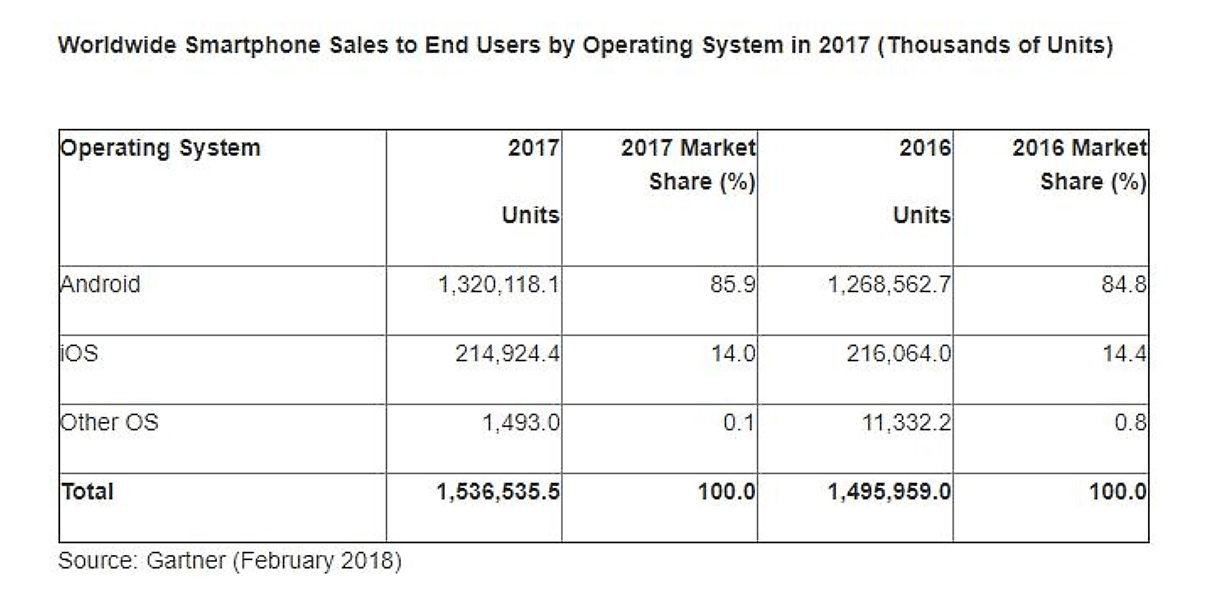 As expected no known manufacturers are going to release smartphones running Windows 10 mobile. Even Microsoft has told that they won't be making any new hardware running Windows 10 mobile. So what can the desperate fans expect from Microsoft? – Andromeda
Microsoft is expected to release a foldable and portable device running a lighter version of Windows 10 with telephony later this year. Those who are wondering about the lighter version of Windows, stay tuned for Microsoft's annual Build Conference which is to take place on the 7th of May, 2018.