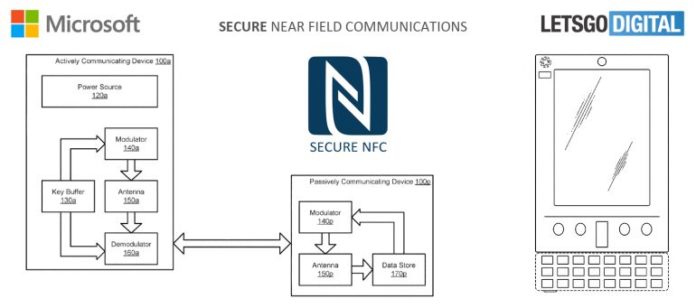 Microsoft has recently filed a patent that gives the company right to use a new standard of Near Field Communication (NFC) in its Surface-branded Windows 10 devices. There's a good chance that this technology could be implemented in Microsoft's upcoming ultimate mobile device and the Surface PCs.
In the patent, Microsoft explains the Near-field communication (NFC) as a technology set of communication that enables two devices to transmit data within a small range wirelessly.
The patent titled: Secure near field communications was published on January 30, 2018 and it details a new NFC-like technology that would generate an access code before transferring data to ensure that the transmission is secure. The patent has been deleted.
It's likely that the Microsoft's foldable Windows 10 will include the Secure Near-field communication (SNFC) technology. It's worth noting that Microsoft recently also applied for patents of the foldable phone's new hinge device, the patent focuses on the stability of the hinge and free stop technology.
The patents were all about a mobile-type device with dual-screens and an innovative hinge that could enable more than just one form factor. The patent suggests that foldable mobile could be another attempt from Microsoft to invent a new product category.