In late 2016, Microsoft and Qualcomm announced 'Windows 10 on ARM' project and earlier this year, Qualcomm revealed that HP, Lenovo, and ASUS are already testing Windows 10 devices with Snapdragon 835 processor. We recently reported the specs of HP's Windows 10 ARM device and today ASUS' Windows 10 ARM device appeared on GeekBench.
The device with name "ASUS TP370QL" appeared on GeekBench and the benchmark has revealed the specs of ASUS' Windows 10 device-powered by ARM chipset. The Windows 10 ARM device from ASUS comes with 4GB of RAM and Qualcomm's Snapdragon 835 processor, according to the benchmark results.
The device scored 3,174 points in multi-core benchmark test and 818 points in the single-core benchmark test. However, the benchmark only measures the efficiency of the emulation and not the actual power of the device.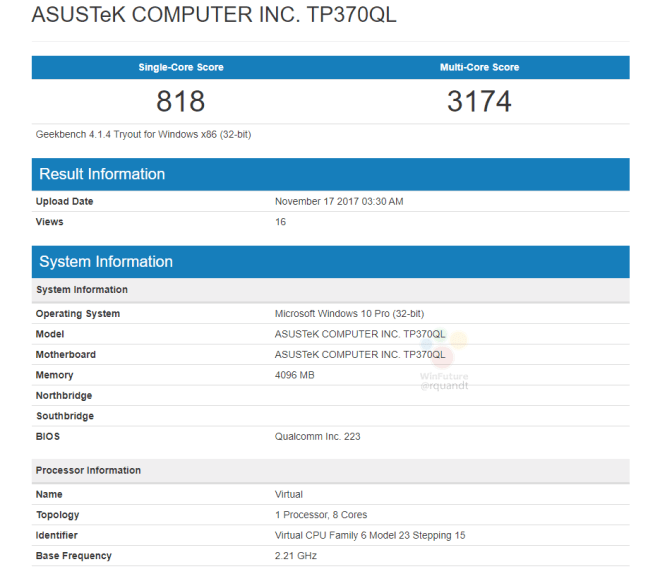 Windows 10 devices with the ARM-based processor are inching closer to a retail near you and recently Pete Bernard, group program manager for Windows expressed his excitement about the Windows 10 on ARM project. He revealed Windows 10 ARM devices will offer all-day long battery life and the results were also confirmed by Qualcomm.
"The PC space and the phone space have been sort of in parallel universes for a couple of decades… what two better companies to bring those worlds together than Microsoft and Qualcomm?" he said. While Windows 10 on ARM project sounds great, it's difficult to forecast how sales will evolve after the first devices hit the market.