Microsoft and Qualcomm recently revealed that the ARM-based Windows 10 devices will be announced by end of the year, reports also confirmed that the PC makers; Lenovo and HP are already testing the Windows 10 ARM devices. In a couple of weeks from now, Microsoft's OEM partners will soon announce the first set of Windows 10 ARM notebooks.
With roughly 48 days left in 2017, a new leak has now detailed the features of HP's Snapdragon-powered Windows 10 notebook. A device 'Qualcomm CLS' has been listed on Geekbench, revealing the key specs of the notebook.
The multiple listings have revealed that there will be more than one variant of the device and they will either run on Windows 10 S or Windows 10 Pro. The Windows 10 ARM device was first benchmarked in June, while in November, the device appeared multiple times, it means that we're nearing the release of HP's latest Windows 10 device.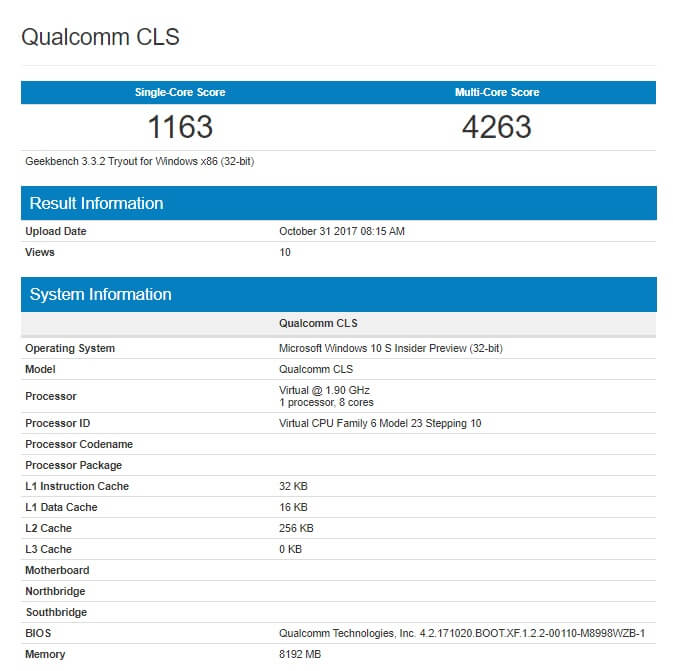 A listing has also revealed that the device will be launched in 8GB RAM and 4GB RAM variants, and the storage would be 128GB or 256GB. Powered by an Octa-Core processor, the clock speed will be between 1.9GHz and 2.2GHz.
The HP's notebook with 12-inch display will have Qualcomm's Snapdragon 835 on board, 8GB or 4GB of RAM with 256GB or 128GB of storage respectively. In Geekbench results, a device with multi-core chip scored 4263 points while the single core score recorded 1202 points. However, as the tested devices were in prototype condition, the results of the final product will be better.