Microsoft has been working on some major upgrades for Windows Phones with the introduction of CShell on the phone to bring similar UI across the Windows Ecosystem for the existing Windows 10 shell components of windows like start screen, action center etc. Composable Shell (CShell) is basically an 'adaptive shell' that scale Windows 10 to any form depending on the screen size of the device. Recently we had reported a video being leaked of the new UI the company is currently working on with CShell. Now we have received more leaked images of the CShell interface of Windows 10 mobile from aggiornamenti lumia community. Here are the following images with details which we haven't seen:
Start Screen: One noteworthy changes in start screen is the ability to uninstall the app directly from the Start screen. We also know that "CShell" allows running Start Screen,task view, apps list on Windows phone in the landscape mode.
Keyboard: The keyboard running on windows 10 mobile with CShell has also seen updated graphics and improvements in the swipe functionality of word flow keyboard. Emoticons are also looking slightly different and much more cleaner.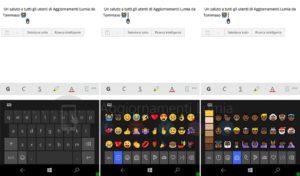 Settings:Microsoft has also included the video advice in the settings app  that are present on Windows 10 PCs.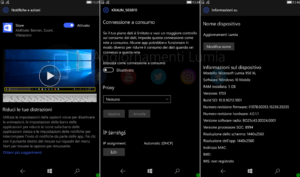 File Explorer: Microsoft has also eliminated the older two step process for saving the files using the file explorer on Windows Phone.