Yesterday we had reported that Microsoft share prices have reached to their highest level of $70.Ever since Satya Nadella took off as as CEO of Microsoft stock price has almost doubled. But the recent attacks of ransomware on Microsoft folder Windows 7 and Windows XP PCs has caused some critics considering these attacks might affect the Microsoft business of hardware and software. But according to a survey it turns out that consumers are actually not worried from the wannacry ransomware attack.
This research was conducted by morning consult with around 2000 people. According to the survey these kinds of attack does concerns people but they do not find this a reason for not buying Microsoft's hardwares and softwares. As you can see below 57% people were concerned about using Microsoft softwares but for the rest it doesn't make a difference. Also, 80% of those in survey does not consider this attack to affect them to buy Microsoft products.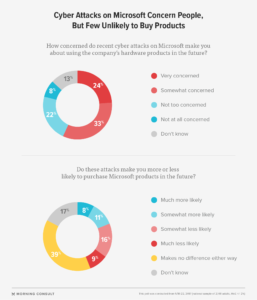 Microsoft had already cleared that they had release patches for the cause of attack much earlier before it actually happened but failed to patch their older Windows operating systems. It is also found out that after the attack people were updating their PCs more often than earlier.