Microsoft has planned to release Windows 10 Creators Update for Windows 10 PCs in April and later for Windows 10 Mobile Devices. Windows 10 Creators Update will introduce new features and improvements to Windows 10 Devices. However, the Windows 10 Creators Update will take away some features from the Windows 10 Operating System. The company will remove the features completely and it would never return to the operating system. Microsoft would also drop support for some features.
Earlier Microsoft has removed Kids Corner feature from the Windows Phone. The feature allowed users to give their phones to children in a locked down state by protecting their data. This feature was however not used much by the users of Windows Phone and Microsoft pulled this feature from Windows Phone with the release of Anniversary Update. Now Windows 10 Creators Update will the end support for the Apps Corner feature on Windows 10 Mobile.
Furthermore, the Reading List feature will be removed the Windows 10 Devices. For more details about a listed feature or functionality and its replacement, see the below image.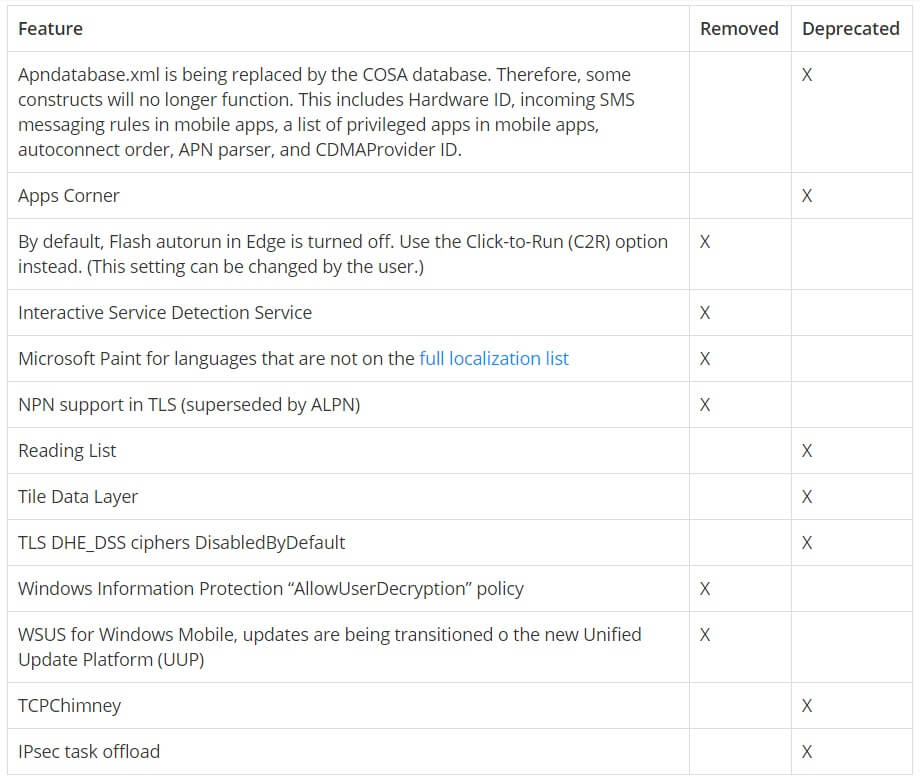 The list has been intended for IT professionals who are updating operating systems in a commercial environment. The Windows 10 Creators Update is primarily targeted towards the artists and professionals, hence the 'Creators' moniker. Adding new Inking capabilities, 3D creation enhancements, PC gaming enhancements and a few additional new features, the update is jam packed with goodies for Windows 10 PC.
The update will get pushed out to the PCs first and then get pushed out for Mobile later. Last minute bug fixes and improvements will get pushed out as a cumulative update after the initial release to offer a smoother ride for all the Windows 10 devices. New Insider builds will most probably be available from April and with Redstone 3, things sure will get spiced off for fans, users and insiders alike this year.