The worldwide smartphone sales increased by nearly 4 percent in the recent quarter, but Microsoft's Windows Phone OS failed to capitalize on the growth.
Windows Phone OS is dropped below 1 percent market share. nearly 2.4 million Windows Phones were sold in the latest quarter, around 0.7 percent market share overall. That's a decrease from the 2.5 percent market share of Windows Phone back in Q1 2015.
With Windows Phones falling into a fraction of a percent market, there is no surprise to regular readers that in Q3 2016 handsets running a Microsoft OS have dropped. The new report from the Strategy Analytics now includes Windows Phone OS in to the "other" segment.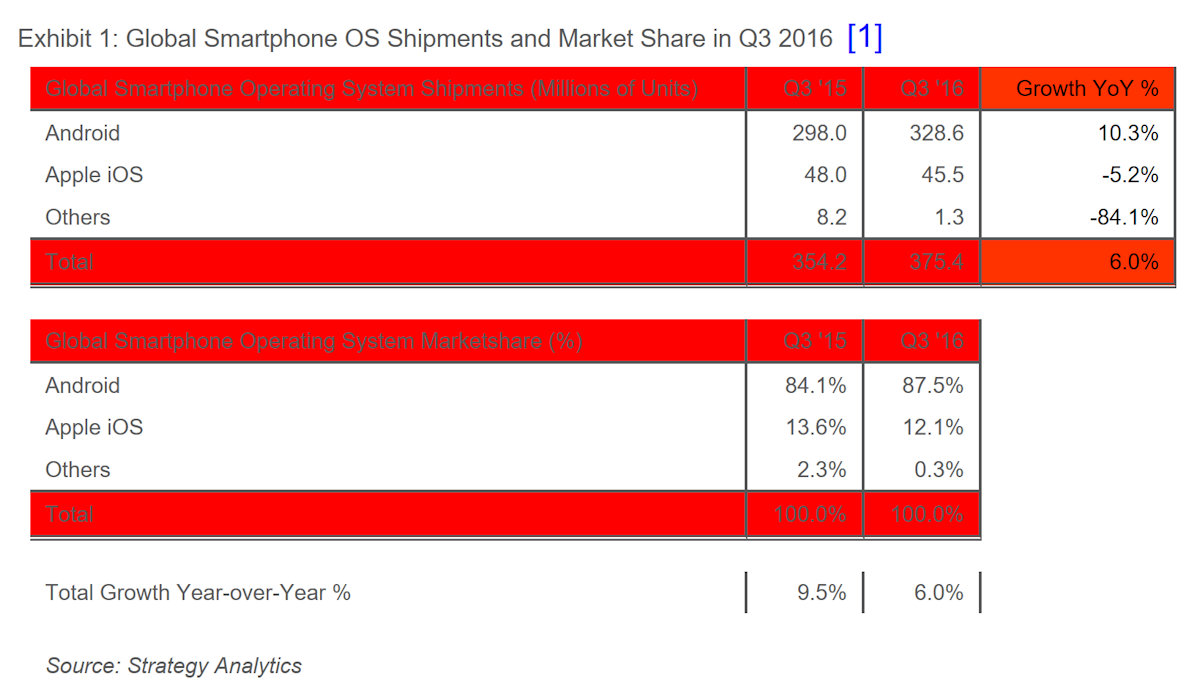 Strategy Analytics note Windows Phone's loss has been Android's gain, with the OS now running on 87.5% of new handsets sold in Q3 2016.
Neil Mawston, Executive Director at Strategy Analytics, note, "Android's domination of global smartphone shipments remained strong in Q3 2016, with a record 88 percent of all smartphones now running Google's OS. Android's gain came at the expense of every major rival platform. Apple iOS lost ground to Android and dipped to 12 percent share worldwide in Q3 2016, due to a lackluster performance in China and Africa. BlackBerry and Microsoft Windows Phone have all but disappeared due to strategic shifts, while Tizen and other emerging platforms softened as a result of limited product portfolios and modest developer support."
However Microsoft is not ready to give up on it. Since they stopped the production of the Lumia, that doesn't mean that Windows Phone OS is dead. Recently Microsoft has made the strategic decision to continue to support Windows 10 Mobile. They just stopped the production of the Lumia that doesn't mean that the Windows Phone OS or Windows 10 Mobile is just dead.
There are lots of new stuff is coming in it. The Windows 10 Creators Update. Maybe it could be a setback. They have also found partners in enterprise to carry the flag for them with premium business-focussed devices centred around vertical markets and Continuum on Phones, and of course rumours of the Surface phone refuse to die.
How you see the future of Windows Phones OS or Windows 10 Mobile? Let us know in a comment below.
Source : Strategy Analytics