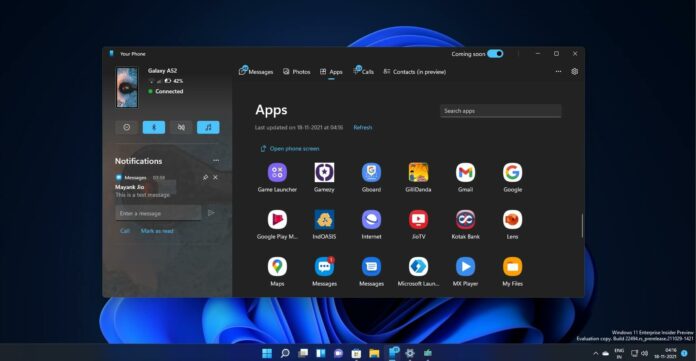 As expected, Windows 11's Your Phone app new design is now rolling out to testers in the Dev Channel. Like Microsoft's other Windows apps (Calculator, Microsoft Store, Paint or Media Player), Your Phone app's new lick of paint is mostly about rounded corners and WinUI controls.
Microsoft touts Your Phone app as one of the most useful tools for both Windows 11 and Windows 10. Your Phone app lets you connect your Android phone with your Windows device, and it saves you from picking up your mobile device repeatedly to check notifications, calls, apps, etc.
Your Phone app has slowly become an extremely useful tool in the operating system as long as you have a supported Samsung Galaxy phone. As part of the Windows 11 refresh, Your Phone app is getting some minor improvements that will make it even better, especially if you use the app to monitor mobile notifications.
The updated Your Phone app puts the notification panel front-and-center. As you can see in the above screenshots, the notifications tab is now pinned to the left side panel and Microsoft has moved the navigation bar to the top of the window.
Messages, Photos, Apps, and Calls tabs are tucked within the new navigation bar.
The notification feed is now less cluttered and it provides easier access to important notifications, which were previously accessible via a dedicated notifications tab. The company says the updated companion brings an organized feed of real-time notifications to the desktop.
Additionally, the app also supports the new design language of Windows 11 to match the rest of the experience, so you'll notice new buttons, rounded corners and Mica material applied to the Your Phone window.
The other features of the app remain unchanged. For example, Microsoft has retained the Your Phone app's flagship feature to stream Android apps, which means there are now two ways to run Android apps on Windows 11: Your Phone app and Windows Subsystem for Android, downloadable via the Microsoft Store.
Other app updates for Windows 11
As we noted in the beginning, Microsoft has also started to roll out a new Media Player for Windows 11 in the Dev Channel. It replaces the Groove Music app that's been around since the original version of Windows 10. Like Your Phone app, Media Player is based on WinUI controls and it actually comes with a new feature: support for streaming videos.
This is just the beginning of new app experiences on Windows 11 and Microsoft will announce more improvements in the coming weeks.