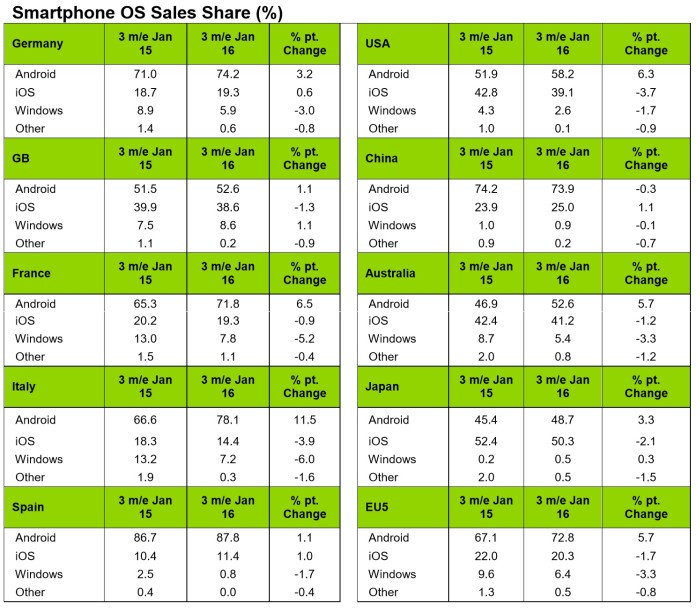 Until now Windows Phone sales figures in Europe were non-negligible. But it seems the worldwide fall in sales of devices running Windows Phone is finally visible in Europe. Kantar has released their market share numbers for the 3 months ending January 2016.
UK sales share down from 9.2% to 8.6% in three months. While 8.6% has increased from 7.5% since Jan 2015.
European countries like Germany (8.9% to 5.9%), France (13% to 7.8%), Italy (13.2% to 7.2%), Spain (2.5% to 0.8%) have all suffered a downfall in sales in the last one year. Lack of flagship Lumia's can be one of the reasons for this trend. But the launch of buggy Windows 10 mobile powered Lumia 950, Lumia 950 xl and Lumia 550 could not save the windows phone sales trend.
USA numbers have increased from 1.6% in December 2015 to 2.6% in January 2016 indicating some effect from the Lumia 950's AT&T release.
Microsoft's 3rd party Windows Phone OEMs are yet to find attraction in Europe. Until this happens the numbers are definitely going to be falling at a level more below this. Kantar measures consumer sales and not enterprise sales where Microsoft has been strong and is focusing more now.
It would not be wrong to say Microsoft's Mobile platform's sales now depend on how well Windows 10 mobile performs and how the Universal Apps fills the app gap.
Source: KANTAR