KEY POINTS
Bing Chat's character count for messages has been doubled to 4,000 in non-Microsoft browsers, matching Microsoft Edge. However, compared to thirty in Edge, it still limits users to five questions per conversation.
Features like Bing Chat history and personalized answers are also exclusive to Microsoft Edge. Microsoft limits Bing Chat features in other browsers to prevent the AI from exhibiting odd behaviour.
Microsoft is also testing plugin support for Bing Chat, with a brief accidental rollout already observed. This feature will allow users to interact directly with services like Adobe and Canva through Bing Chat. Unlike ChatGPT, Microsoft plans to offer this plugin feature without additional costs to users.
One of the limitations of Bing Chat in Google Chrome and Apple Safari is going away with this week's server-side update. Microsoft is rolling out a new server-side update that increases the characters limit to 4,000 from 2,000 in Bing Chat for Google Chrome and Apple Safari.
Microsoft has been putting a lot of effort into upgrading Bing with ChatGPT-4 features, such as chat and DALL-E (AI that lets you generate images). In the last week of July, Microsoft started rolling out Bing Chat to users with Google Chrome and Safari with restrictions like five messages per conversation, 2,000 characters and missing history features.
Now, the company is relaxing one of the limitations: the characters limit. After this week's update, you can type long messages in Bing Chat on non-Microsoft browsers. Bing's character count has been doubled to 4,000 in Safari and Chrome, bringing the AI in line with Microsoft Edge.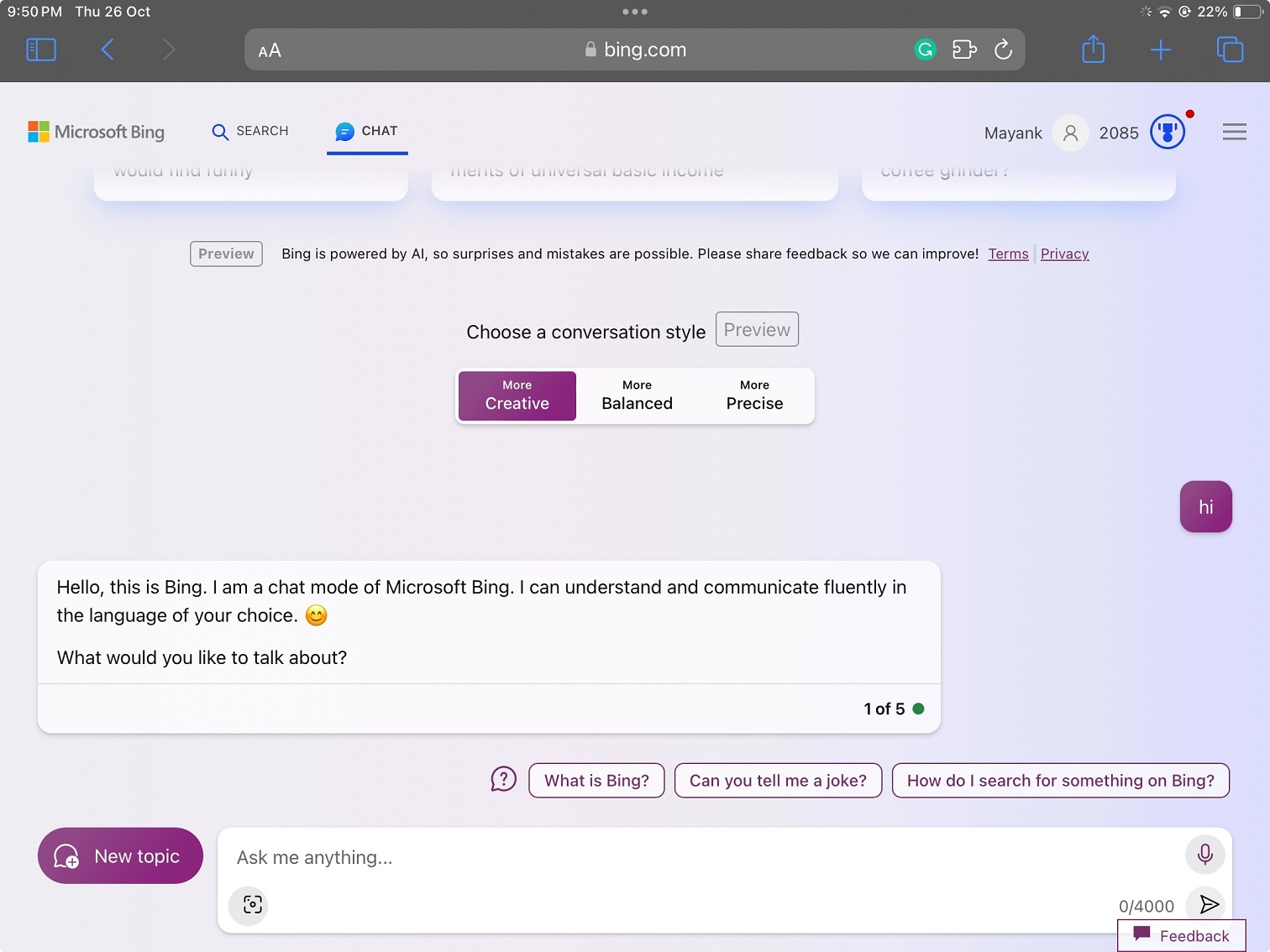 As you can see in the above screenshot, Bing in Safari has been updated to support 4,000 characters in a chat.
It works in Google Chrome, too.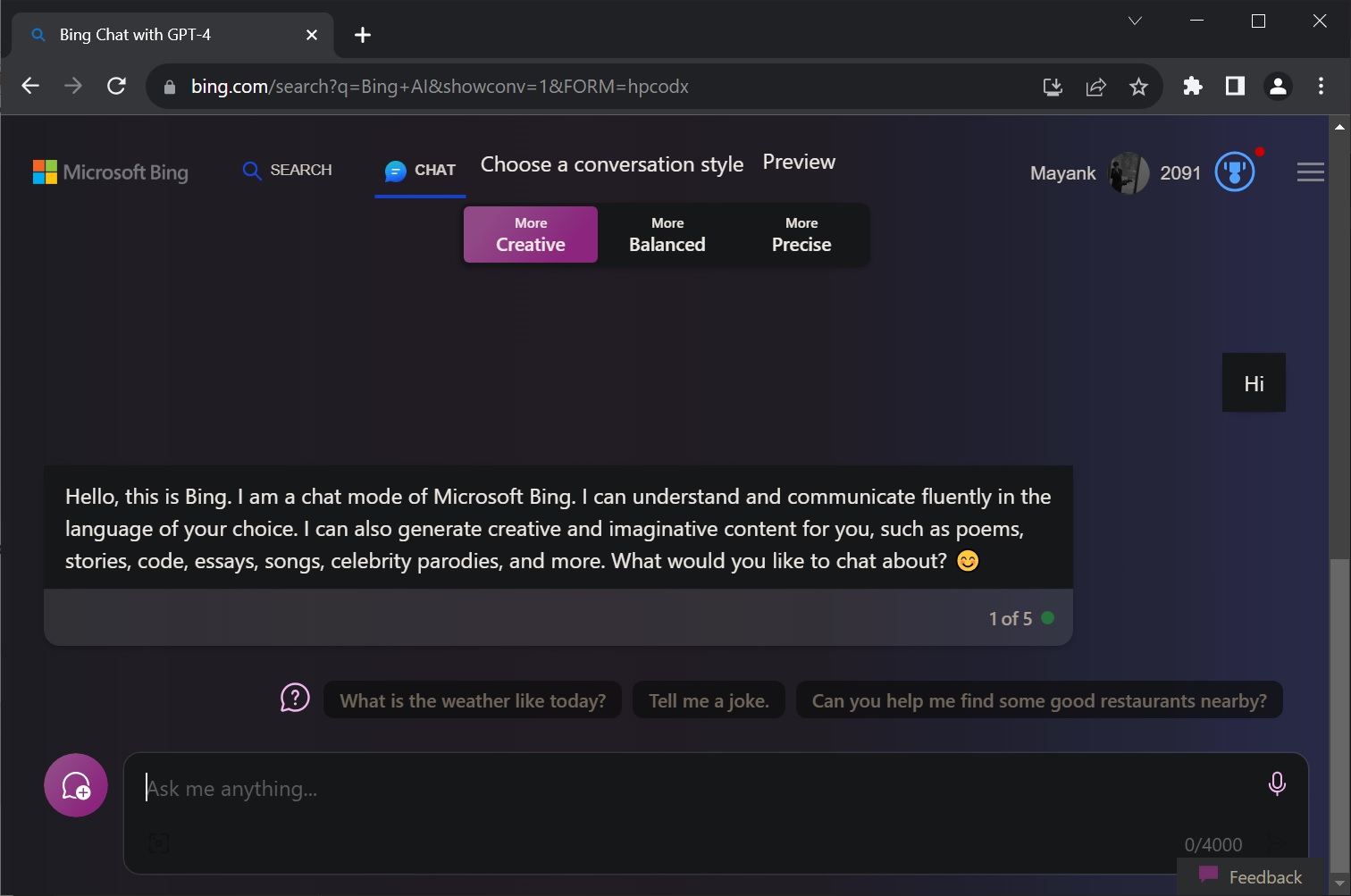 Unfortunately, Bing Chat in third-party browsers only supports five questions in a row for each conversation. This is significantly lower than the thirty messages limit in the Microsoft Edge browser.
Similarly, Bing Chat's history feature and personalized answers (a feature that relies on previous conversations) are also exclusive to Microsoft Edge. But this could change soon.
A Microsoft source told me the company limits Bing Chat's features in other browsers to stop the AI from getting weird.
Earlier this year, Bing chats in Microsoft Edge were also capped at five questions per conversation. This was done to stop the AI from getting out of control, but the limitations were later relaxed.
Microsoft plans to reduce limitations in other browsers soon, and features like Bing Chat history for personalized answers will roll out to everyone in the coming months. However, Microsoft wants to be careful for now.
Plugin support in Bing Chat is still "on its way"
Microsoft source told me Bing Chat's plugin support is still being tested, and it could begin rolling out to users in the coming weeks.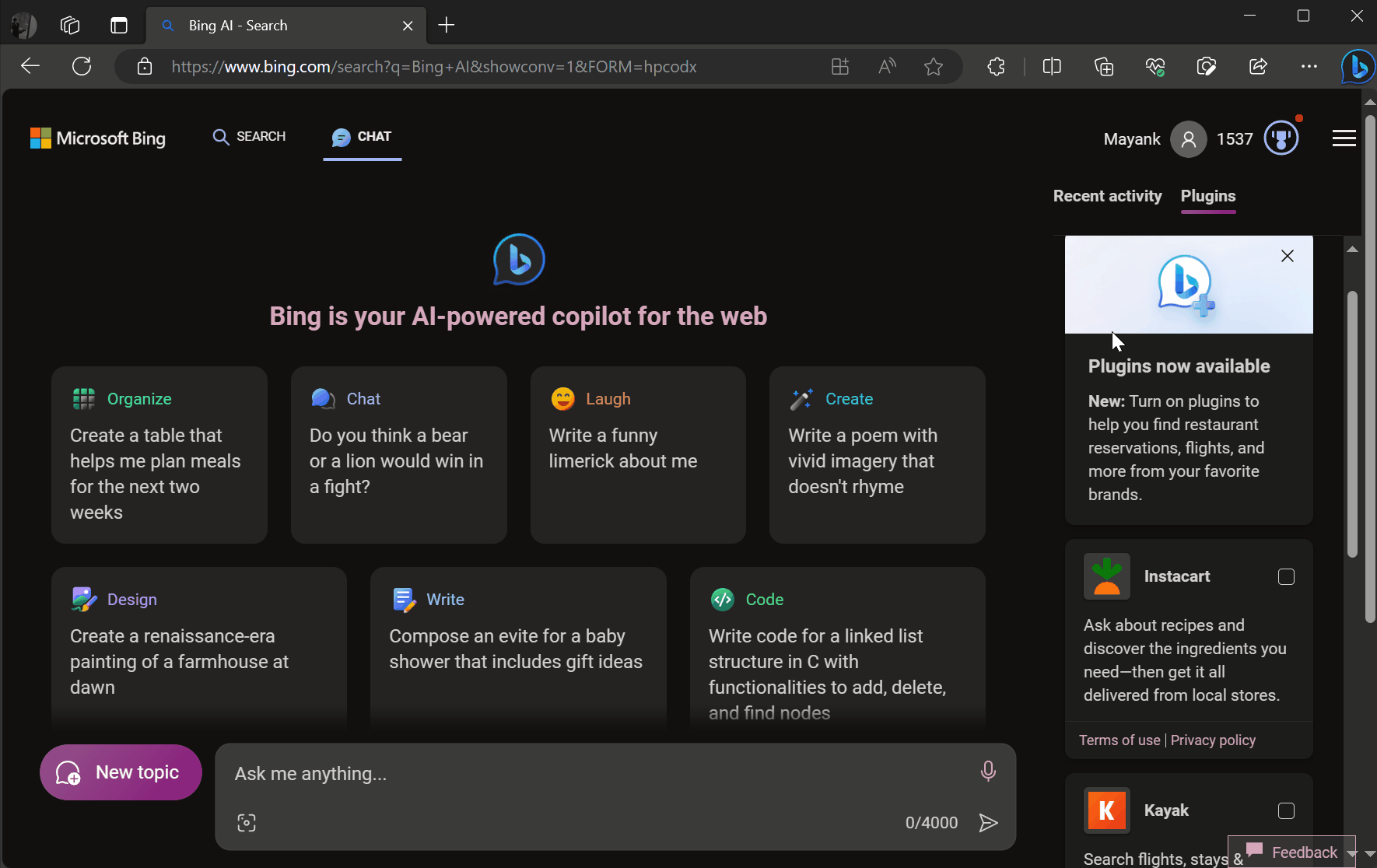 Some people (including one of our accounts) were briefly given access to Bing Chat plugins for a few hours, but the company rolled back the feature.
With plugins support, you could use Bing Chat AI to interact with services like Adobe and Canva.
Microsoft previously confirmed that ChatGPT plugins will be available in Bing Chat via the "plugins" menu at some point in future. However, unlike ChatGPT, Microsoft's Bing won't ask you to pay to use the plugins.