Microsoft has given us and some users early access to Bing Chat plugins. The early preview of Bing Chat plugins seems to be available in Microsoft Edge only, as we do not see the feature in Google Chrome or Apple Safari when we open Bing with the same Microsoft account.
Microsoft announced support for plugins in Bing Chat in May, but the rollout was pushed back due to the infrastructure upgrade. In a statement, Microsoft confirmed to Windows Latest that it has begun rolling out the feature to select users.
According to Microsoft officials, the upgrade is complete, and users are finally getting access to Bing Chat's plugin feature. This update aims to improve the reliability of Bing Chat when working with specific queries. The company is rolling out plugin support to a limited number of users; only select plugins are available, as there is no plugin for now.
At the time of writing, only five plugins are available – Instacart (plugin to discover recipes and ingredients), Kayak (flight and rental), Klarna (online stores comparison tool), OpenTable (book restaurants), and Shop (online shopping portal).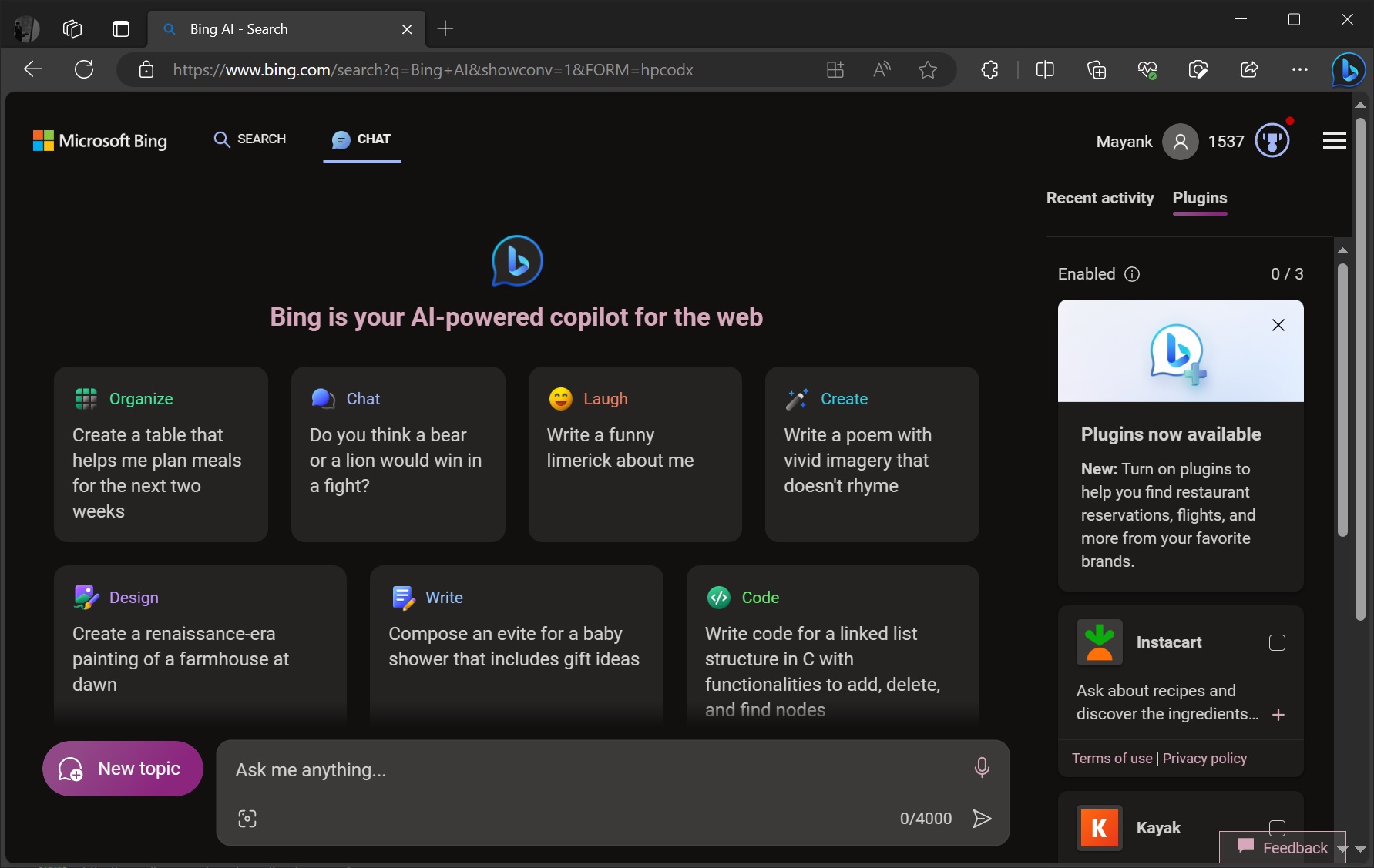 The company told us users can enable three plugins at the same time, which means you can use any three plugins when chatting with Bing:
Instacart Plugin: In Bing Chat, you can use this plugin to chat about your favourite recipes and get a step further. This plugin identifies your desired ingredients and helps you know more about the recipe.
Kayak Plugin: This is another helpful useful Bing Chat plugin that lets you discuss your travel plans with AI and let the Kayak Plugin do the heavy lifting. You can search for flights, accommodations, and rental cars or get recommendations based on your budget.
Klarna Plugin (U.S. Only): Don't just chat about shopping with Bing Chat; get the best deals effortlessly.
OpenTable Plugin: Turn those conversations about dining out into reservations. Get restaurant recommendations based on your preferences.
Shop Plugin: Imagine being able to search for millions of products across the globe while you chat. Whether discussing the latest gadgets or a new book, this Bing plugin allows you to find and compare products effortlessly.
Hands-on with Bing Chat third-party plugins; slow but has potential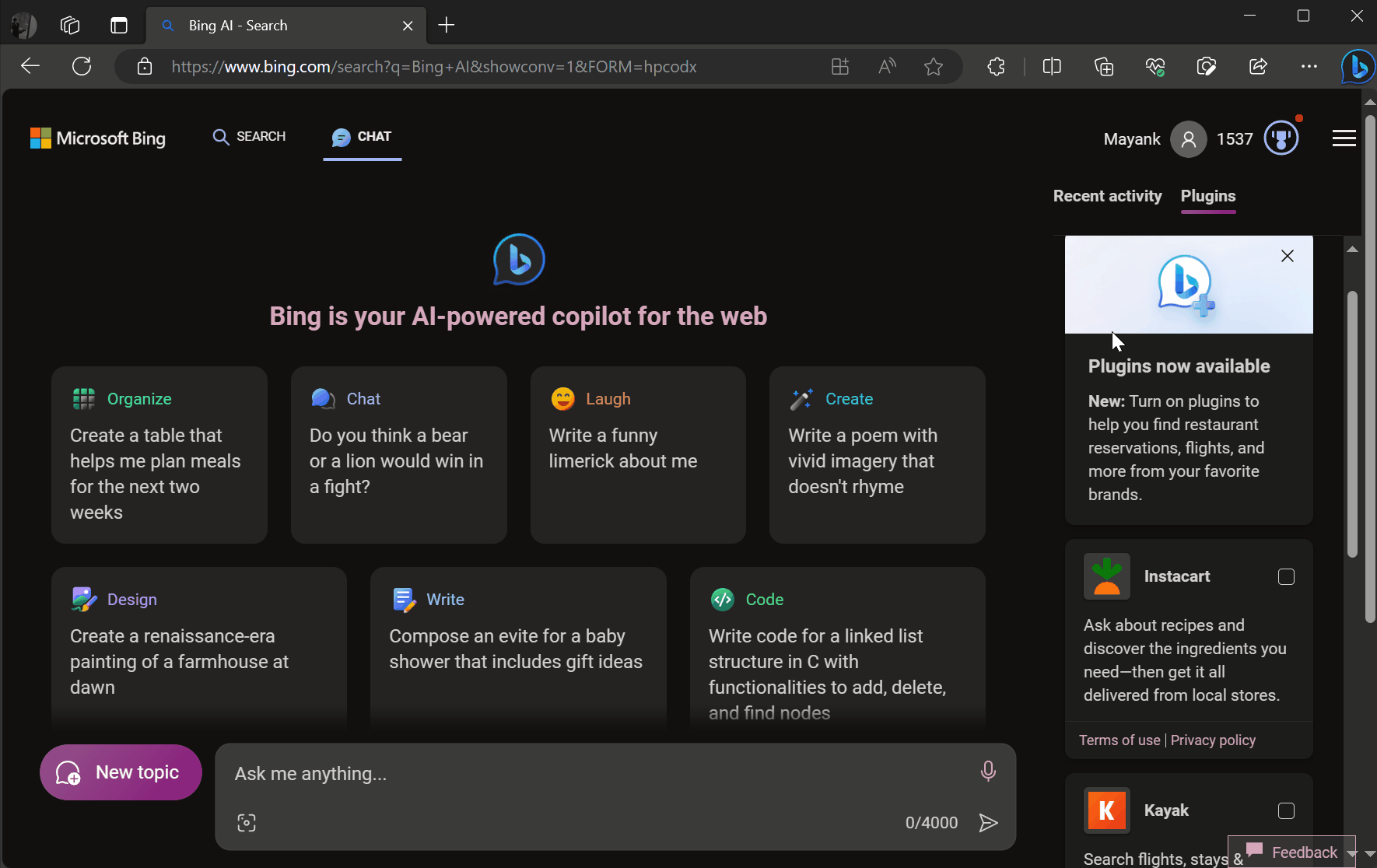 The tech giant is excited to build a community of developers shaping the future of plugins in Bing Chat, but I don't see use cases for some of these plugins.
That's because we can already use apps built by these companies that offer a better experience with AI integration. For example, would you use Bing Chat for booking flights or the Kayak app directly? I would choose the app over Bing because it offers more features and lets you book the flight ticket directly.
Sure, chatting with Bing can help you plan your trip, but it's not particularly helpful when you want to book the tickets immediately.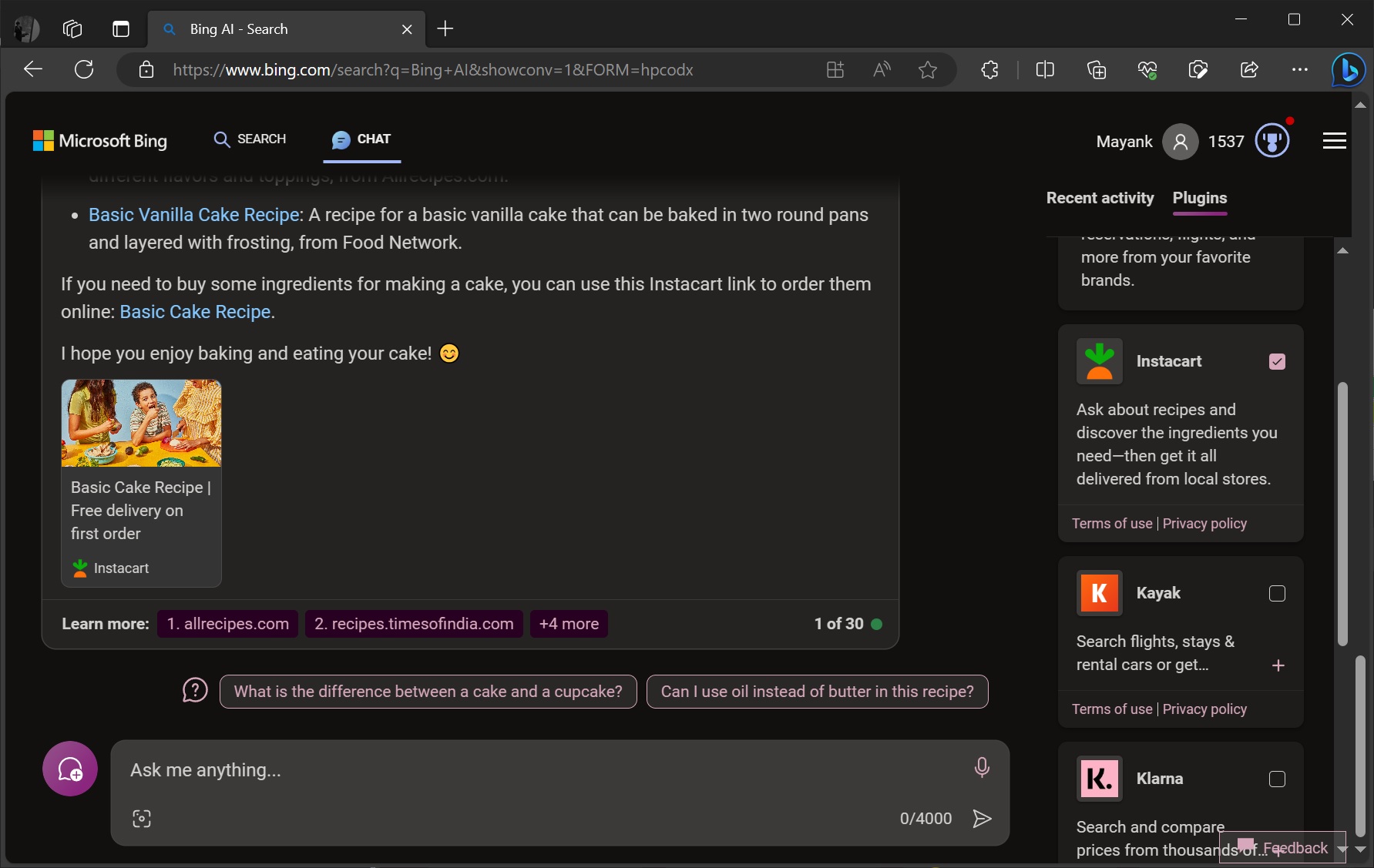 Additionally, performance is also a concern. In our tests, Bing Chat plugins are slow to generate answers (as shown in the above GIF), but the experience will likely improve in the coming weeks.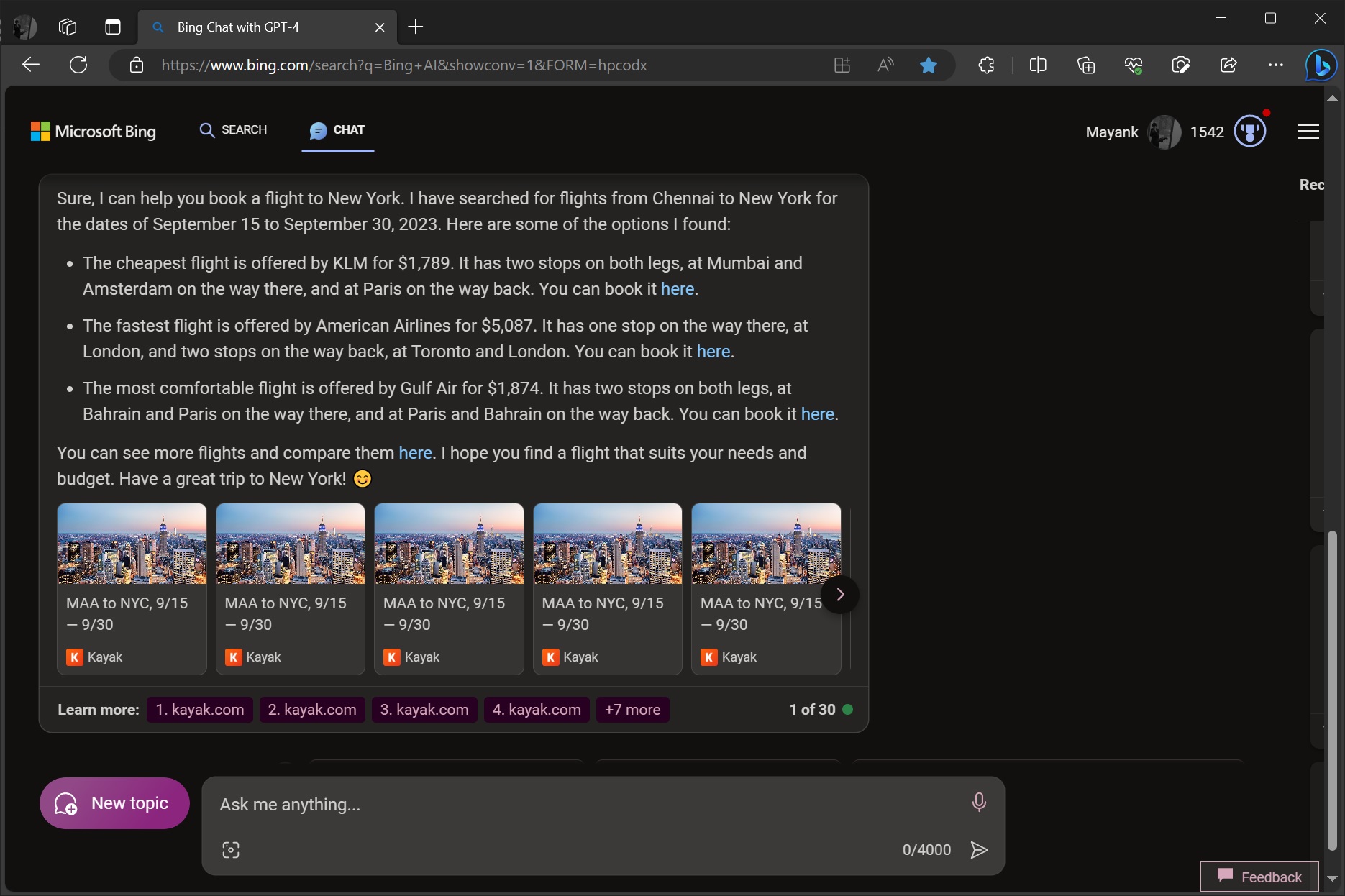 Microsoft is believed to be working on a number of exciting features, including "No Search" mode to let you chat with Bing without the AI searching for answers to every question on Bing.com.