If you're lucky enough (included in Microsoft's A/B tests), you can now use DALL-E-powered Image Creator in Windows 11's native Paint app.
When Microsoft officially announced DALL-E integration in the Paint app at its Surface event, it said the feature would roll out gradually over the coming weeks.
As expected, Paint's DALL-E integration is now rolling out to a small group of users who joined the waitlist. In a statement, a Microsoft representative confirmed the company has begun pushing the AI-powered Paint in the Dev and Canary channels of the Windows Insider Program.
Thankfully, I was lucky enough, and I have been able to test out Image Creator in Windows Paint. The Image Creator in Paint offers greater control than the DALL-E functionality integrated into Bing.com/create or Bing Chat, thanks to the "Choose a style" feature.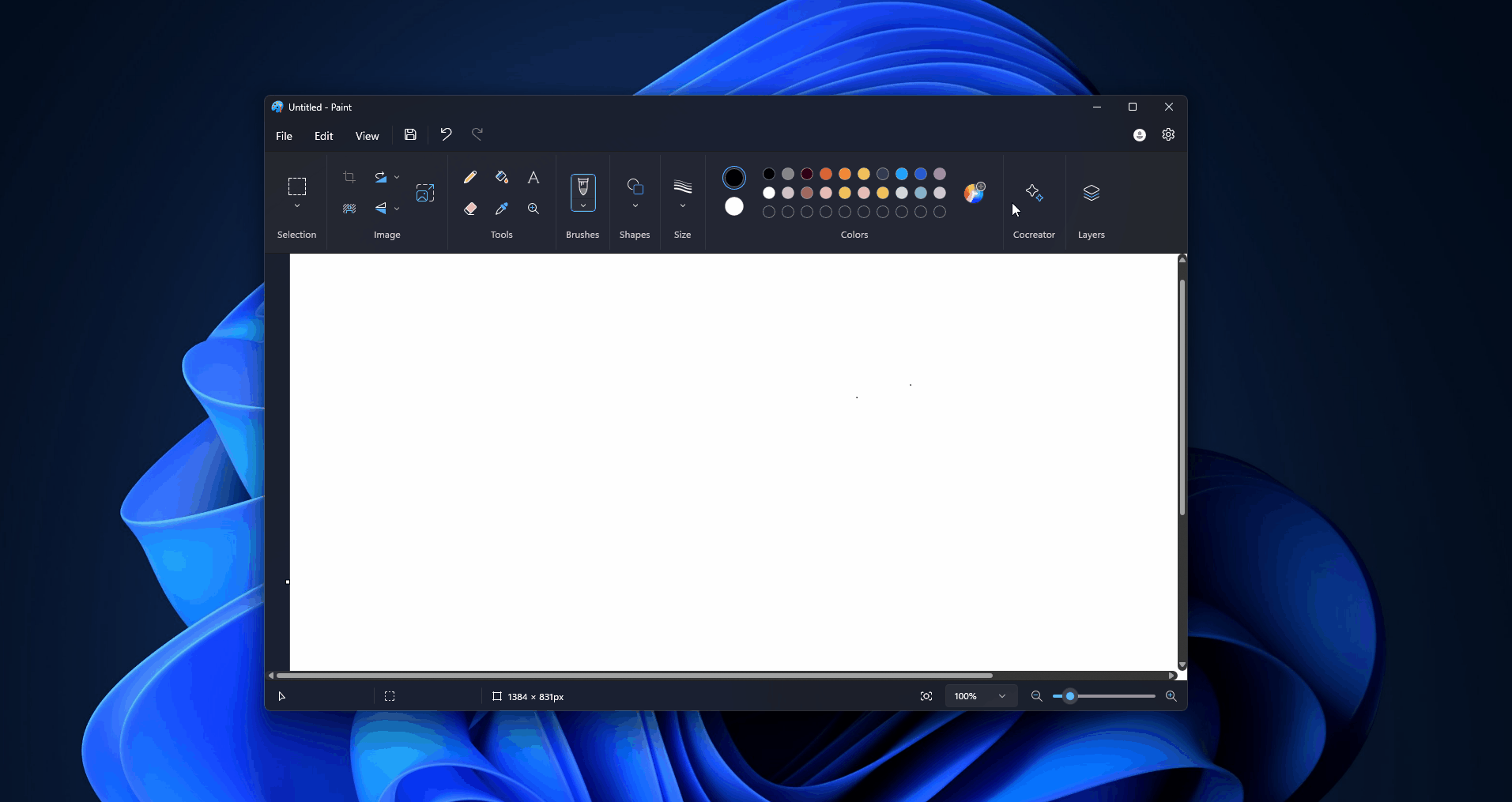 Microsoft is testing the "Choose a style" functionality in Paint that lets you customize the images generated by Paint's cocreator. There are several styles to choose from, including Charcoal, Ink Sketch, Watercolor, Oil Painting, Digital Art, Photorealistic, Anime, and Pixel Art.
Based on our tests, here's a brief explanation of the Paint's AI styling:
Charcoal: Imagine telling Paint, "Create a charcoal sketch of a serene mountainscape." The AI-powered co-creator would generate an image that mirrors the soft, textured strokes typical of charred wood, giving you a grayscale portrayal of mountains.
Ink Sketch: If you asked Paint, "Show me an ink sketch of a cat playing with a yarn ball," you'd get a bold and defined drawing that captures the cat's playful motion, all with the consistent lines characteristic of ink drawings.
Watercolor: Prompting Paint with, "Design a watercolor painting of a rainy city street," would produce an image with soft, blending colors that convey the wet atmosphere of the scene, reminiscent of the translucent nature of watercolors.
Oil Painting: By saying, "Generate an oil painting of a sunflower field at sunset," DALL·E in Paint would provide a rich, textured image capturing the deep hues of the setting sun and the thick layers typical of oil paints.
Digital Art: A prompt like "Craft a digital art piece of a futuristic city," would yield an artwork with precise lines, vibrant colors, and perhaps even effects that are unique to digital mediums.
Photorealistic: When you tell DALL·E in Paint, "Create a photorealistic image of a beach during summer," expect to see a detailed and accurate art work.
Anime: If you're anime fan like me, you could use Paint's DALL-E to generate artwork like an "anime-styled character who is a space explorer".
Pixel Art: Prompting Paint with, "Make a pixel art scene of a forest with creatures," would result in a blocky, grid-like representation reminiscent of early video game graphics, showcasing trees, animals, and perhaps some fantasy creatures.
Paint's 'anime' style is my personal favourite.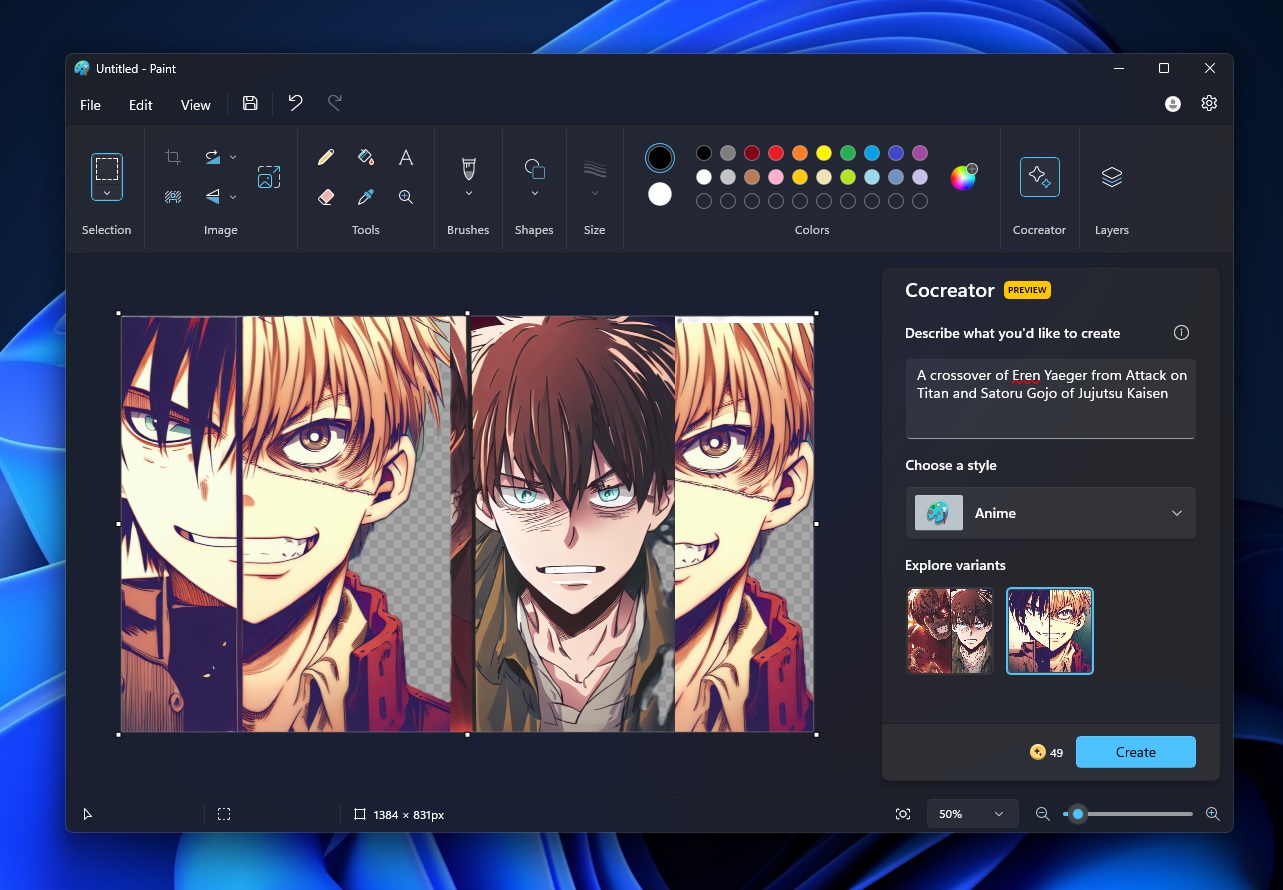 I asked the AI to generate a crossover of two anime characters – Eren Yeager and Satoru Gojo – and the results were surprisingly accurate.
How to get Cocreator in Paint and generate DALL-E-powered images
As mentioned at the outset, Microsoft is rolling out the feature to select users who joined the waitlist.
To try the feature, you'll need to join the Windows Insider Program, get the latest version of Paint from the Microsoft Store, and click "Cocreator" button in the toolbox.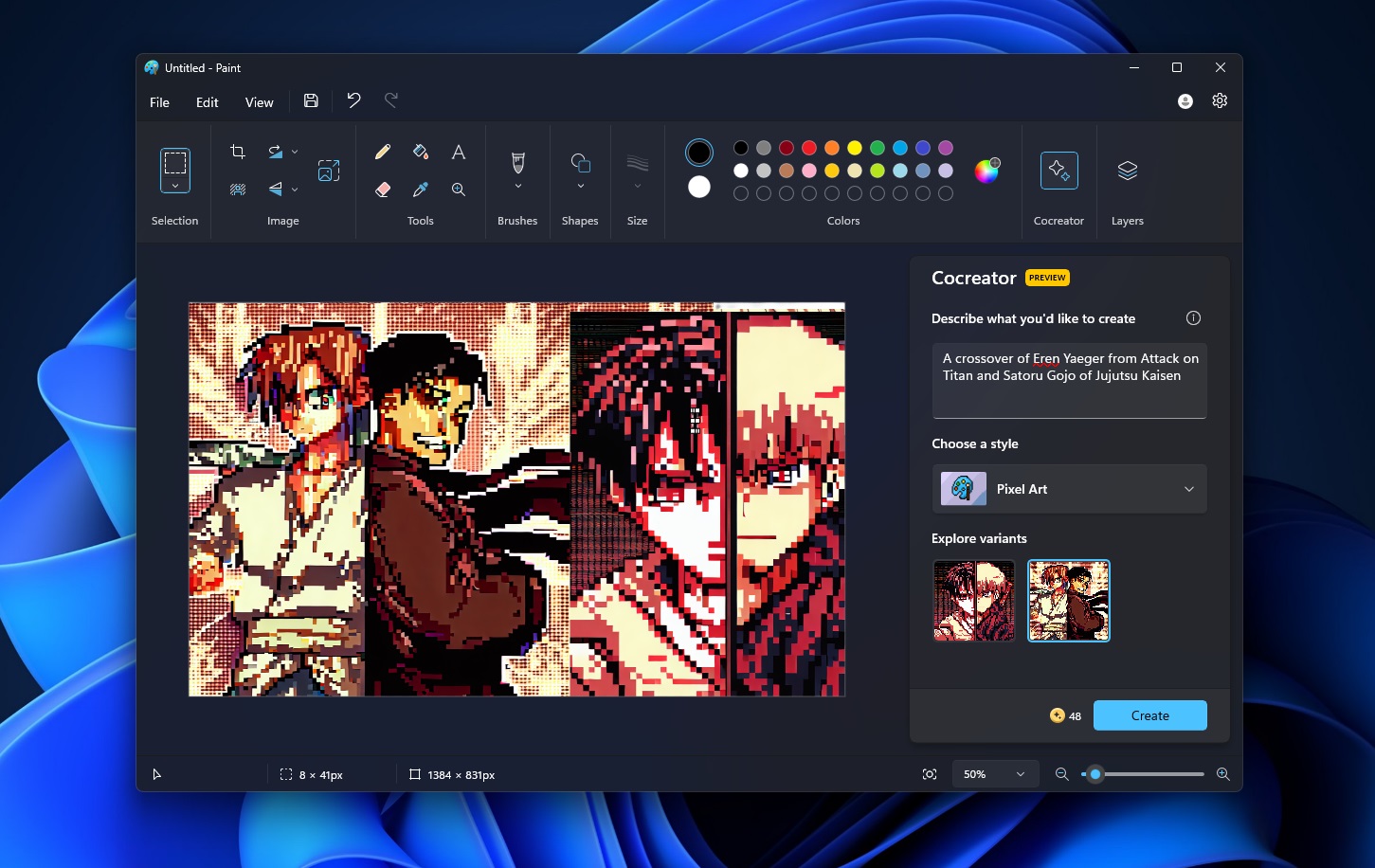 You'll see an interface that looks familiar to any third-party AI image creators where you need to describe the artwork in the prompt and click the 'create' button after finalizing the style.
In addition to AI, Microsoft has also updated Paint with background removal, layers, and transparency support.