A full-fledged virtual assistant on Windows 11, phone or web can make tasks such as opening apps, analyzing texts on an app, setting reminders or alarms and writing documents much more accessible. ChatGPT may have been the first best generative AI model for the public, but Bing is slowly catching up.
While ChatGPT responses rely on its curated database, Bing is an assistant for search, which means it will look up on the web for nearly all questions. Bing is built on top of ChatGPT-4, but since it is designed for Bing.com and Microsoft's search index, it avoids relying on its internal database.
While this ensures Bing can provide more reliable and latest information, Microsoft's AI searching the internet for every little thing can be annoying. Many users want to chat with Bing AI without searching the web for every little question it already knows, and sometimes it can be unpleasant, particularly on Windows 11's Copilot.
According to sources familiar with the development, Microsoft is internally exploring a version of Bing AI that would allow users to interact directly with Bing AI Chat on Windows 11, the web, and phones in a more conversational manner without triggering a web search for each question.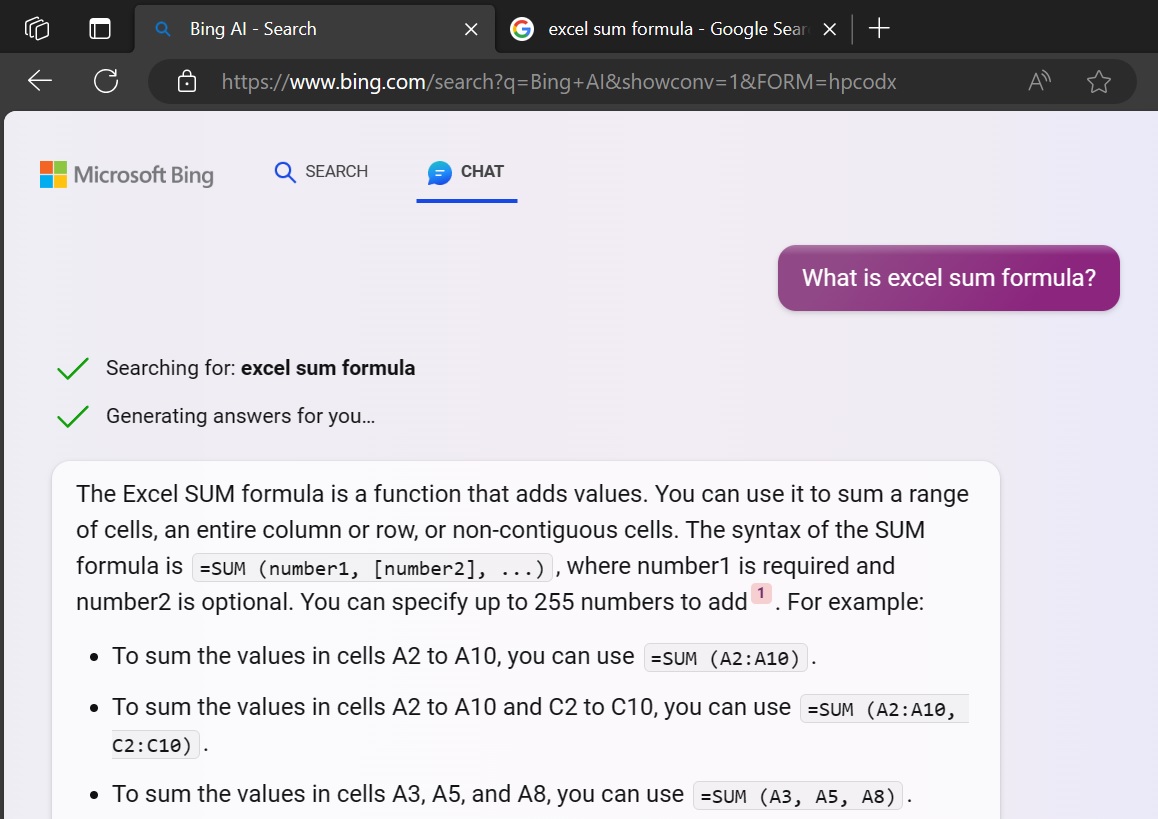 Suppose you frequently use Microsoft 365 Office apps and ask Bing AI for help with Excel functions or Word features. In the current Bing.com-powered Bing AI, if you ask how to create a pivot table in Excel, Bing AI would search the web for this information, providing a detailed explanation and instructions, even if you've asked the same question before.
Now, imagine the upcoming feature "no search" in place. Bing AI would rely on its internal database and the context of your queries. As a result, Bing AI wouldn't just search the web. Instead, it will rely on its internal database to share the basic steps. If you need more information, Bing will search the web and help.
This way, Bing AI could provide more than just a web-searched answer. It could offer a tailored response and make Bing AI feel more like a personal assistant, particularly on a platform like Windows 11.
It is important to understand Microsoft isn't looking to replace the search capability of Bing with a ChatGPT-like experience. The tech giant plans to use a "no search" experience for specific basic queries to reduce the response time and make Bing more like an assistant than a search engine.
In addition to the "no search" update for Bing AI, Microsoft is also testing the image recognition feature for Bing with select users, allowing anyone to search the web for similar images or ask Microsoft's AI to explain the uploaded image.