OpenAI, Microsoft, Google and many startups have rolled out their chatbots, with one better than another in some areas. While OpenAI's ChatGPT-4 comes with a paid subscription, Microsoft's Bing, also based on GPT-4, is free. Microsoft reaffirmed its commitment to "free Bing AI" in a statement.
Bing AI staying free shouldn't come as a surprise, but Microsoft recently announced an enterprise edition of Bing AI, which isn't free. This has raised some questions about the future of Bing, with some believing Microsoft could charge them for using Bing.com's AI capabilities.
Fortunately, Microsoft has confirmed that Bing.com AI will remain accessible as it currently is. The recent announcement regarding Bing Chat enterprise will not affect the current AI experience. You can also access Bing AI via Edge and Windows Copilot for free. Microsoft will expand Bing Chat to more products soon and won't charge users for using the AI.
"Bing AI will remain free via Bing.com, Microsoft Edge side panel, Windows Copilot and other places," a Microsoft engineer told me.
Bing uses 'large language models' trained by Microsoft and OpenAI. These models are neural networks and have been trained on a vast amount of data, such as books, research papers, and more. Additionally, Bing has been trained on its search results, which allows the AI to search the web, crawl the data, think and respond to the user.
Bing Visual Search and other recent improvements
In related news, Microsoft has been rolling out many improvements to Bing.com for free.
Bing AI is getting better with every update. For example, the most recent update that shipped last week added a "Visual Search", an image recognition feature to Chat for everyone. This feature uses OpenAI's GPT-4 model to describe images.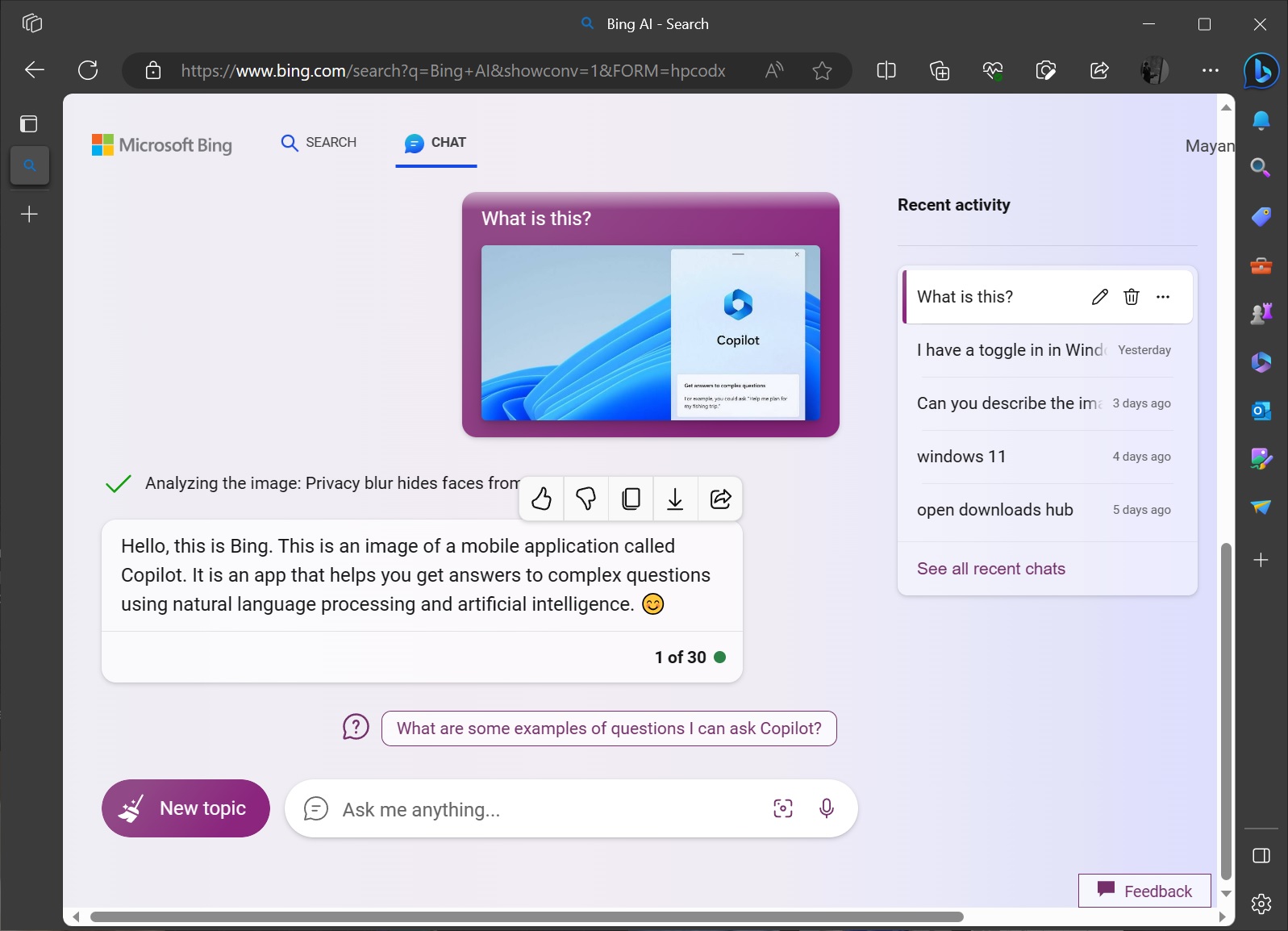 For example, you can take a picture or use an image you've taken and share it with Bing Chat.
Bing Chat can interpret the picture and answer questions about it. For example, you can upload an image of a dog and ask more about the breed. Bing chat will describe the picture and provide facts about the dog. You can also ask Bing follow-up questions.
Visual search is rolling out to Bing.com, Microsoft Edge, and mobile apps. It is expected to arrive soon in Windows Copilot, which is currently available to testers in the Windows Insider Program.
Microsoft is also working on "no search" support for Bing AI, which could allow the search engine-based AI to behave more like ChatGPT.