Windows 11's biggest and most hated change is its new taskbar. The redesigned taskbar is now based on XAML, which supports WinUI and Fluent and can create UI elements for any app, including UWP and .NET.
The redesign has brought a modern touch to the taskbar, and XAML integration could lead to better future performance as Microsoft plans to separate the shell from the rest of the Windows elements. Still, it remains too restricted in terms of features compared to the taskbar of any Windows release, including Windows 10, 8 or 7.
As you're probably aware, Windows 11's taskbar is locked to the bottom of the desktop, and users cannot move it to the right, left or top. Some people preferred pinning the taskbar to the top as it allows them to easily switch between apps, particularly web browsers, as they have tabs strip at the top.
Windows 11 taskbar can be moved to the top with little changes to the operating system's registry, but elements like the Start menu, Windows Search or Task View do not support this orientation.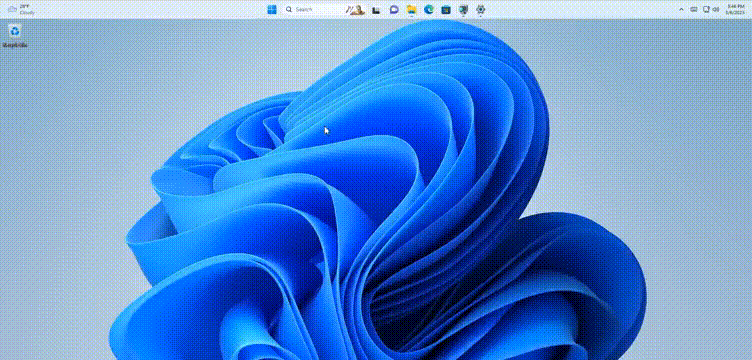 As you can see in the above GIF, the taskbar looks pretty good when pinned to the top of the desktop, but the animation does not support it.
Of course, a future update will likely give you the option to move the taskbar, but the movable taskbar is not on the company's priority list. In one of the Windows Insider webcasts, Microsoft explained that it does not see features like "movable taskbar" as important and has more work to do.
Microsoft officials say the Windows 11 Start menu can't handle a different taskbar position. Much work must be done to make a different taskbar position work with other elements. For example, the Microsoft development team said, "all of a sudden, the reflow and the work all of the apps or Start menu have to do…." is not supported.
Microsoft is prioritizing adding features like the ability to end a process directly from the taskbar, system tray clock seconds support or drag and drop, which was enabled in the OS with Windows 11 22H2.
The last Windows 11 update tweaked the taskbar and added back drag and drop support, but users are still complaining that it is too restricted, with features like the ability to ungroup apps/icons still missing.
Taskbar is slowly getting better
While Windows 11 taskbar is missing some big and useful features that people have been using for decades, it's also getting new features. For example, the Windows 11 22H2 Moment 2 update added the tablet-optimized taskbar, allowing users to try collapsed and expanded modes on their tablets or 2-in-1s.
The taskbar also got a new modern system tray that supports drag and drop and will soon get less cluttered.